Annie Belle streaks across Hong Kong and stardom follows.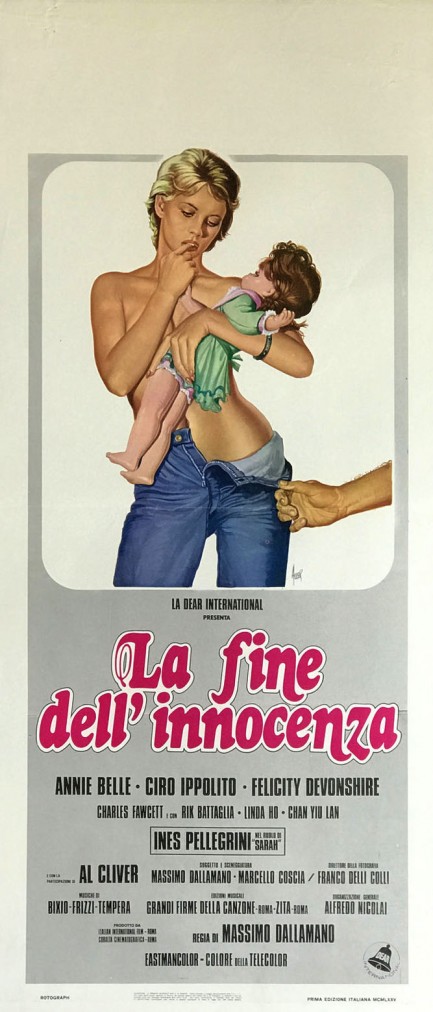 Above you seen an Aller, aka Carlo Alessandrini, poster for La fine dell'innocenza, which premiered in Italy today in 1976 and was titled in English Annie, after the lead character Annie Belle. The star of the film had acted under her real name Annie Brilland up to this point, but adopted Annie Belle as her stage name for this film and the rest of her career. Yes, technically she acted as Annie Belle in an earlier movie—Laure, which came out about a week before Annie, but we strongly suspect that made-in-Manila sex romp was shot later and simply went through post production more quickly. Another small movie from 1975 is credited to Belle, but we're sure that was done much later. Annie is the film that made her Belle.

It's a coming of age story in which Belle proves to be too independent for all those—male and female—who wish to possess her. She begins the film under the wing of her incest-minded father, travels with him to Hong Kong, where he's arrested for money laundering, forcing her to fend for herself. From there she makes the inevitable sexual splash in upper crust expat circles around the island. And who can fault them for their interest? In real life Belle is a tiny, tomboyish figure, certainly no more than 5' 2", but onscreen she comes across as even lusher than the Hong Kong hills. There's no disputing it: the camera loves her. She's one of the most striking stars of any era of cinema.

La fine dell'innocenza is remembered for its extended sequence depicting Belle's escape from a brothel. She pulls it off—no body double—by sprinting starkers through the Hong Kong streets, leaping onto the back of a motorcycle driven by an associate, careening through traffic as she wantonly flouts local helmet laws, leaping off the bike and running again, now chased by cops, to a public fountain, where she's finally apprehended. The scene is worth rewinding just to see all the locals gawking from the backgrounds of the shots. They must have thought, watching this platinum blonde boy-woman with the jet back muff running through their city—what the hell do these foreigners smoke?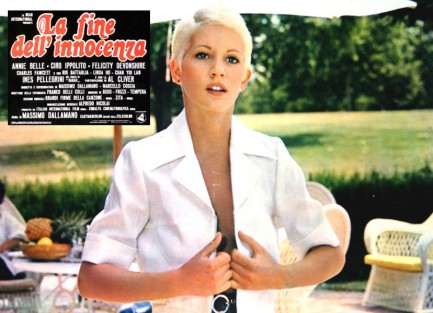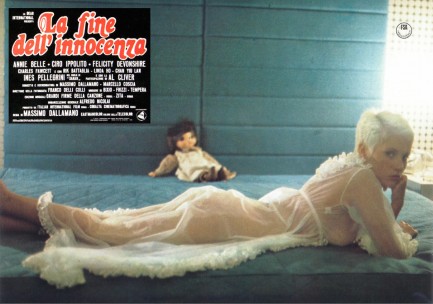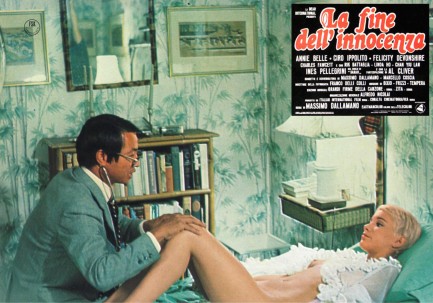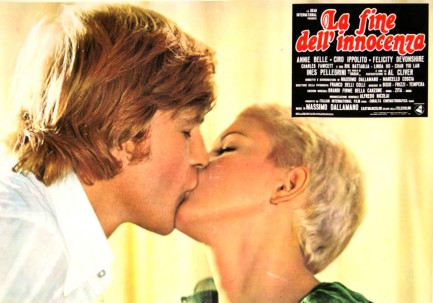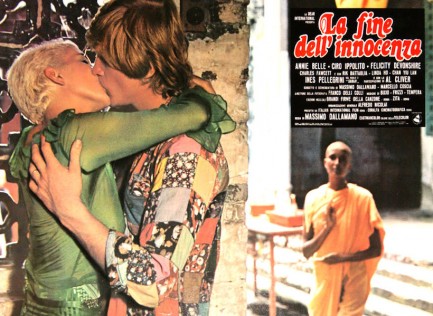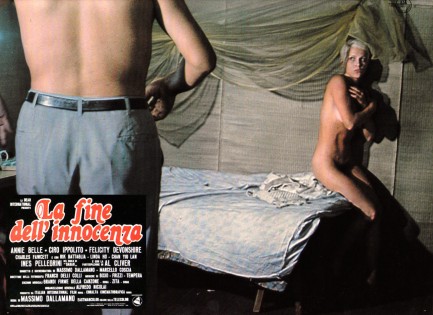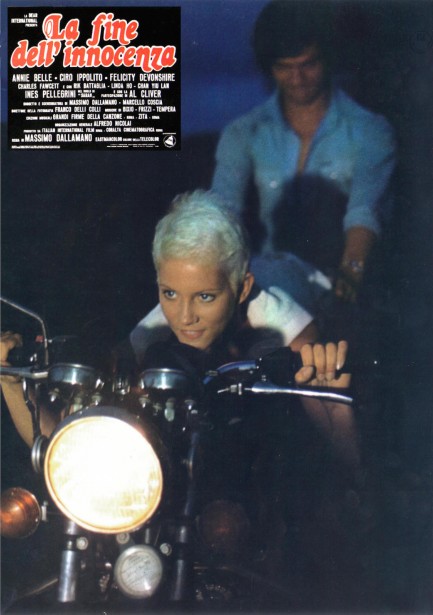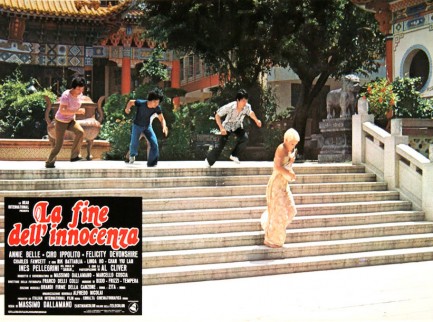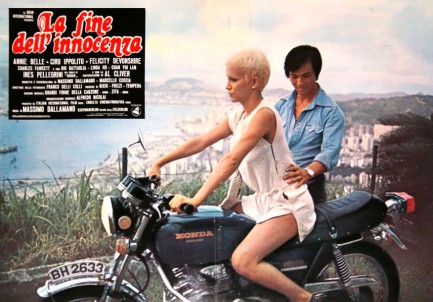 ---
October 1st marks the second rare lunar event this week.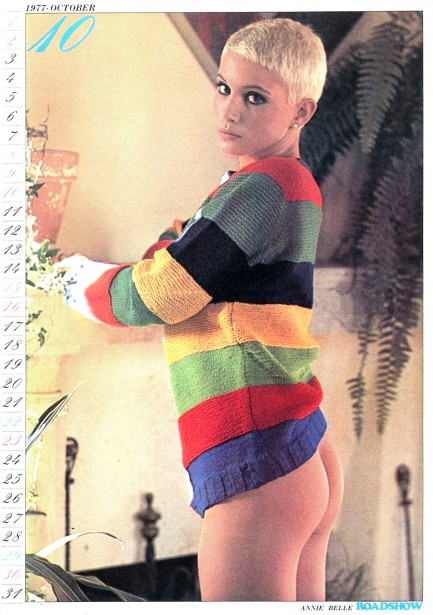 Two years ago we shared a very rare Japanese promo poster from the 1976 Italian romance Laure, also known as Forever Emmanuelle. The calendar image above from the Japanese cinema and celebrity magazine Roadshow doesn't directly promote Laure, but it comes from the same photo session, and like the earlier image features French actress Annie Belle doing her imitation of Monday's supermoon. Both are amazing events, but this one, happily, features fewer craters.
---
One fashion that never goes out of style is Belle bottom.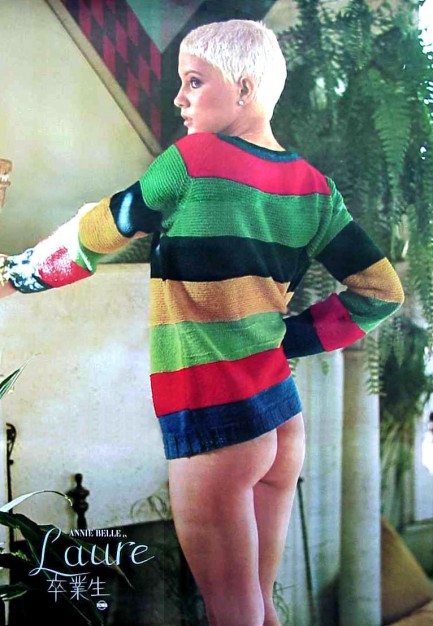 Above, an exceedingly rare Japanese poster of French actress Annie Belle, née Annie Brilland, promoting her role in the 1976 Italian erotic drama Laure. Belle made about thirty films, mostly in Italy, and today is a social worker. We have another poster of similar style we'll try to get up later.
---