Always beware of charming strangers.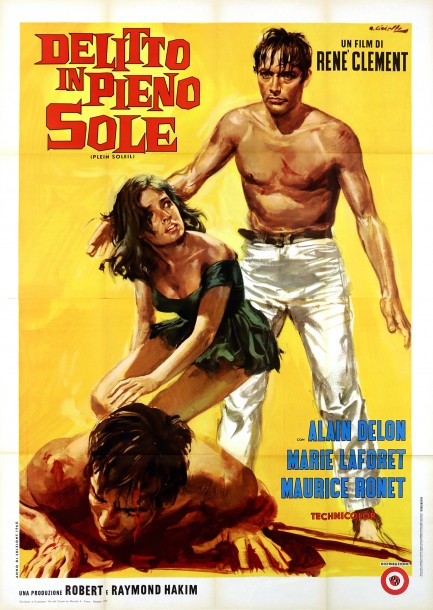 Above, an Italian poster for René Clement's classic drama Delitto in pieno sole, which was originally made in France as Plein Soleil and is known is English as Purple Noon. The movie, you may already know, is based on a Patricia Highsmith novel and tells the sinister story of the psychopath Tom Ripley. The poster art is by Averardo Ciriello, a prolific illustrator of not only movie promos, but also paperback covers and comic books. Click his keywords below to see more, and you can see another brilliant poster for Plein Soleil here.


---
Think you have trouble getting laid? Try dealing with this guy's problem.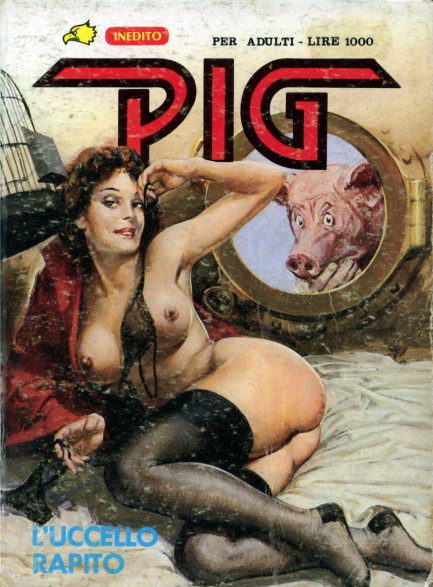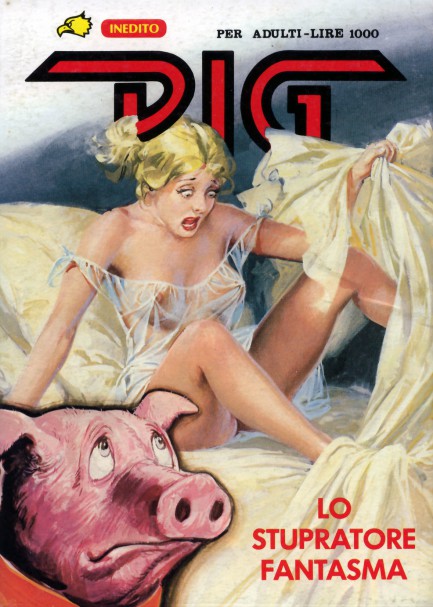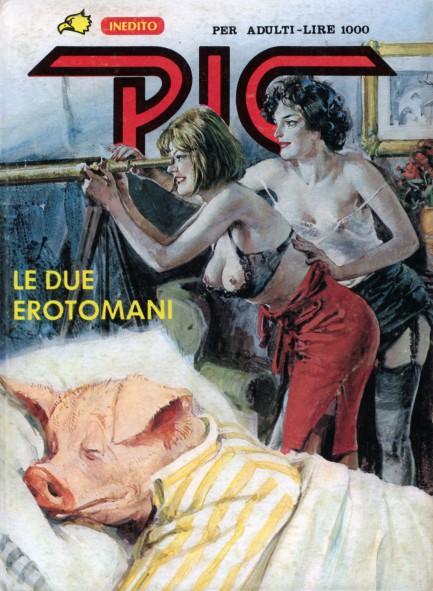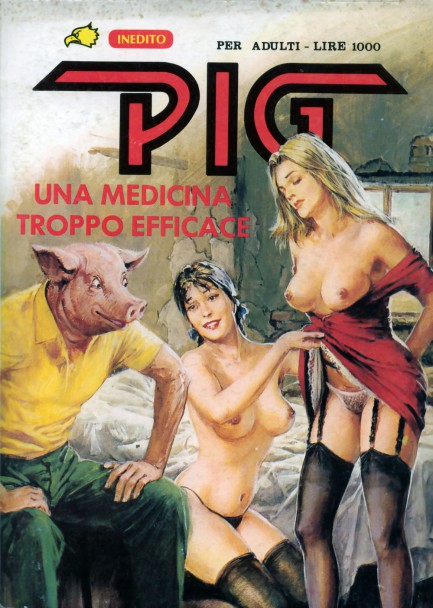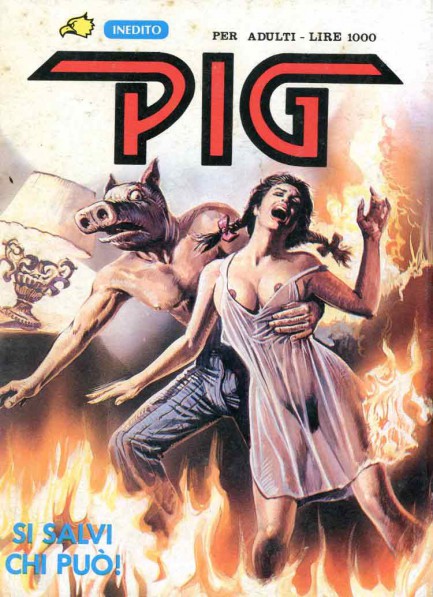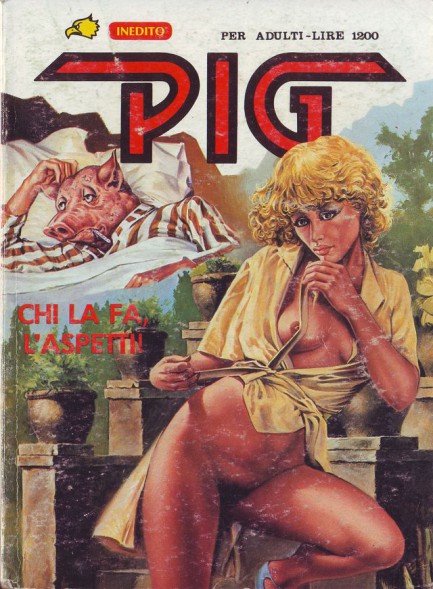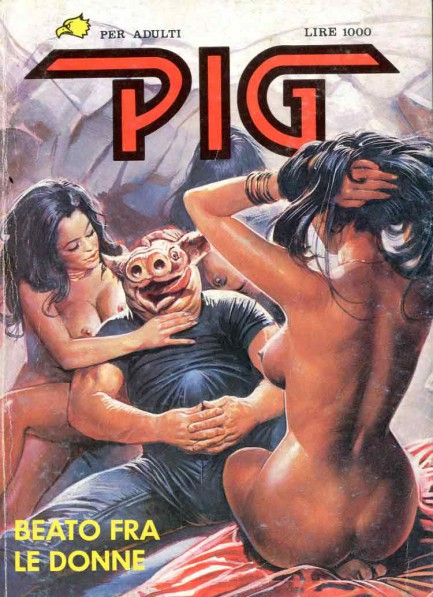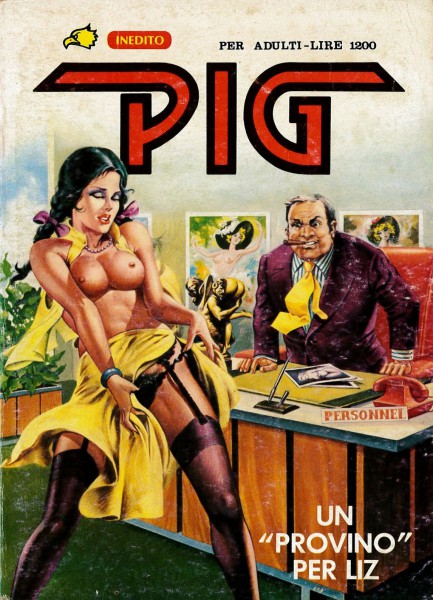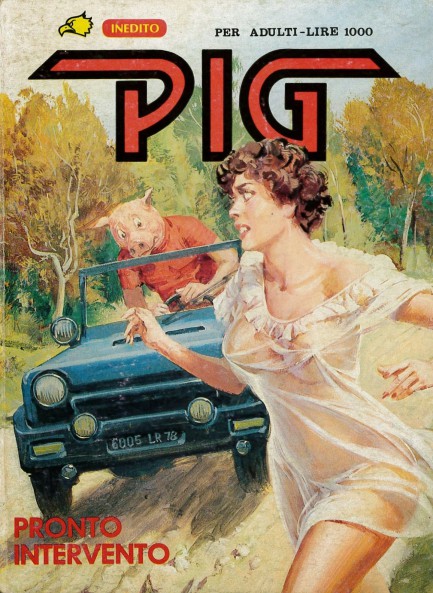 Above are assorted covers of the Italian fumetto Pig, which first appeared in 1983 from Ediperiodici. Pig was reprinted in both French and Spanish, though the French editions ran into trouble from authorities that saw the content as promoting bestiality. You'd have to be a real prude to see it that way, because this is pretty funny stuff. An experiment gone awry has given the protagonist a pig's head, and if he doesn't have sex regularly he'll transform past the point of no return. Since he has a pig's head, the sex thing is a bit tricky, but through sheer animal charm he manages. So what's your excuse for not scoring? We bet you have a human head, so quit your bellyaching.
As a side note, this comic brings to mind the time we worked for a production company in L.A., which at some point began scouring the country for graphic novels with cinema potential. Once word got out in the comic community we began receiving dozens of submissions a week, all of which had to be evaluated for merit. There was one guy who sent in something called Pork, and the idea was that a pig was elected to the U.S. Senate. We loved that one and gave it highest marks, but others in the company just didn't get it. Disagreement over the concept contributed to us getting fired. Which just goes to show how stupidly literal some people are.
Anyway, we have some interior scans from issue number 63 of Pig below. In those pages the hero calls himself Dick Saroyan and seemingly is a writer or journalist. However, we've seen online that the pig is actually named Mark, so maybe in this issue he's involved in some sort of undercover caper. Regardless, he ends up getting laid and that's all that really matters for him, lest he transform into 100% swine. Have a look below. The art, which is by Averardo Ciriello, is pretty graphic, but that's why it's per adulti.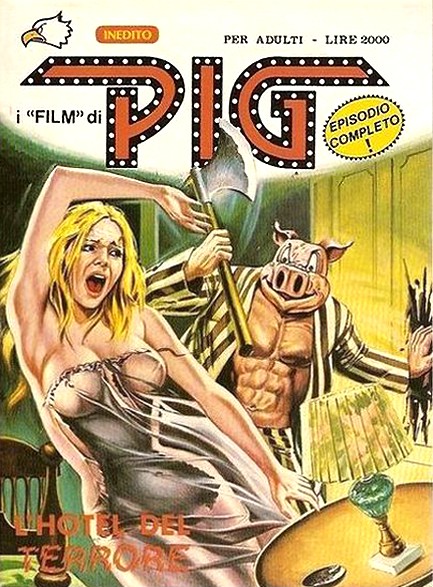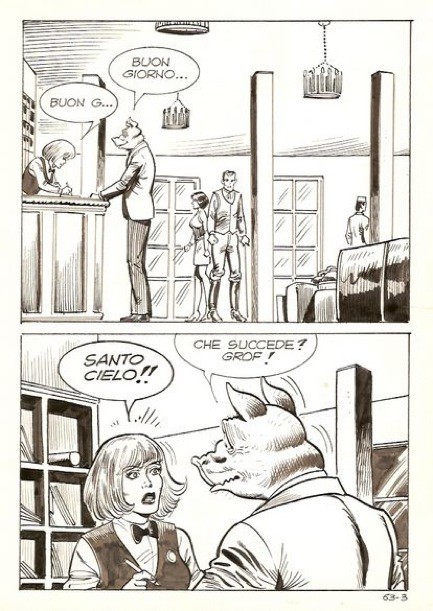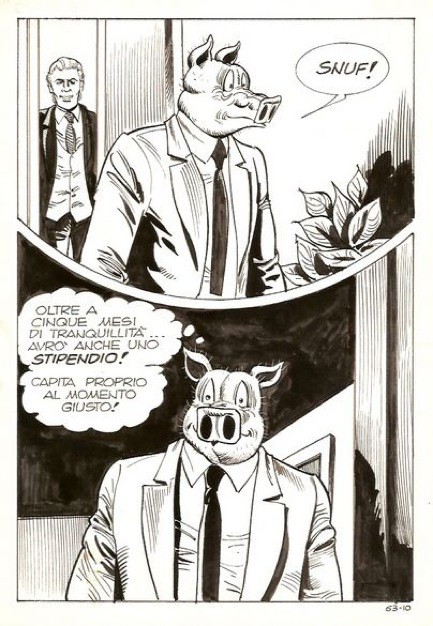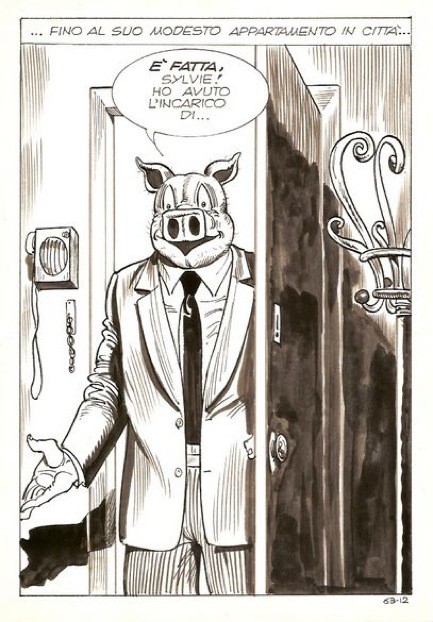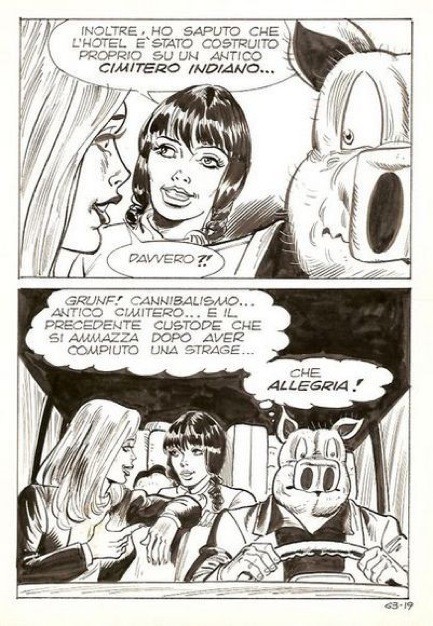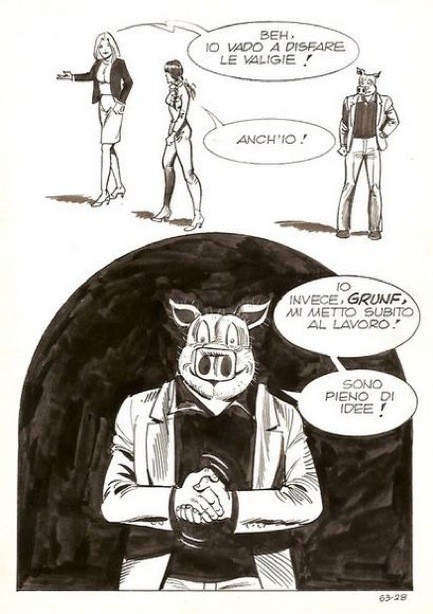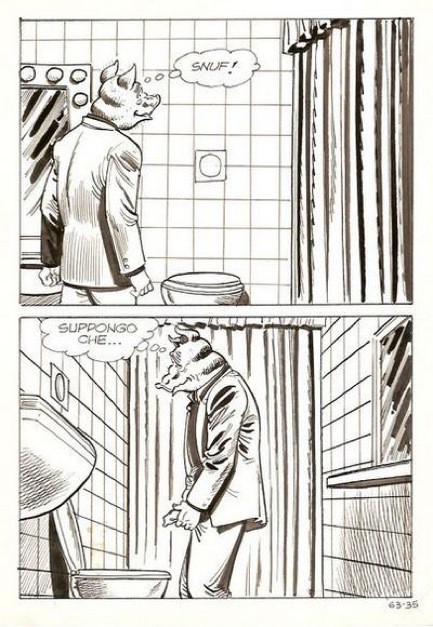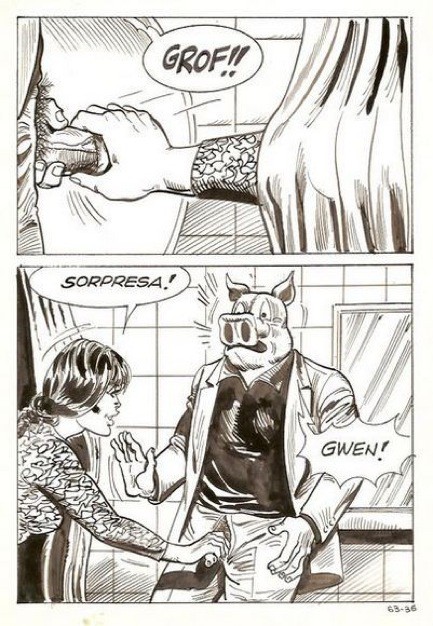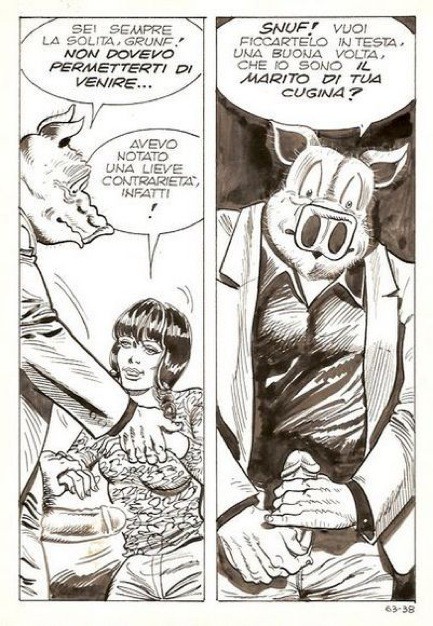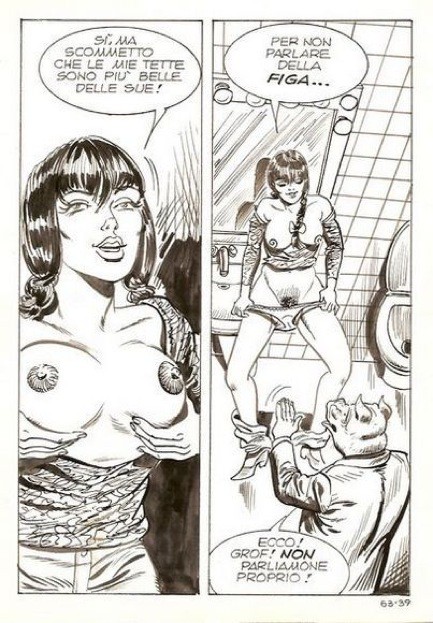 ---
Doing her part to take a bite out of crime.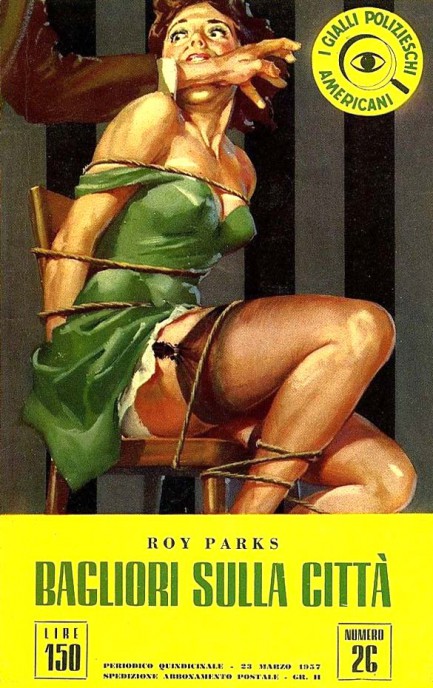 Above is the cover of Bagliori sulla città, written by Roy Parks for S.P.E.R.O.'s series I Gialli Polizieschi Americani, 1957. Parks was actually a writer named Mario Casacci, who also published novels as Bill Coleman, Mario Kasak, Rex Sheridan, and possibly others. Casacci was also a noted screenwriter most famous for inventing, along with Alberto Ciambricco, the figure of Lieutenant Sheridan, who was a staple on Italian television through the 1960s and early 1970s, played by Ubaldo Lay. Casacci also participated on several soundtracks as a lyricist. The art here is from Averardo Ciriello, who we'll for sure get back to later.


---