Girl meets girl and things get a little twisted.
You'd be surprised how many Japanese movie posters feature swastikas. Or backwards ones, anyway. This particular promo was made for the melodrama Manji, a movie known in English by the name Swastika, or sometimes All Mixed Up. Some of you out there might be saying right now that the crooked cross Westerners know as a Nazi symbol is also a Native American symbol, though turned backward. And you'd be right. Others of you may say it's an ancient Sanskrit symbol, whether turned backward or forward. And you'd also be right. Still others of you, the more widely traveled perhaps, know that in Japan the backward swastika is a symbol used to mark the location of Buddhist temples on maps. And what the hell, we should also mention that younger Japanese sometimes say "manji" instead of "cheese" when posing for a photo.

Why did we go into all that? Because when you put a swastika on your website it's prudent to explain why. There is no discussion of the symbol in Manji. The film is about bored housewife Kyôko Kishida embarking on an affair with a younger woman played by Ayako Wakao. It's all fun and games at first, but Kishida, in the grip of middle age and an unfulfilling marriage, grows increasingly obsessed with her young girltoy. The movie's makers seem to be using the cross ironically—in Sanskrit it symbolizes good luck, but the affair in Manji is anything but. You can find out yourself, though, because the entire thing is on YouTube for the moment—with English subtitles!—at this link. Say goodbye to ninety minutes of your life, cinephiles. Manji premiered in Japan today in 1964.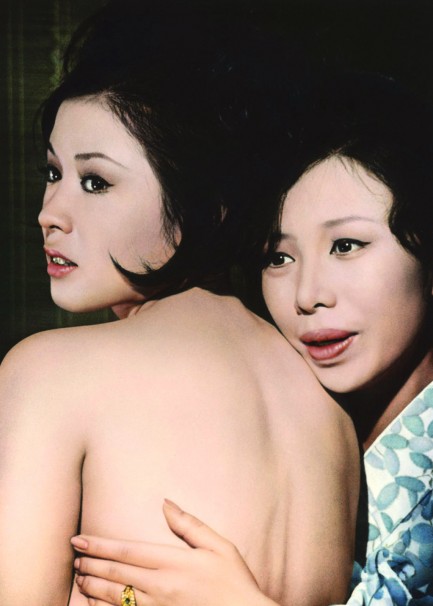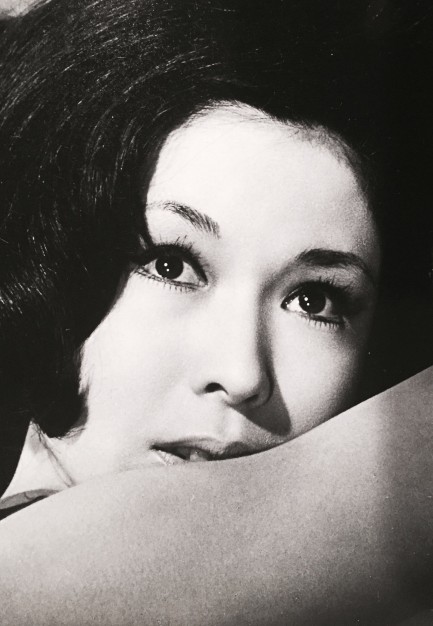 ---
If only she knew what was going on in his head.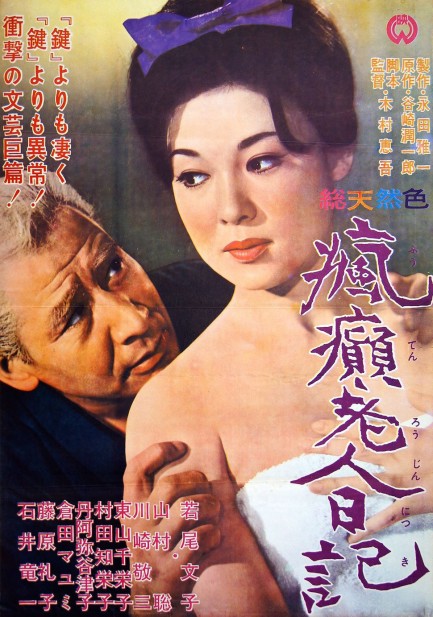 Above, a colorful poster for Fûten Rôjin nikki, aka Diary of a Mad Old Man, with Sô Yamamura as a man recovering from a stroke and Ayako Wakao as the occasionally towel-clad young daughter-in-law whose presence inflames his libido. Far better and more serious than it sounds. The movie premiered in Japan today in 1962. We have a couple more promo images below, and you can see a few more Wakao posters for a different movie here.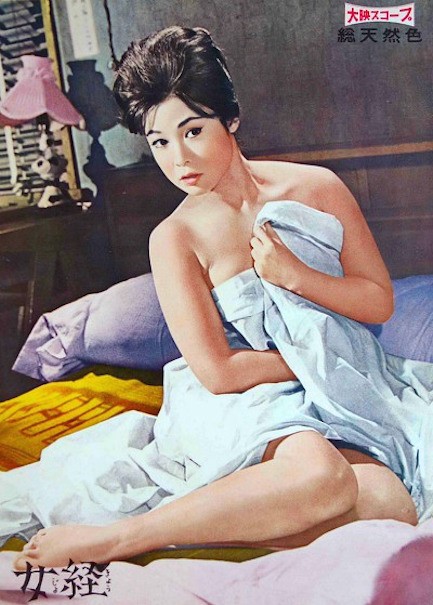 ---
The girl with the draggin' tattoo.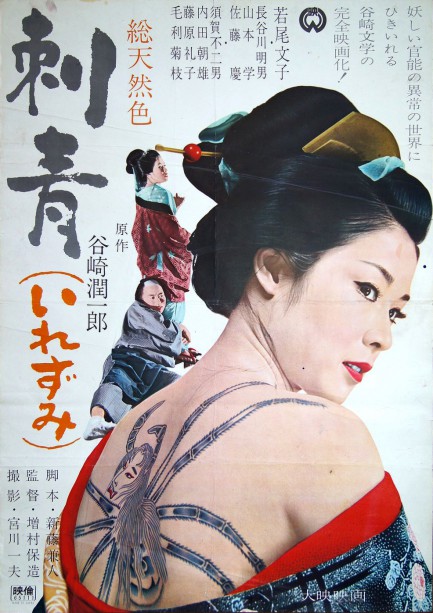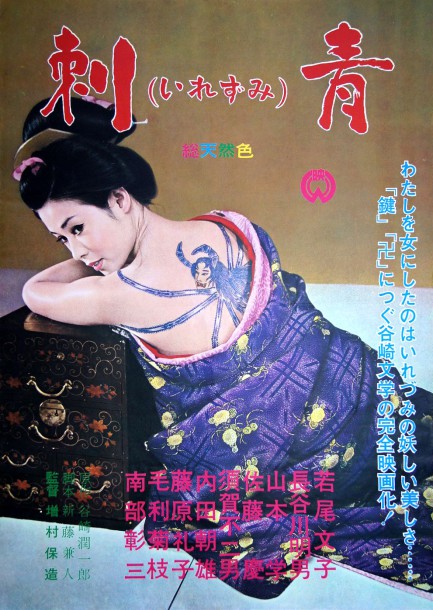 The three posters above promote the Japanese psychological horror movie Irezumi, aka Tattoo, directed by Yasuzô Masumura and starring Ayako Wakao as woman kidnapped into geishadom who is forcibly tattooed upon her back by a disturbed tattoo master. His creation is the monstrous, woman-faced spider you see on the posters. This act sets Wakao on a path toward vengeance, violence, and evil. Some reviews of Irezumi note that the tattoo is in some sense alive, like the portrait of Dorian Gray, however the actual art doesn't change its aspect—we checked, using a handy invention called rewind, and the lady-spider is the same in the beginning and end of the movie. The tattoo does, though, unleash something, and Wakao changes, quite drastically, her journey from relative innocence into femme fatale depravity giving Irezumi its power and dread. While not splashy and filled with shocks in the style of modern horror, the movie is, all in all, a highly recommendable mind trip. There's another Irezumi from 1982 with a different plot, but this one, the first one, premiered in Japan today in 1966.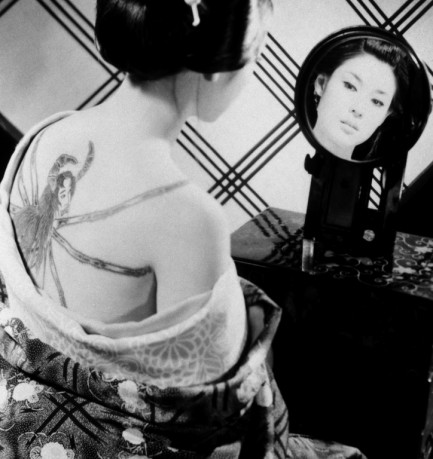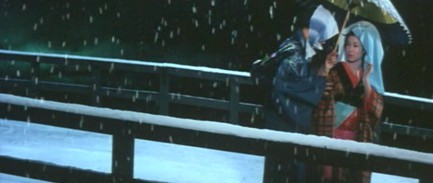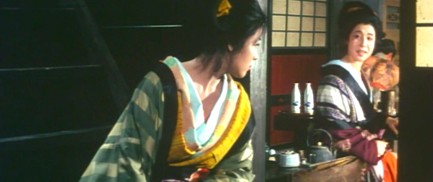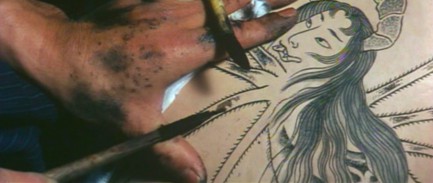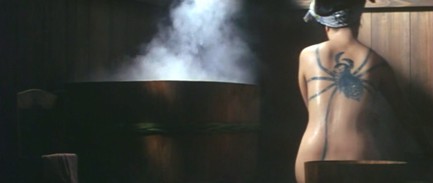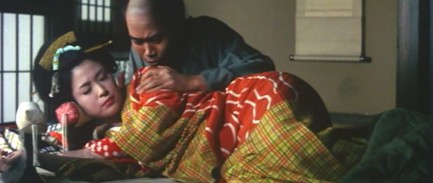 ---