Matchmaker, matchmaker make me a match.
I've had these matches for years. They come from probably 1950 and have Blaze Starr on the cover. I never actually saw her dance because I would have been -10 in 1950, but some years ago, and I can't remember where or when, I came to own this matchbook and it got me interested in burlesque. Today I have numerous photos, programs, coasters and all sorts of memorabilia that I imagine must constitute one of the better collections around. I saw this exact matchbook go on Ebay for forty dollars a while back, so I scanned mine and was going to auction it, but then I changed my mind. After all, Blaze got me started on this hobby, so I probably shouldn't just sell her. But I had a feeling you would like this, so these scans are yours now.
Submitted by R. O'Carroll

Thanks for sharing. This is exactly the type of item we would never be able to acquire here, and that's one big reason we put together the reader pulp interface. Nice sub-head, by the way. Not sure we would have thought of that. So, we don't want to create a dilemma for you, but we did a quick search and found an auction site here where your matchbook sold for $146.18. Does that change your feelings about Miss Starr at all?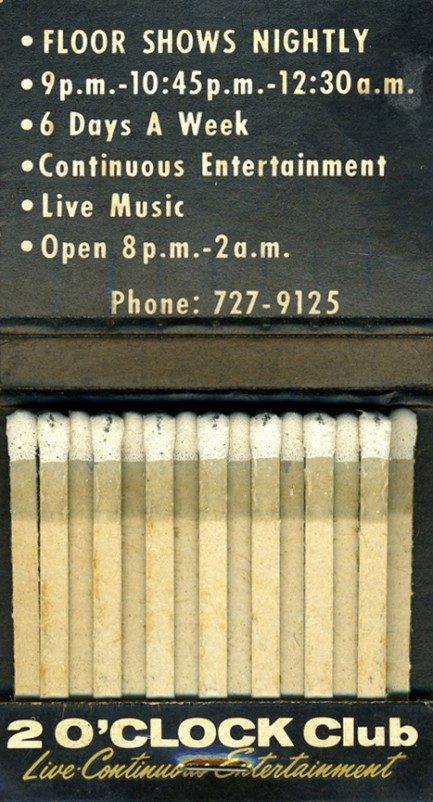 ---
Great weapon! Mind if I hold it? Wow, this little darlin' is just amazingly—KABOOM!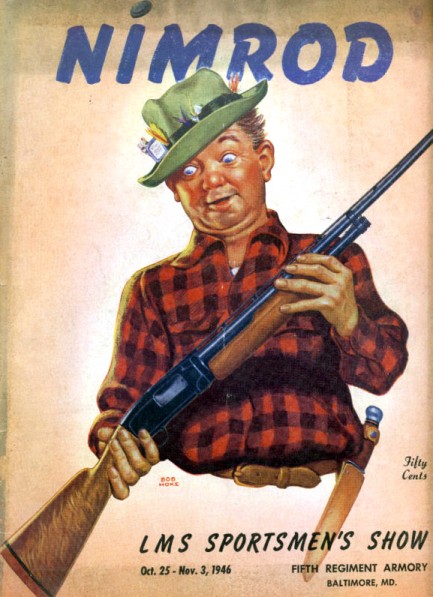 We could do an entire comedy routine on this one, vis-à-vis "Nimrod" and whether anyone involved here understood the non-literal aspects of the term, but instead we'll just deliver the facts. This is the cover of a program for the L.M.S. Sportsmen's Show, held in Baltimore, Maryland in the autumn of 1946, with Bob Hoke art in a Norman Rockwell vein. Inside you get a bunch of fishing and hunting articles, along with a few photos, lots of coupons for things like bullets and bait, and zero content on what to do in the event of accidentally shooting a friend in the face, i.e. pulling a Cheney. On the bright side, with his hunting buddy in intensive care, maybe he'll get to keep the gun.
---
The boys of summer open the Fall Classic in NYC.
In the U.S., Major League Baseball's World Series begins tonight when the Philadelphia Phillies play the New York Yankees in New York City. These are two of the oldest organizations in the majors—the Phillies date from 1883, and the Yankees were formed in 1901 as the Baltimore Orioles, before moving to New York in 1913 and rechristening themselves with a new name. So in honor of these venerable teams, and baseball in general, we've cobbled together a collection of baseball-themed pulp magazines—seven, actually, for the number of games we want the series to go. But however long it lasts, let's hope the games are entertaining and the fiery rioting in the winning town is non-lethal. Most of these images came from here.
U.S.A.
,
New York City
,
Philadelphia
,
New York Yankees
,
Philadelphia Phillies
,
Baltimore Orioles
,
Sport Story
,
Best Sports
,
Baseball Stories
,
Popular Sports
,
Argosy
,
Exciting Baseball
---