Next challenge—getting the potato chips from the kitchen without moving any part of my body.
Reefer Girl is one of the most collectible vintage paperbacks in existence. How collectible? We saw someone selling it for $750, which is quite an ask, considering it was going for $125 just five years ago. Both prices are an awful lot of money for something that, if you leave it on a table for a few minutes, you might walk back into the room to find your girlfriend swatting a fly with it. We've uploaded the rear of the book below so you can see how funny author Jane Manning's, aka Ruth Manoff's take on weed is. The book was published in 1956, and here we are sixty-one years later having made the journey from marijuana being an object of total hysteria to it reaching legal status in multiple parts of the the U.S. That's progess—for as long as it lasts, at least. The cover art here is by Rudy Nappi, and his stuff is always top quality.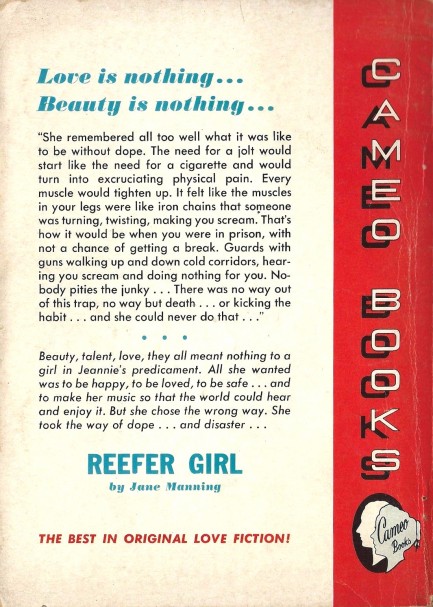 ---
It doesn't look like much now, but slap on some paint, scatter some knick-knacks around, and we can open a bed & breakfast and make a fortune.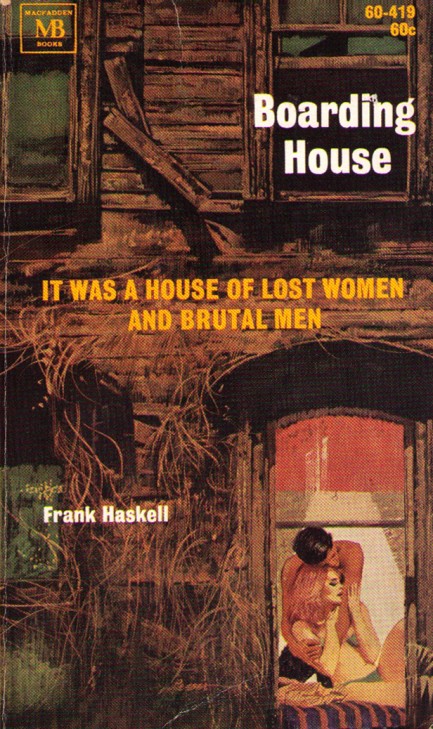 Initially published in 1953 as House of Lost Women, Frank Haskell's Boarding House acquired its new title in 1954 when re-published by Cameo Books, and retained the new name on the above 1969 edition from Macfadden-Bartell. Frank Haskell was a pseudonym for author Haskell Frankel, whose real name strikes us as a bit more literary sounding than his moniker, whereas the pen name sounds like it belongs to maybe a high school football coach or a union president. No artist info on this, but it's unusual and we like it.
---