Virtuoso poster artist finds inspiration in Serb star.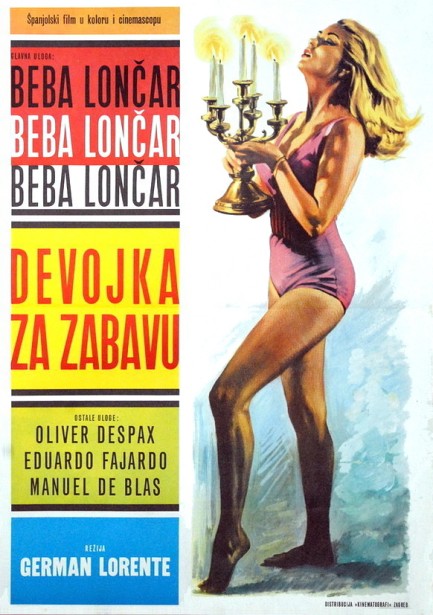 Above you see a poster from the former Yugoslavia, in Serbo-Croatian (we think), for the film Devojka za zabavu, starring Beba Lončar. We haven't watched this, so no summary, but it's available should you feel the urge. We're primarily interested in the art. The poster says this is a Španjolski film, or Spanish film, and indeed it was originally made in Spain as Amor en un espejo, and titled in the U.S. Cover Girl. The poster was adapted from the Spanish promo art painted by Carlos Escobar, who signed his work as Esc. On the Spanish version his signature is prominent, but the Yugoslavians decided to wipe it out for some reason. We already showed one example of Escobar's talent featuring Sharon Tate, and it may be one of the most beautiful of the hundreds of posters to adorn Pulp Intl. over the years. This one, which uses the lovely Lončar as a model, is also good. Evidence of what a big star the Serb actress was in her native Yugoslavia exists in her name, thrice repeated above the film's title, which is not how the Spanish poster was set up. Check out the Tate promo here. And check out Lončar here. Amor en un espejo premiered in Spain today in 1968.
---
Tate gives chase in an international fortune hunting comedy about a missing chair.
In
¿Las cual de 13?
, aka
12 + 1
, aka
Twelve Plus One,
an Italian barber played by Vittorio Gassman inherits thirteen chairs and, deeming them useless, sells them to a London antique shop. He later discovers one of the chairs contains a fortune, but when he returns to the shop he's told they've all been sold. So he offers the antique shop employee Sharon Tate half of the fortune to help him track down the chairs, which of course have scattered to the four winds. Their search takes them to Paris, Rome, and beyond, in 1960s screwball fashion with its expected pratfalls, mix-ups, and sticky situations.
Gassman and Tate do reasonable jobs with the goofy script that's been made of Soviet authors Ilf and Petrov's satirical source novel, and the film is boosted by appearances from Vittorio De Sica, Mylène Demongeot, Terry-Thomas, and Orson Welles
. This was an Italian production, but the poster above was painted for the film's Spanish run by Carlos Escobar, who signed his work "Esc." This is the best we've ever seen from a very good artist. Since the movie didn't premiere in Italy until after Tate had been slain this month in 1969, and didn't reach Spain until mid-1970, the poster very likely was painted post-murder, which means Escobar probably was thinking of how to best portray someone who'd become a tragic figure. We suspect he put special effort into his work as a tribute, and if so, a fitting tribute it was.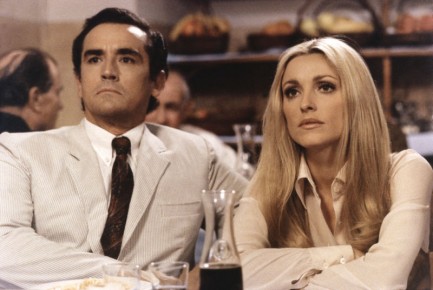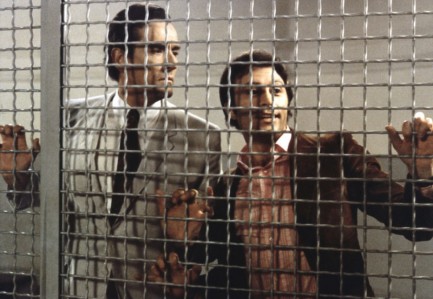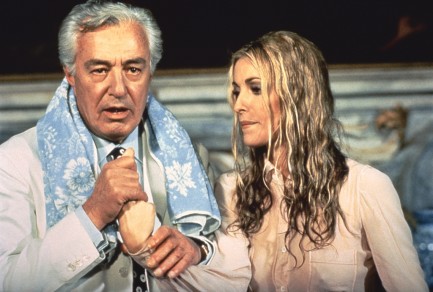 ---