Big trouble in little China.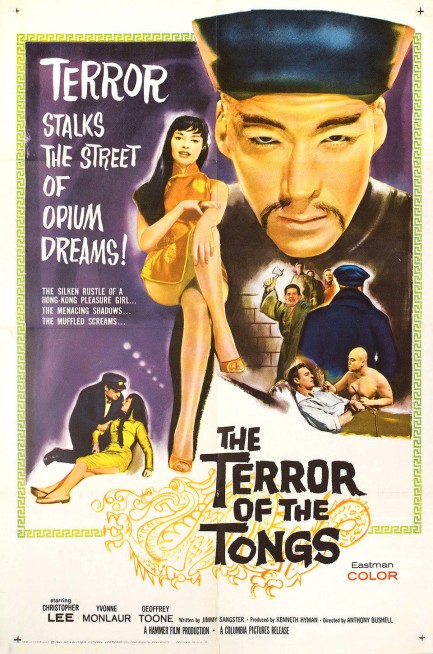 After running across a poster this pretty we simply had to watch The Terror of the Tongs. Of course, the quality of an old Hollywood movie set in Asia is inversely proportional to the number of times you hear a gong. In The Terror of the Tongs you hear quite a few. You know the drill. Someone says the bad guys' headquarters is in the old part of town—GONG!—cut to the villains in their lair. Usually such movies feature white cast members Asianized with make-up and putty eyelids, and this is also an inverse indicator of quality.
But on that score Tongs defies the rule. Most major cast members are white, but the movie, though inherently racist, is not a bad piece of entertainment. A paradox? Indeed, young one. But we mean to say that once you get over the minstrel aspects—if you ever do, and we don't suggest that you should—what you get here is a fun little tale of a white ship captain in the mysterious Orient dealing with forces he can barely comprehend. When he accidentally comes into possession of a valuable item it results in the murder of his airhead daughter and sends him on a mission to make the responsible tong—i.e. Hong Kong mafia—pay.
Geoffrey Toone plays the noble and aggrieved captain, while veteran Brit actor Christopher Lee stars as the evil tong honcho Chung King. The film is beautifully made, with big sets and florid colors that dazzle the eye, and it's less predictable than you'd expect. It's clear the filmmakers were deadly serious, which makes it funny that the final product is considered pure cheese today. If you can look past the yellow makeup and prosthetic eyelids you'll find some entertainment here. And if not, at the very least you'll be thankful how far we've all come. The Terror of the Tongs premiered today in 1961.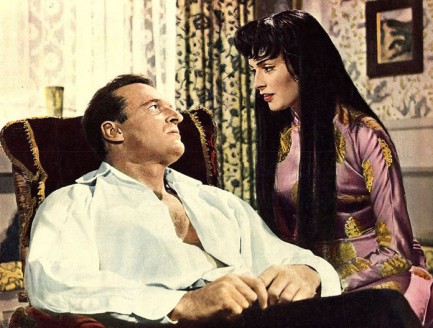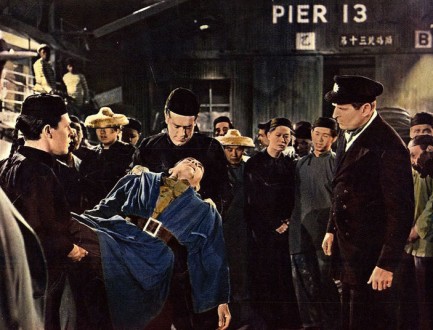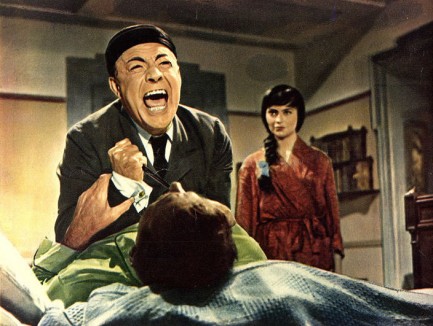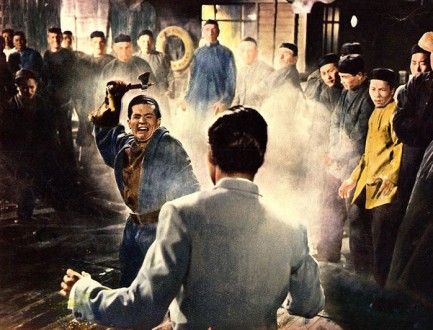 ---
The moment you doubt is the moment it stops being real.
Corridor of Mirrors is fascinating movie, though not one everyone will appreciate. There's an actual corridor of mirrors, and it's a place of infinite reflections and madness, located in the sprawling mansion of man, played by Eric Portman, who believes he's the reincarnation of someone who lived four-hundred years ago. As they say, when you're rich you're not crazy—you're merely eccentric. The problem, though, is that Portman believes he was in love with a woman way back then, and that she has been reincarnated too, in the person of Edana Romney. This is very interesting work from a director—Terrence Young—who would go on to helm three James Bond movies (trivia: Lois Maxwell, the original Miss Moneypenny, makes an appearance here, as does future Hammer horror icon and Tolkien baddie Christopher Lee).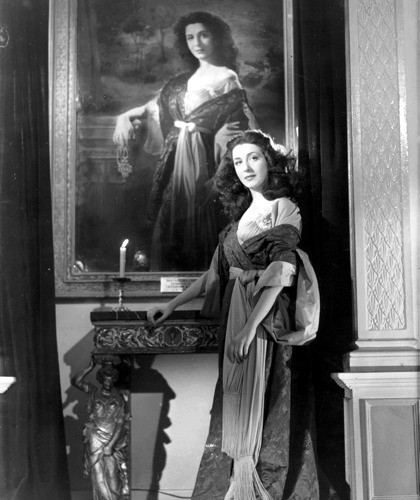 Perhaps the most successful element of Corridor of Mirrors is how the audience is dragged into the lead's carefully constructed fantasy world. The film takes place in modern (1948) times, but by midway through, it has become a Renaissance period piece, as the camera rambles through Portman's foreboding mansion where nary a lamp or electrical convenience of any sort is found. The use of candles is particularly effective when Portman unveils a painting of his centuries-old love—gasp!—she looks exactly like Romney. Well, maybe not so shocking, but the appearance of a flashlight late in the proceedings is actually shocking, as it's a reminder that the previous hour has been spent inside the Neverland of a madman.
Is Corridor of Mirrors a film noir? Not even. It's been placed on a double bill at Noir City with the stylistically similar The Picture of Dorian Gray, but noir fans might be disappointed to have bought tickets for this particular night. In fact, this year's festival features a high proportion of non-noir cinema—ten of the offerings aren't film noir, and arguably even a couple more fall outside the category. Still, Corridor of Mirrors is a nice melodrama, dripping with irony by the end, and worth seeing on its own merits. A British production, it seems as though no English language posters survive, so at top you see the nice promo from its run in Belgium, where it was called L'etrange rendezvous.
---
Satan claws is coming to town.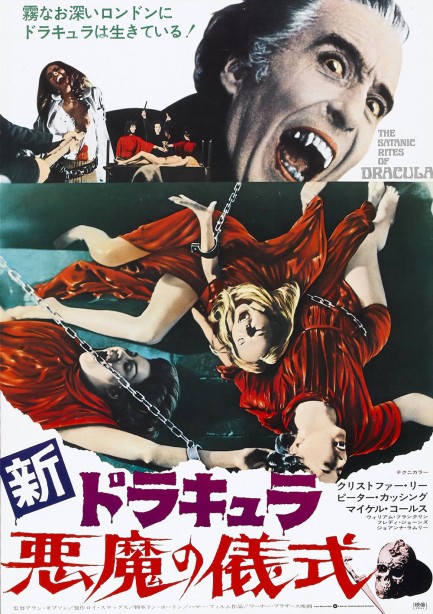 Nothing says Christmas like a cheesy horror movie, and they don't get much cheesier than Hammer Film Productions' b-flick Satanic Rites of Dracula. This was the seventh and last movie to feature Christopher Lee playing Dracula, a role he inhabited with great gusto, and the third with Peter Cushing as Van Helsing. In other words, Hammer really knew how to beat a dead horse. Plenty of summaries of this online, so we won't bother. We just wanted to show you the nice art. Satanic Rites of Dracula first played in Japan today in 1974.
---