Romance between two musical geniuses hits a few unexpected sour notes.
Classical musicians separated during the chaos of World War II are reunited in New York City, but the woman neglects to mention to her fiancée that she's acquired a lover and sugar daddy who happens to be a world renowned composer. Bette Davis gives a confident turn as a gifted and successful pianist, while Paul Henreid as her cellist fiancée and Claude Rains as the jilter lover are both excellent. The latter two actors also featured in Casablanca, and Deception bears some similarities to that earlier film in two ways—Henreid is lost during war and presumed dead, leading his love to turn to another; Rains is a caustic smartass, something he does really well.
Another aspect of Deception we enjoyed was how much work went into making Davis and Henried perform like master musicians. In Davis's case, she fakes it on piano just long enough to pass the eye test, while Henreid had a hidden cellist insert his arms through a modified jacket and play the parts blind. It's an, um, deceptively simple solution that worked perfectly. Deception didn't perform well at the box office when released in 1946, but time has been kind to it, and criticisms have waned. At the very least you may want to watch it to get a gander at Davis's spectacular loft apartment.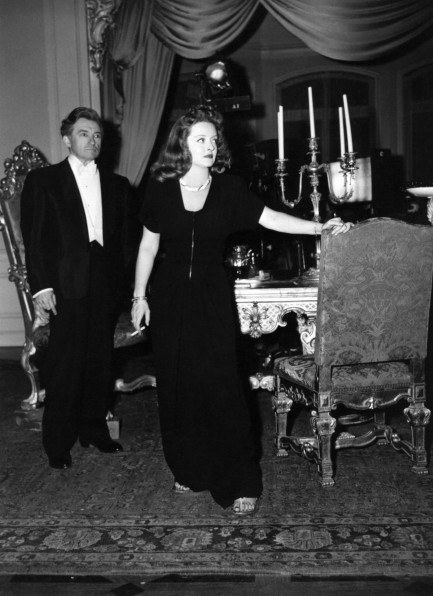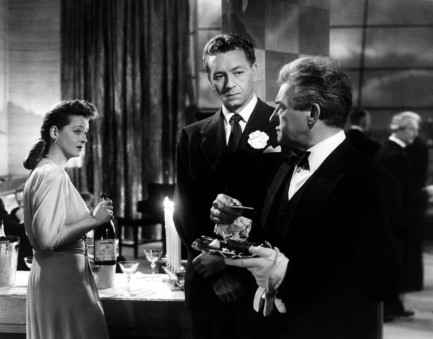 ---
Wanna go out with me Friday? Oh, you're committing suicide that night? How about Thursday?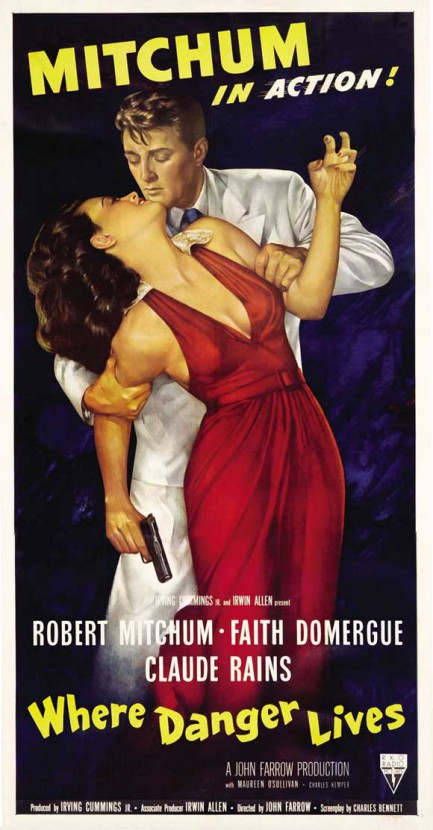 Above is one of the great film noir posters—the three-sheet promo for Where Danger Lives (presumably de-seamed by some enterprising Photoshopper). The movie starred Robert Mitchum, Faith Domergue, and Claude Rains, and deals with a doctor who gets involved with a suicidal patient, a situation that simply can't end well. Like most film noirs, Where Danger Lives is well regarded today, but it's strictly second tier—watching Mitchum stagger around for half the movie making bad decisions because of a concussion just didn't engage us, but more importantly there's no real basis for his relationship with Domergue. Writing it into a script is not enough—the actors need to establish chemistry and heat to make recklessness understandable. When you start asking questions like, "But why would he have any interest in this crazy chick when he already has a great girlfriend?" you know the movie is fatally flawed. If you like noirs, you might be inclined to give this one's failings a pass—after all, even so-so noir is better than 90% of what's coming out of Hollywood today. And it has Mitchum, who's also better than 90% of what's coming out of Hollywood today. Where Danger Lives premiered in the U.S. today in 1950.
---
Passage to Marseille has plenty of message but not enough movie.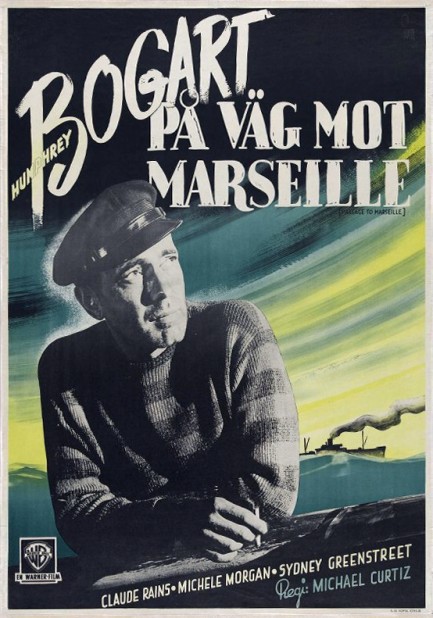 We've seen nearly every Humphrey Bogart movie but had been warned away from Passage to Marseille. We finally watched it last night and the haters were right—it's substantially below standard. You have Casablanca director Michael Curtiz at the helm and Casablanca alumni Bogart, Claude Rains, Peter Lorre, and Sydney Greenstreet in front of the camera, along with the lovely Michèle Morgan in the female lead, but all their combined efforts cannot elevate this clumsily written propaganda piece. Curtiz is not to blame—his direction is functional and James Wong Howe photographs everything beautifully. Likewise, Bogart manages his role adequately, Lorre and his emotive brow are put to ample use, and Rains dons an eyepatch and permafrown to bring some gravity to matters.
But
Passage to Marseille
is just a badly written film. Where
Casablanca
used patriotic sentiments adroitly (who can forget the way the singing of the French national anthem "La Marseillaise" both roused the audience and advanced the plot?),
Passage to Marseille
flounders under the weight of cheap nationalism and sticky sentiment. It enjoys a decent rating on many review websites but we daresay that's mainly due to Bogart bias (wherein even his bad flicks like
Chain Lightning
and
Battle Circus
have good ratings). We love the guy too, but no actor in history has batted 1.000, and this movie was a clean whiff. As propaganda it doubtless got the job done, but as a film we suggest consigning it to a dusty, unreachable shelf.
Passage to Marseille
premiered in Sweden as
På väg mot Marseille
today in 1944.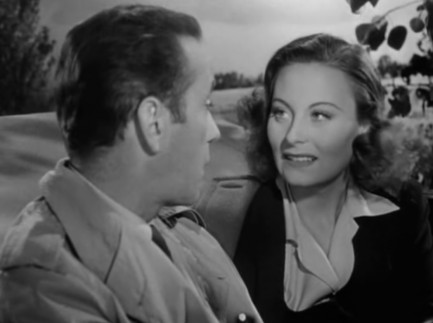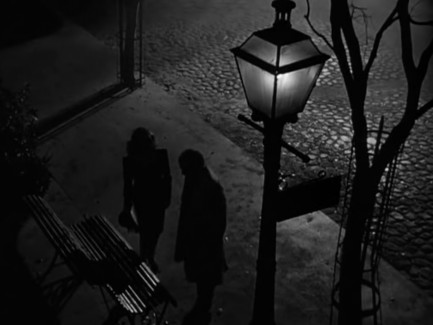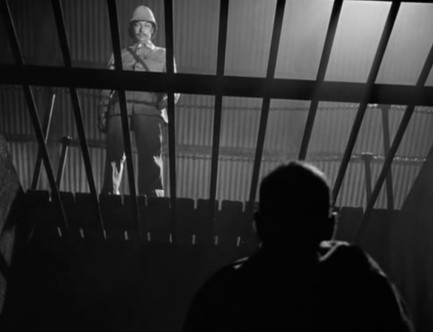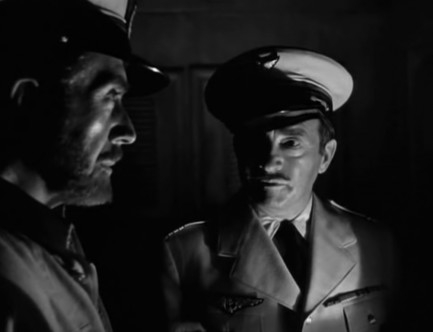 ---