This is bad, but the upside is I finally have proof I'm right—you do take too long to pack.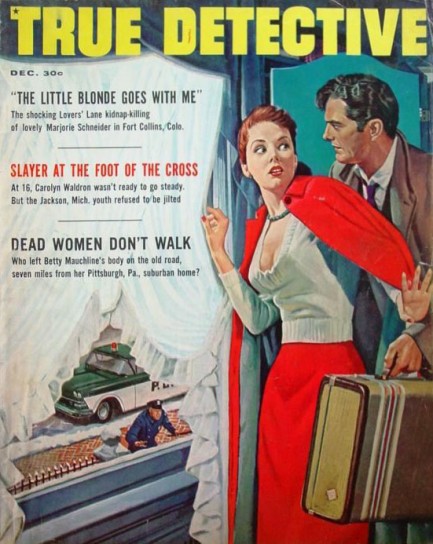 True Detective gives readers the lowdown on several crimes in this issue published this month in 1958, but the most chilling story involves 18-year-old Marjorie Schneider, who was parked in a secluded lover's lane near Fort Collins, Colorado with her date and another couple when she was abducted at gunpoint. True Detective scribe Jonas Bayer tells readers how the perpetrator was a man named Floyd Robertson, who first shot up the car, then robbed the quartet inside, and finally dragged the screaming Schneider away, saying, "I want the blonde to come with me." With the car non-functional, the survivors ran two miles to a telephone. Their call touched off one of the largest searches in Colorado history. When police caught Robertson just days later, he admitted that he had abducted and raped Schneider, shot her three times in the head, then buried her body 600 feet up the side of an incline overlooking Highway 14. Robertson was later convicted of the crimes and sentenced to life in prison. The cover art on this issue is by Joe Little, who painted covers for Master Detective, Saga, Male, Man's World, and many other mags. More from him later.
---
Nothing says Christmas like a holiday mugshot.
In the winter wonderland of Aspen, Colorado, American actor Charlie Sheen was arrested yesterday and taken to the Pitkin County jail, where he was booked for investigation of second-degree assault, menacing, and criminal mischief. As of yet, Sheen's accuser has not been named, but is believed to be his wife Brooke Mueller. However, she reportedly did not need medical attention and hints are already dropping that she may have been the one doing the beating. Sheen's attorney, Aspen resident Richard Cummins, said late Friday, "I think at the end of the day it will be much ado about nothing. I don't think there's any criminality about what went on."
Sheen has had domestic problems before. In 1990 he accidentally shot his then-fiancee, Kelly Preston, in the arm, inflicting a minor wound needing two stitches. In December 1996, he was arrested and charged with attacking a girlfriend in his Southern California home. He pleaded no contest in that incident and was placed on two years' probation. And his ex-wife Denise Richards accused him of threatening her with violence on numerous occasions. For the moment, Sheen remains in the Pitkin Jail, where he will be held without bond until his first court appearance.

---