Warning signs only work for those willing to read them.
In the above photo from today in 1951 Margaret Kristy and her teen daughter Helen appear in Los Angeles County Court to testify in the trial of Frank Kristy, who months earlier had shot and killed Betty Jean Hansen, his stepdaughter and Margaret's biolgoical daughter. Betty was twenty at the time, but Frank had been obsessed with her for years and at some point had commenced a sexual relationship with her—described as an affair in contemporaneous accounts, but rape by any sane standard. Margaret discovered what was happening when Frank taunted during an argument, "Well, I'll tell you now, I have screwed her and I intend to keep screwing her as long as she is in the house." Margaret was stunned but not fully sure it was true. But her daughter confirmed it. During the ensuing argument Betty made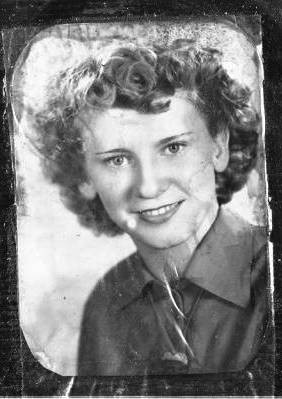 her feelings about the situation clear when she declared: "You won't, Daddy. You are not touching me another time."

Margaret and Betty decided to move out. Frank seemed to agree until he realized they intended to take Helen, who was his and Margaret's daughter. Undoubtedly, his consent was a bluff in the first place. Frank's attitude going forward was succinct: "If Betty leaves this house I'll kill her."
Some sort of detente was reached and the family stayed together, but it was a mistake. After weeks of threats against both Margaret and Betty, Frank finally kidnapped his stepdaughter at gunpoint and drove the two of them away in her car. Margaret, still refusing to believe the situtation was hopeless, thought Frank would cool down, so she didn't call the police—for two days. When she finally did phone the cops a search commenced. Eight days after the kidnapping Betty was found in a ditch, shot through the left temple and in a state of decomposition. Frank was picked up by police in Colorado after someone recognized him from a wanted poster.

Some crimes have no warning signs, but the murder of Betty Hansen seemed inevitable. Not only had Frank raped her and given no hint that he thought it was wrong, but he had even gotten her name tattooed on his shoulder—a strong indication of a man living in a twisted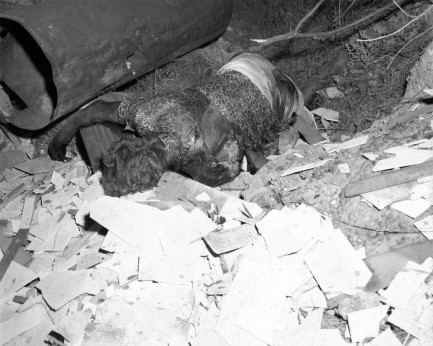 alternate reality if ever there was one. He was also paranoid, verbally abusive, and had specifically talked about buying a gun. The day before the murder Margaret discovered the phone lines to the house had been cut. Still she did not take her daughter and flee. While justice was eventually served when Frank Kristy was sent to prison for life, reading about the murder is like witnessing an avoidable accident, like watching a slasher film where a killer looms but the impending victim thinks the strange noise she hears is the wind. In a horror movie it's never the wind, and in real life a husband's death threat is never empty, or at least should never be treated as such. That's not victim blaming—it's good advice.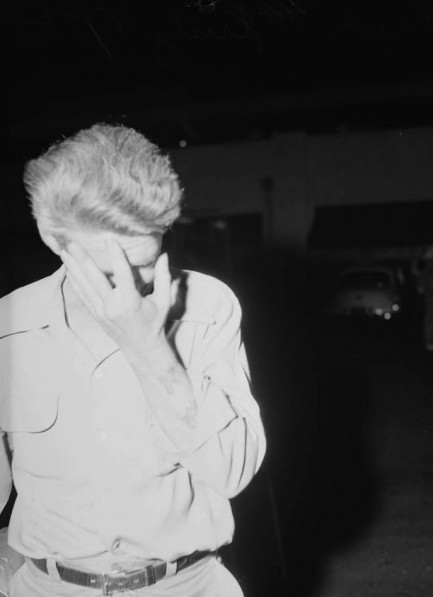 ---
This is bad, but the upside is I finally have proof I'm right—you do take too long to pack.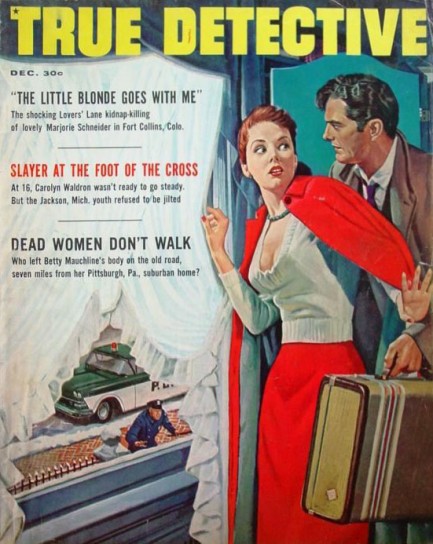 True Detective gives readers the lowdown on several crimes in this issue published this month in 1958, but the most chilling story involves 18-year-old Marjorie Schneider, who was parked in a secluded lover's lane near Fort Collins, Colorado with her date and another couple when she was abducted at gunpoint. True Detective scribe Jonas Bayer tells readers how the perpetrator was a man named Floyd Robertson, who first shot up the car, then robbed the quartet inside, and finally dragged the screaming Schneider away, saying, "I want the blonde to come with me." With the car non-functional, the survivors ran two miles to a telephone. Their call touched off one of the largest searches in Colorado history. When police caught Robertson just days later, he admitted that he had abducted and raped Schneider, shot her three times in the head, then buried her body 600 feet up the side of an incline overlooking Highway 14. Robertson was later convicted of the crimes and sentenced to life in prison. The cover art on this issue is by Joe Little, who painted covers for Master Detective, Saga, Male, Man's World, and many other mags. More from him later.
---
Nothing says Christmas like a holiday mugshot.
In the winter wonderland of Aspen, Colorado, American actor Charlie Sheen was arrested yesterday and taken to the Pitkin County jail, where he was booked for investigation of second-degree assault, menacing, and criminal mischief. As of yet, Sheen's accuser has not been named, but is believed to be his wife Brooke Mueller. However, she reportedly did not need medical attention and hints are already dropping that she may have been the one doing the beating. Sheen's attorney, Aspen resident Richard Cummins, said late Friday, "I think at the end of the day it will be much ado about nothing. I don't think there's any criminality about what went on."
Sheen has had domestic problems before. In 1990 he accidentally shot his then-fiancee, Kelly Preston, in the arm, inflicting a minor wound needing two stitches. In December 1996, he was arrested and charged with attacking a girlfriend in his Southern California home. He pleaded no contest in that incident and was placed on two years' probation. And his ex-wife Denise Richards accused him of threatening her with violence on numerous occasions. For the moment, Sheen remains in the Pitkin Jail, where he will be held without bond until his first court appearance.

---