It's really been three days since we showered? Wow. The old saying is true—time flies when you're having fun.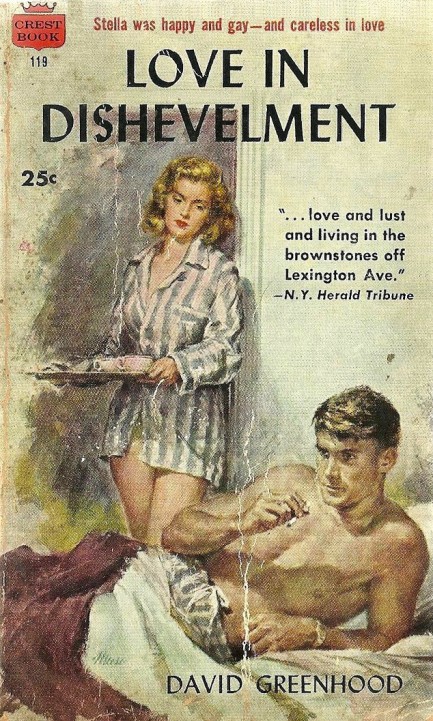 Love in Dishevelment by David Greenhood deals with a man and woman in New York City who decide to live together, something that was severely frowned upon in 1948 when the book was first published, especially for two upstanding professionals like the couple in the story. There's also an out-of-wedlock baby, even more frowned upon, and these and other elements led to the book being banned in Australia, though on the whole you could call the story a romance. Greenhood, who also wrote non-fiction and poetry, takes a literary approach here, and he earned good reviews. This Fawcett-Crest edition appeared in 1955 with cover art from James Meese.
---
Only good hot sax could make a girl move her body that way.
In 1958's hit novel The Horn beat author John Clellon Holmes tells the story of Edgar Pool, a talented tenor saxophonist who makes his mark on the NYC jazz scene and grows into a global legend. The last twenty-four hours of his life are related via the recollections of friends and lovers, so what you get is a rise-and-fall biography centered around a booze-drugs-women nexus, which Holmes based on the lives of jazz masters Lester Young and Charlie Parker and set in 1954 to give it a tinge of documentary nostalgia. It's a really nice piece of literature. Holmes had already written Go, which is considered the first beat novel; The Horn is the definitive jazz novel from that genre. This 1959 Fawcett Crest paperback comes with worthy cover art from Mitchell Hooks.
---
Don't play the game unless you play it for keeps.
Seems about time for another Robert McGinnis cover, so here's one you don't see often—Tereska Torrès's novel of multiple marital affairs The Dangerous Games

. Despite the look of this, the French-born Torrès was considered by most critics to be among the ranks of serious, literary authors. In true Orwell or Hemingway fashion she honed her craft in conflict by working for the Volontaires Françaises during World War II and later traveling from Poland to Palestine. In 1950 she published

Women's Barracks

, based loosely on her wartime experiences, and that book is considered by many to be the first lesbian pulp novel.

The Dangerous Games

initially appeared in 1958 in France as

Le labyrinthe

(subtitled …

oh! ces jeux dangereux

), and the above McGinnis-graced reprint followed in 1961.
---