Robert Young tries to solve a murder that seems to have no motive.
Above is a Swedish poster for Edward Dmytryk's Hämnden är rättvis, aka Crossfire, a really interesting film noir about an ex-soldier who is murdered, and his fellow ex-soldiers who are suspects. Police detective Robert Young tries to get to the bottom of the crime, but is increasingly baffled as he realizes the killing did not occur for any of the usual reasons—money, lust, revenge, etc. Different character recollections provide different information about the victim's last hours, but only serve to underscore the apparent senselesslness of the crime. We can't reveal the direction Young's investigation turns without giving away the ending*, but we'll mention that the movie won an award at Cannes—the Prix du meilleur film social, or Best Social Film.
Though technically and visually brilliant, as a whole we don't think
Crossfire
has weathered as well as other noirs (for casual movie watchers it may be too static and talky). But it does have a bravura performance from Robert Ryan, and solid work from both Gloria Grahame and the always excellent Robert Mitchum. As far as the art is concerned, note the strong contrast between the Swedish version and the riotously colorful American ones, which we have below. Swedish film noir posters often de-emphasized color and used long lines to apportion space into several distinct boxes (as seen here, here, here, and here), but the above is one of the most severe examples we've found.
Crossfire
premiered in the U.S. in July 1947, and first played in Stockholm as
Hämnden är rättvis
today the same year.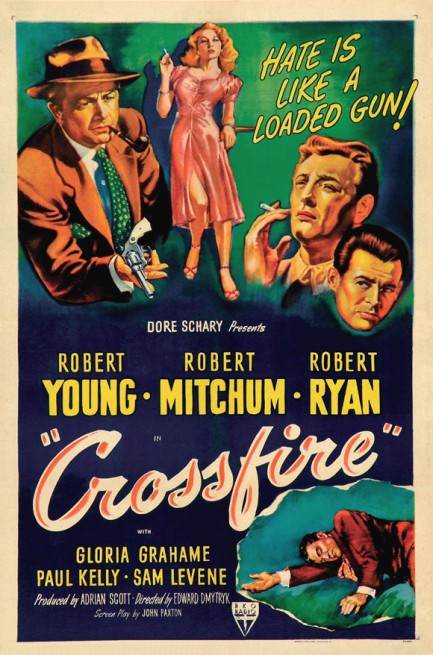 *We've never worried about giving away endings before. Our capsule reviews are really just excuses to show the poster art and joke around. However, a few recent emails have revealed that some readers actually visit Pulp Intl. for viewing ideas, which just goes to show that after five years online you receive credibility whether you were looking for it or not. So even though recent scientific research shows that people enjoy stories more if they know the endings in advance, we're going to be better about spoilers in the future. Promise.
Sweden
,
France
,
Cannes
,
Stockholm
,
Prix du meilleur film social
,
Hämnden är rättvis
,
Crossfire
,
Robert Mitchum
,
Robert Ryan
,
Robert Young
,
Gloria Grahame
,
Edward Dmytryk
,
poster art
,
cinema
,
film noir
,
movie review
---
When you get on his wrong side, it's the other side of a marksman's scope.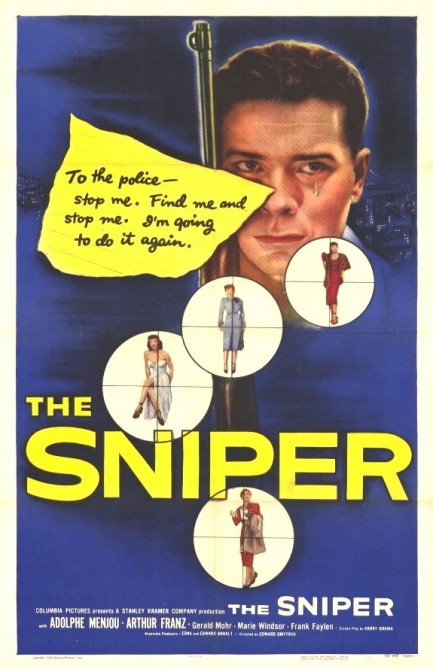 A few days ago we mentioned the Noir City Film Festival and waxed nostalgic about San Francisco. The festival schedule reminded us of noirs we haven't seen in a while, and revealed others we've never seen. On the Noir City bill this evening is a film from the latter category, Edward Dmytryk's 1952 thriller The Sniper. We watched it last night and it more than deserves a slot in a prestigious festival like Noir City. The film was shot in San Francisco, and stars Arthur Franz as a former mental patient named Eddie Miller who is gripped by murderous impulses. Perching in windows and on rooftops, he uses a carbine and scope to target unsuspecting victims. As yet the gun isn't loaded, but his sexual feelings for a female acquaintance catalyze his urges. The expert marksman begins killing, ultimately slaying four women (that's not a spoiler, given the four scoped targets on the poster art). Eddie Miller treads similar ground as hundreds of other cinematic lost souls, but film historians say he was first—American film's first serial killer. This one is worth it both for the movie and for its usage of San Francisco exteriors, which are so expertly and extensively intergrated into the production, we have a feeling Bay Area audiences will marvel over that more than the actual plot. But they should pay close attention to both. Dmytryk is the same director who gave the world Murder, My Sweet and Crossfire. This is top tier filmmaking.
San Francisco
,
Noir City Film Festival
,
The Sniper
,
Murder My Sweet
,
Crossfire
,
Edward Dmytryk
,
Arthur Franz
,
poster art
,
cinema
,
movie review
,
film noir
---
NYC vinyl dealer is still picking up the pieces after Hurricane Sandy.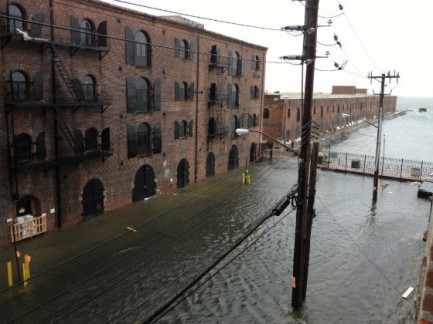 We received an email a couple of days ago from a reader named Joe R., who pointed us toward an item about Norton Records, a New York City based vintage vinyl dealer whose Brooklyn warehouse was hit pretty hard by Hurricane Sandy (above you see a photo taken of the building just after the storm). According to Norton's website, most of their catalog stock was destroyed by floodwaters. Like many other vintage vinyl dealers, they also have a pretty nice stack of sleaze fiction, so you collectors out there might want to take a look at their selection. We've uploaded a few covers right and below, including Dale Koby's Sin Lens (art by Paul Rader), Milton Geller's Don't Like Me—Love Me!, and Frank Gavin's Crossfire. The prices are lower than you would typically find on, for instance, Ebay (where we came across a couple of items from Norton's catalog going for over $30, which is more than double what they charge). If you bought something you'd be supporting a business at a time of struggle, plus it's officially holiday season again, and nothing says Christmas quite like a sleaze paperback. Thanks, Joe, for sending this item over. Norton Records warehouse photo by Nick Cope
New York
,
Brooklyn
,
Sin Lens
,
Don't Like Me—Love Me!
,
Crossfire
,
Milton Geller
,
Paul Rader
,
Dale Koby
,
Frank Gavin
,
cover art
,
literature
---