What do nuns wear under their robes? This one wears weapons.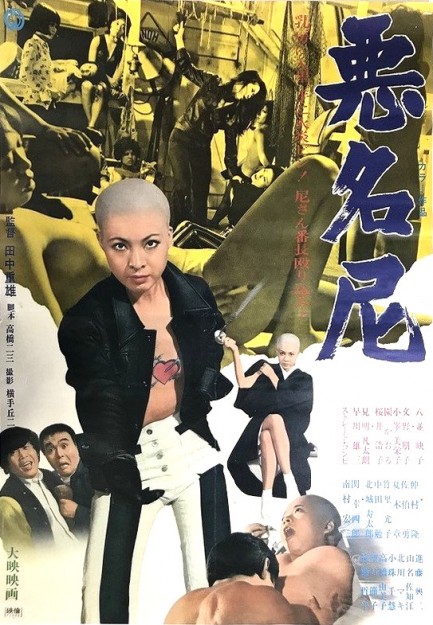 Eiko Yanami goes bald on this poster for the juvie delinquent pinku flick Akumyô ama. We don't have a definitive English title for this, but according to one source it might have been called something like "Yakuza Nun" or "Bad Reputation Nun," which may seem weird considering the art, but Eiko goes into hiding in a nunnery at one point. The movie premiered in Japan today in 1971. The poster and two of the promo photos below came from a pretty interesting Japanese movie blog called Dekkappai's Pre-1990 Pink Film Archive. A lot of the images there are low quality but the large array of them (including a few from Pulp Intl.) make the site worth checking out.
---
A scooter made for three.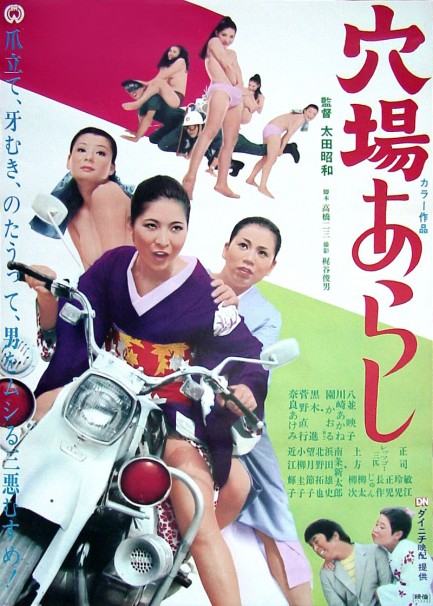 Above, a goofy promo poster for Anaba arashi with Eiko Yanami, Akane Kawasaki, and Kaoru Sono. This is an obscure one. The Japanese title would translate to something about storms, but the movie was called in English Three Mischievous Girls, or possibly Naughty Three Woman Gang, and it premiered in Japan today in 1971. We'll dig around and see if we can find out more on this one. See several more nice Eiko Yanami posters by clicking her keywords below.
---