Paul Derval and the pleasure factory.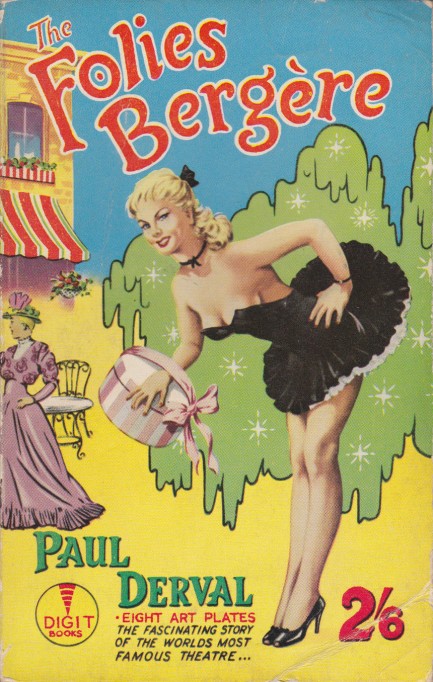 Is it pulp? Technically no. But then technically most of what we share isn't pulp, if you want to be doctrinaire about it. But this cover for Paul Derval's The F

olies Bergère

has pin-up style art, so that's good enough for us. This is from Digit Books, 1956, an English version of a book originally published by Methuen & Co. in France, and is a behind-the-scenes rundown of the famed burlesque theater written by the guy who managed the place from 1918 to 1956. It was under Derval that the Folies achieved arguably its greatest fame. In addition to his story, you also get eight photo pages inside, including the one you see below. If that image looks familiar, it may be because we showed it to you back in 2015, but a much sharper version scanned from a glossy photo. She's none other than the talented and beautiful Yvonne Ménard, and you can learn a bit about her, and see more of her, at this link.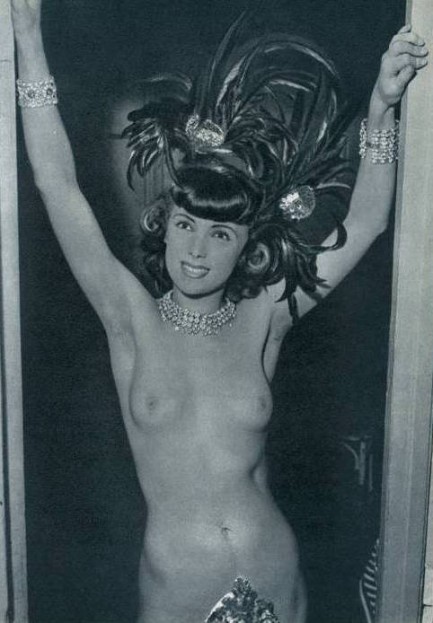 ---
Please let me go back—I forgot to remind my publisher to credit me as the cover artist!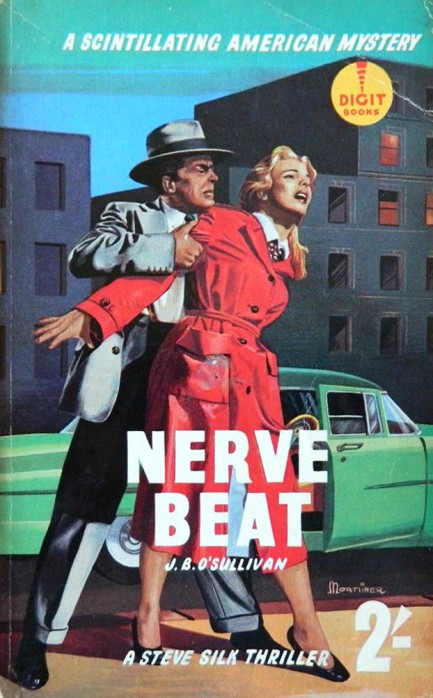 Above is a very nice cover with a wraparound element for J.B. O'Sullivan's 1957 novel Nerve Beat. Digit Books had a high standard for cover art, and a correspondingly low frequency of identifying artists, but this piece is at least signed—Mortimer. We have no idea who that is. Nice work, though. You can see a comprehensive collection of Digit book covers at this link.
---
Glass Key paperback art is tops thanks to another Italian master.
Brian Donlevy and Veronica Lake's film noir The Glass Key, which was Hollywood's second try at Dashiell Hammett's novel, premiered this month in 1942. To be exact, it opened yesterday in New York City and throughout the U.S. on October 23. The poster most often seen online is the theatrical release version we showed you several years ago, but alternates were produced and two of them appear below. What we really wanted to share, though, is this great paperback cover from UK-based Digit Books. It's from 1961 and features the art of Italian illustrator Enrico de Seta, who we've mentioned before. If you haven't watched The Glass Key we recommend it, and if you haven't read the book, just know that it was Hammett's personal favorite.
---