Any educator will tell you the same, my dear—the key to learning is excellent teacher/student relations.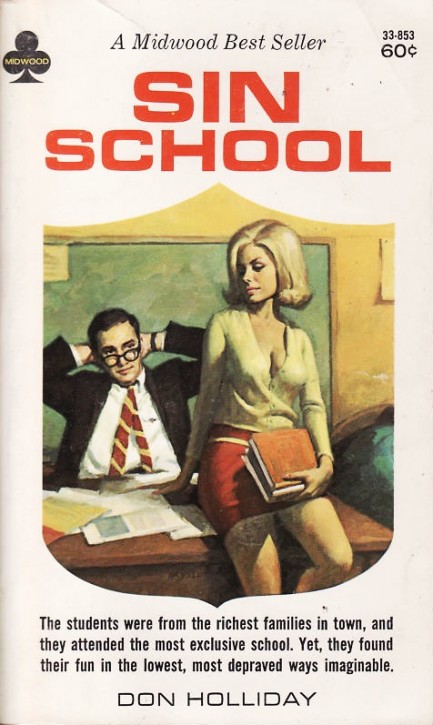 Above, a cover of the 1959 sleaze paperback Sin School, brought to us by Midwood and its house pseudonym Don Holliday. This was actually written by Hal Dresner, according to Vintage Sleaze, and if you want to see an alternate cover check their website here.
---
It was an Affairs to remember.
Above is a cover scan of Victor Jay's 1964 novel The Affairs of Gloria

, a book that is significant because it's the first from the LGBT author whose real name is Victor J. Banis. He happens to be the person who, writing under Leisure Books' communal pseudonym Don Holliday, gave the world the mystery series

The Man from C.A.M.P

., as well as many other books that are classics in the gay pulp genre. Some of those unforgettable and decidedly un-PC titles include

Blow the Man Down, Man into Boy, Homo Farm,

and

Rally Round the Fag

.

Gloria

isn't what you'd call a gay pulp. Banis hadn't yet taken that direction with his fiction (which was all short stories up to that point), but he was literarily bi-curious, you could say, so what he did was create a protagonist whose sexual appetite allowed him to experiment with lesbian themes. The book sold well, and despite an obscenity indictment in Sioux City, Iowa, Banis came away from the experience more convinced than ever that an untapped gay market was waiting. In 1966 Greenleaf Classics published Banis's first gay mystery

The Why Not

, which resulted in the go-ahead for similar novels. Banis is still churning out books today, and is well reviewed by entities as middle of the road as

Publisher's Weekly, who, according to the author's website, called him a literary icon who made a difference. All of that began to take shape with his first novel, The Affairs of Gloria

. You can read Banis's own account of writing

Gloria and get the skinny on that obscenity trial here.
Brandon House
,
The Affairs of Gloria
,
Blow the Man Down
,
Man into Boy
,
Homo Farm
,
Rally Round the Fag
,
The Man from C.A.M.P.
,
Victor J. Banis
,
Victor Jay
,
Don Holliday
,
Fred Fixler
,
cover art
,
literature
---
Dead, bath and beyond.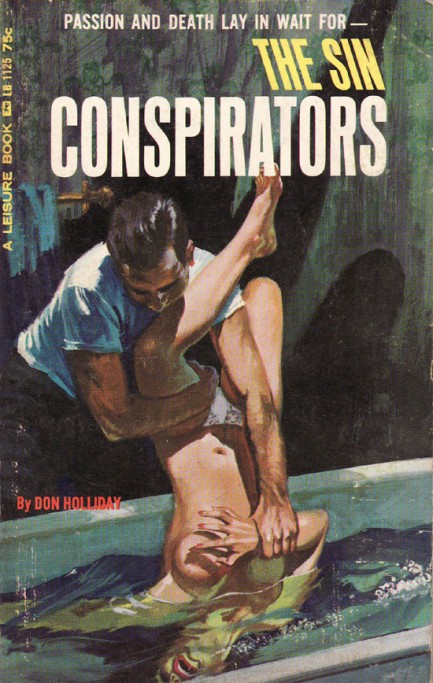 Don Holliday was yet another 1960s sleaze author who existed only as a pseudonym. This one was inhabited by Hal Dresner, Lawrence Block, John Jakes, Victor Banis and other sometime sexploitation writers. We don't know which one wrote The Sin Conspirators for Leisure Books, but with a cover this brutal, it's probably good he distanced himself. Unless the man is only demonstrating how in high school the other kids used to give him swirlies, it isn't going to be just a bad hair day for his companion, but a bad air day. We're working up a more comprehensive post on these Leisure pulps, and they all have similarly provocative cover art, so keep an eye out.
---