After the apocalypse man's best friend is more important than ever.
This is a pretty unassuming poster considering A Boy and His Dog is one of the top cult films of the 1970s. Based on a novella by Harlan Ellison and starring a young Don Johnson and co-starring early Pulp Intl. femme fatale Susanne Benton (who you can see in all her glory here), the movie is a post-apocalyptic tale of desperate survivors wandering radioactive wastelands scratching out a hard fought existence. Mutations have done a number on living creatures, which is why Johnson's co-star is a shaggy telepathic dog named Blood. Man and dog have a symbiosis, with Johnson offering protection, the dog sniffing out food and women, and both profiting companionship. Sounds goofy, we know, but the telepathic dog bit really works. Blood is irascible, but funny, smart, and warm, while Johnson is a slave to his id and libido. Ultimately, circumstances offer a choice between a dangerous and unpredictable freedom on the wastelands, or a secure but tedious existence in an underground sanctuary. The final question becomes whether conventionality diminishes a man. Playing like a bizarro prequel to The Road Warrior, and ultimately revealing itself to be a barroom joke stretched out to feature length, this is a film we recommend, however be forewarned that Harlan Ellison's post-apocalypse is a tough place for women. A Boy and His Dog premiered in the U.S. today in 1975.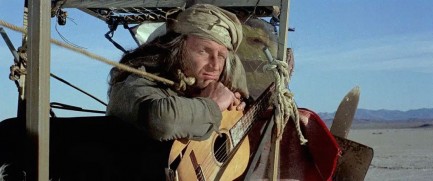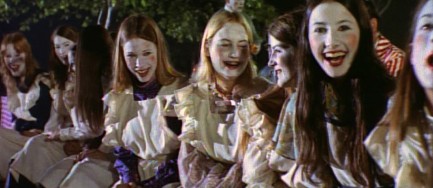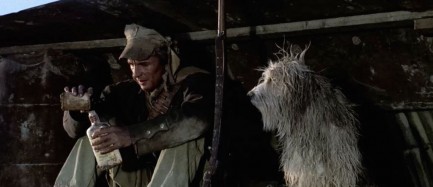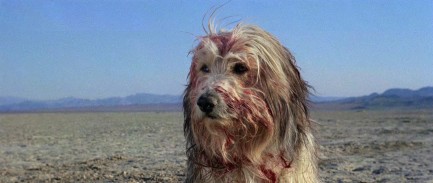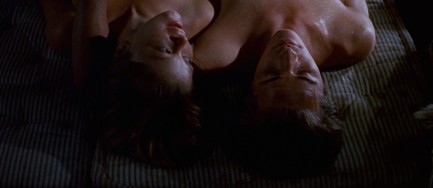 ---
Politician on the verge of a nervous breakdown.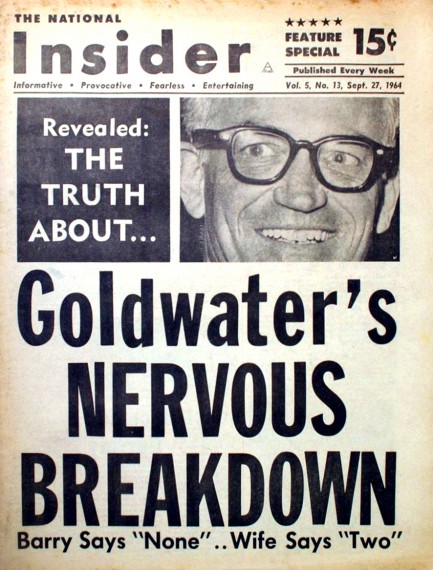 This National Insider from today in 1964 claims that American politician Barry Goldwater had "nervous breakdowns" in 1937 and 1939, but in the midst of his run for president denied they happened. Well, who wouldn't, right? There's no new reporting here—Insider is merely echoing the claims of publisher Ralph Ginzburg, who had written of the breakdowns in his magazine Fact, and as evidence had referenced an interview Goldwater's wife had given Good Housekeeping in May 1964. That's the inspiration for the line: Barry Says "None" …Wife Says "Two." Ginzburg was garnering attention for Fact by attacking people from all over the political spectrum, including Bobby Kennedy, and he eventually lost a libel suit regarding his Goldwater claims.
The Goldwater breakdowns are a matter of record today. Ginzburg's libel suit hinged not on the fact of those incidents, but on embellishments such as his convoluted assessment that Goldwater was "...a man who obviously identifies with a masculine mother rather than an effeminate father." Goldwater made Ginzburg pay for his ill-considered words, but in the end, both of their careers faltered. Goldwater was crushed in the 1964 presidential election by Lyndon Johnson, and Ginzburg went to jail—not for libel, but for obscenity related to his other magazine Eros. It's all just another interesting story conjured by another random tabloid cover. And there are still more to come—we have about a hundred full tabloids remaining, everything from Police Gazette to Midnight. We'll never be able to post them all, but you can bet we'll try our damndest.
---
Sal Mineo was never able to escape his image.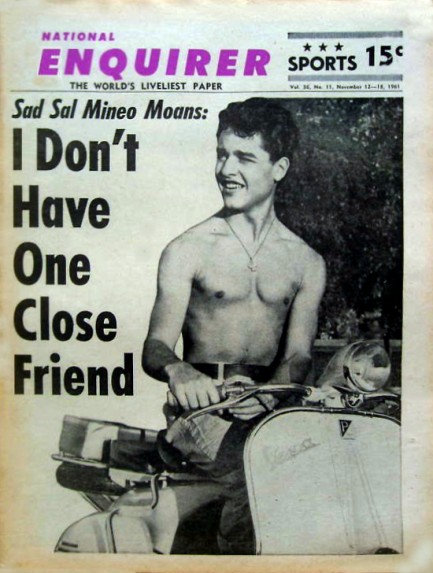 Above is a National Enquirer from the week November 12—18, 1961, with cover star Sal Mineo. Mineo had been a major Hollywood presence who had scored two Academy Award nominations, one of which was for his bravura performance as Plato in Rebel without a Cause. But by 1961 the roles had dried up. The problem was his boyish appearance: he had made his reputation playing volatile youths, but now he was older and studios didn't believe he could play other types of roles. At the time of the Enquirer cover, Mineo hadn't worked for eighteen months. The article was simply another variation on the troubled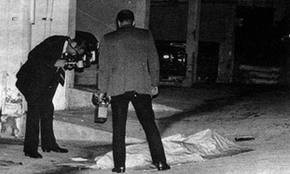 youth theme, riffing on how Mineo had the world at his feet but had no real friends and nobody he could trust.
Soon it became clear Mineo did not have the world at his feet. He languished on the fringes of Hollywood, managing only eight roles—some of them mere bit parts—in the next ten years. However, by 1971 he had begun to make a mark on stage, starring in the gay-themed Fortune and Men's Eyes with a young Don Johnson, and in 1976's P.S. Your Cat Is Dead. Both plays were well-reviewed, for the most part, and Mineo seemed to have reached a point where he might vault back into the Hollywood mainstream. But his comeback was cut short when he was murdered behind his L.A. home in February 1976, stabbed in the heart. We looked for a better version of the above shot of Mineo on a Vespa, to no avail. But we'll keep our eyes open—it's out there somewhere.
---