I want to rob the Egyptian Museum as bad as anyone, but I don't think a mummy disguise is the answer!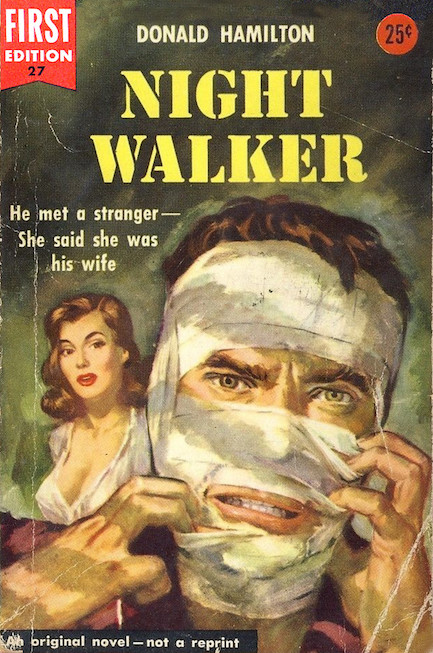 Above, an alternate cover for Donald Hamilton's Night Walker, from Dell Publications. We already showed you a 1964 edition from Fawcett Publications. This is the 1954 first edition paperback, with a cover painted by Carl Bobertz. The male character, by the way, is in disguise, but not as a mummy. Just want to make sure you don't go stampeding to get the book expecting anthropological intrigue. You can read what we wrote about it here.


---
Maybe all those stars are why none of the killers can seem to nail this chump.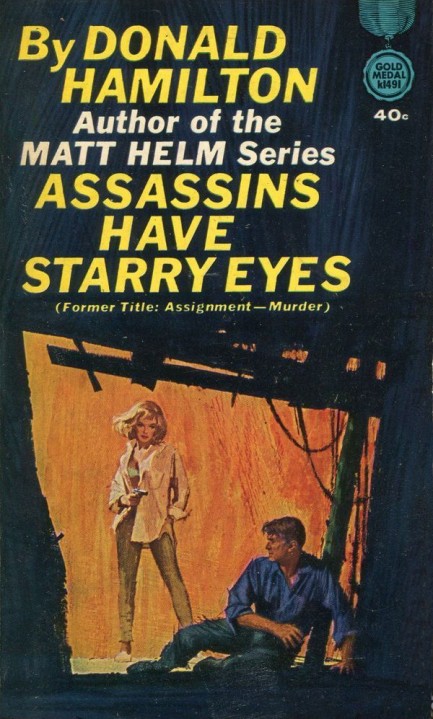 Donald Hamilton's 1965 novel Assassins Have Starry Eyes was originally published in 1956 as Assignment: Murder. This could have been better. The lead character here, Dr. James Gregory, is a tough-guy physicist who sits so much he "wears his pants shiny," yet has no problem physically outmatching adversaries in various deadly situations. We'll buy it, since the author asks it, but there's another issue with Dr. Gregory—he's a dick, all the more so as the narrative wears on.
Some sharp edges are to be expected, since people are trying to kill him—possibly due to his involvement in a government project tasked with creating an atomic super weapon—but he's snide and superior even in his interior dialogues and reminiscences. He especially hates peace protestors because they simply don't understand the need for world-threatening super weapons. Bah! Morons!
Books with difficult men are often fun, but it's clear Hamilton thinks he's writing Dr. Gregory not as an anti-hero, but as a no-nonsense everyman. The guy was impossible for us to like. We finished Assassins Have Starry Eyes mainly to see if he got his brains blown out. As for Hamilton, his writing is fine, so maybe he'll do better with a different character (like Matt Helm, who he's remembered for creating). We'll try one down the line.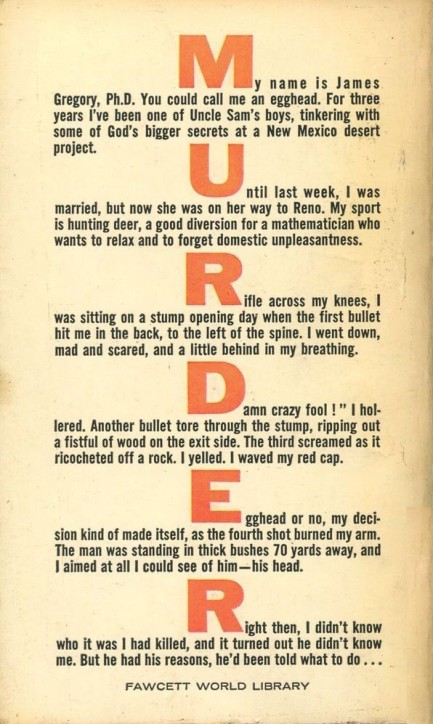 ---
I go out walkin'... after midnight... out in the moonlight...
Crime writers all face the same task of dumping their heroes into hot water in new and interesting ways. In Night Walker Donald Hamilton shoves his protagonist into a bizarre situation and it all begins with him merely hitchhiking after dark. The next thing he knows he's hurt, housebound, and forced to assume a dead man's identity. If he doesn't continue the charade serious consequences could result, with prison being the least of them. But of course, as in any decent thriller, there's always the promise of great rewards, in this case the dead man's beautiful wife Elizabeth, or possibly the dead man's young mistress Bonita. There's a funny line of dialogue in this one when a character refuses a cigarette:
"Don't take it out on Philip Morris. He hasn't done anything to you."

Ah, the 1950s, when men were men and cigarettes weren't coffin nails. And another staple of 1950s genre fiction is commie hysteria, also a major component of this book. But that's fine—every literary era has its archetypal villains. The book's fatal flaw is that the latter portion contains long monologues of the bad guy explaining his evil plot, due to the fact that Hamilton hasn't constructed the narrative for the hero to suss it out for himself. Tedious doesn't even begin to describe this sort of writing. Overall Night Walker is middling work from Hamilton, passable in the first half, but a bit taxing in the second. Good thing this 1964 edition from Fawcett's Gold Medal was cheap. And the cover art is nice. It's by Harry Bennett.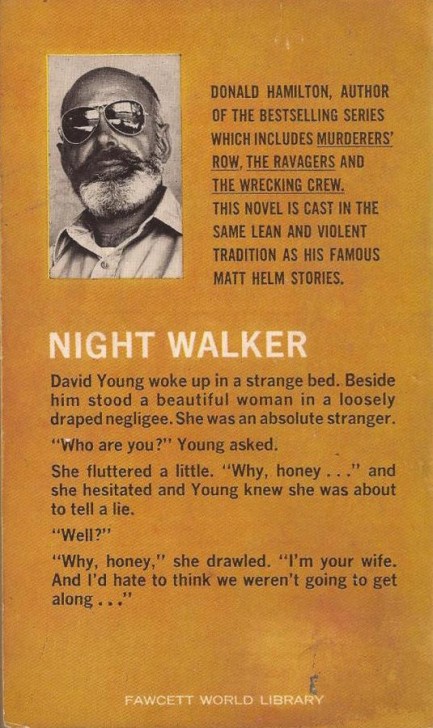 ---