The years of living dangerously.
Operation Greenhouse took place on Enewetak Atoll at the Pacific Proving Grounds, with the aim of exploring methods for expanding the destructive capacity of nuclear weapons while reducing the amount of fissile material needed. There were four tests—above you see an image of the third of those, codenamed George. It occurred today (some sources say yesterday due to the time difference) in 1951.
---
The light is the end of the tunnel.
The Apache nuclear test, which was part of Operation Redwing, is one of the archetypal post-Hiroshima atomic images. We've even seen it described as beautiful. Based on pure aesthetics, perhaps that's true. But of late, global events have reminded many people that these weapons are still the number one threat to human life. In fact, the current state of geopolitics makes the use of nuclear weapons inevitable—i.e., all the nations that have them, such as the U.S., Russia, China and others, routinely break international law, while those that don't have them are routinely bullied and attacked. In such a two-tiered system, non-nuclear countries believe ultimate security can be derived from only one thing—the acquisition of nukes. It's a recipe for global failure. The Apache nuclear test occurred at Enewetak Atoll in the South Pacific today in 1956.
---
Careful now—the footing is truly treacherous.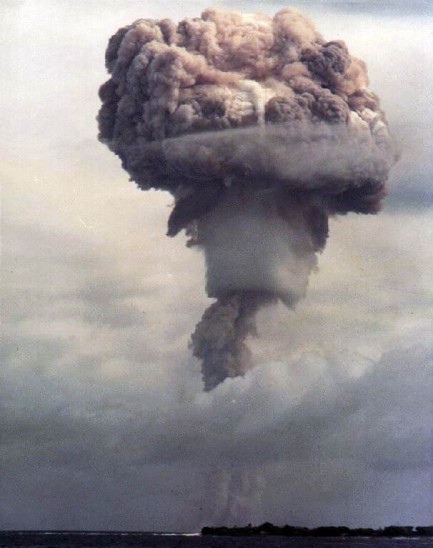 Above, two photos from today in 1955 of a superheated debris cloud over Enewetak Atoll in the Marshall Islands of the South Pacific. It was generated by the nuclear test George, which was part of Operation Greenhouse and was the first test of a boosted fission weapon. What is a boosted fission weapon? Well, it's more advanced than the world-threatening weapons that came before it, but not as advanced as the world-threatening weapons that came after it. Or put another way, it was a completely redundant step on a ladder to nowhere.
---