Clearly they have consent issues.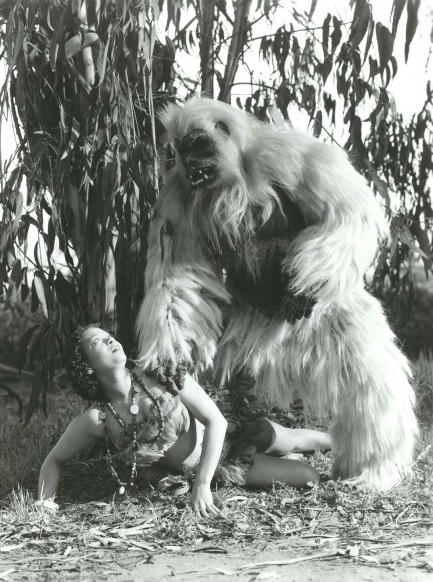 Monsters may be horrible but you can't fault their taste. To borrow a line from one of their number, they're automatically attracted to beautiful. It's like a magnet. We wonder if it's possible their need is an unconscious manifestation of the id of male Hollywood screenwriters. Or were the writers deliberately making commentaries about male power, nuclear paranoia, and environmental degradation? Well, those are questions for smarter people than us. We take monsters at face value. Maybe that's not what we mean—some don't even have proper faces. What we mean is we judge them as individuals.
Most monsters are direct, like Pongo, above, trying to impress Maris Wrixon in the 1945 movie White Pongo, while some, on the other claw, are more circumspect. But the language barrier usually sabotages their delicate efforts. "I know an independently owned café that serves a killer macchiato," comes out as a series of glottal grunts. "I loved La La Land too and I think the naysayers are mainly joyless jazz purists," comes out as a sustained sodden hiss. Even if these vocalizations could give a true indication of the inner depths of a monster's personality, women generally wouldn't give them a shot anyway, because despite what they say, looks really do matter. What's a monster to do?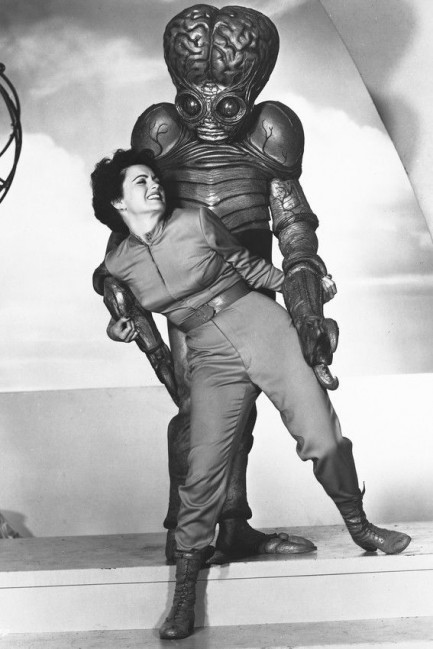 This Island Earth, with Faith Domergue.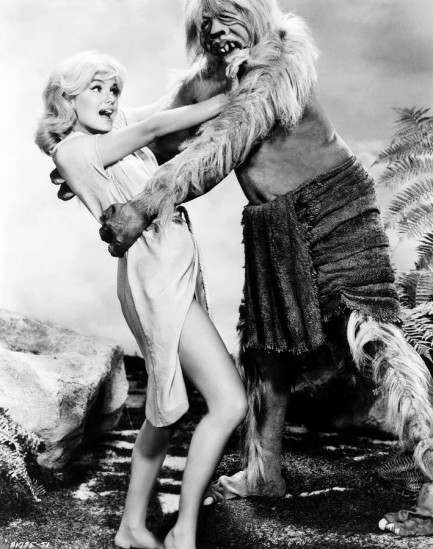 The Time Machine, with Yvette Mimieux.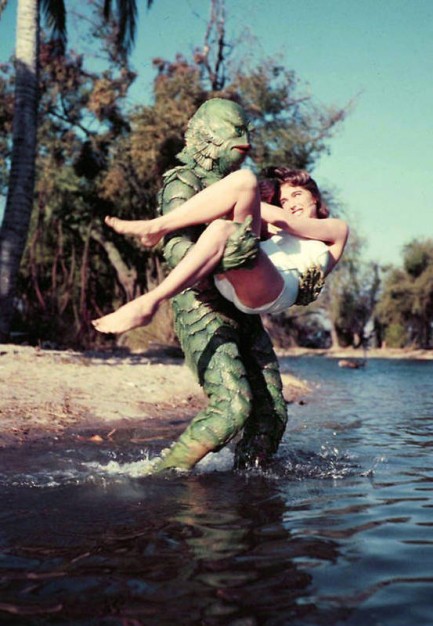 Creature from the Black Lagoon, with Julie Adams.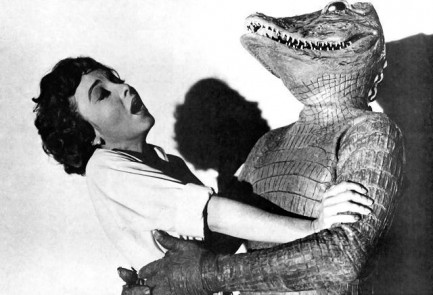 The Alligator People, with Beverly Garland.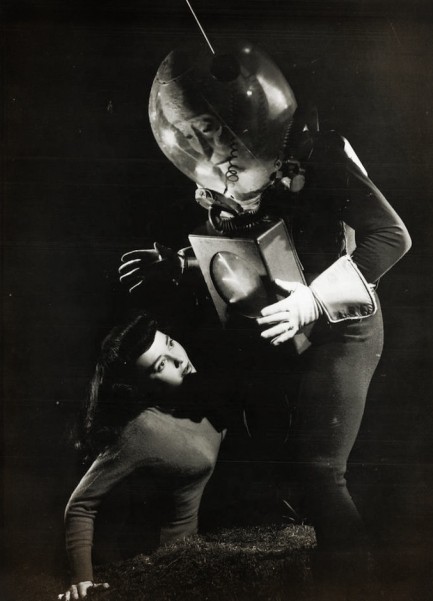 The Man from Planet X, with Margaret Field.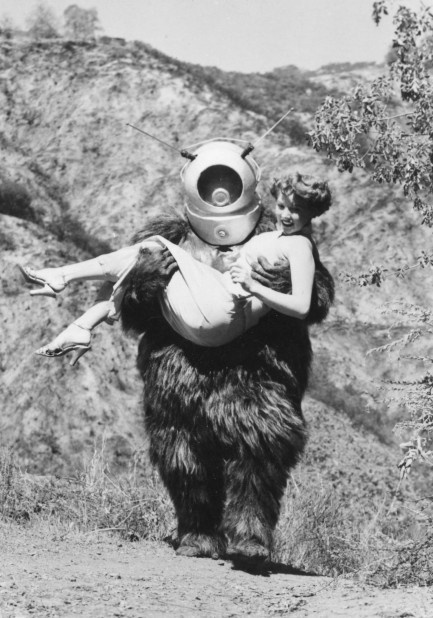 Robot Monster, with Claudia Barrett.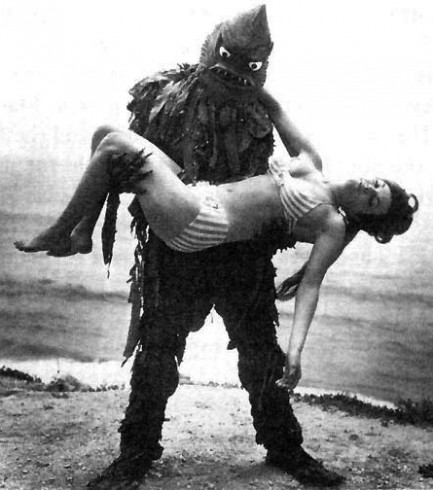 The Beach Girls and the Monster, with Sue Casey.
The Monster of Piedras Blancas, with Jeanne Carmen.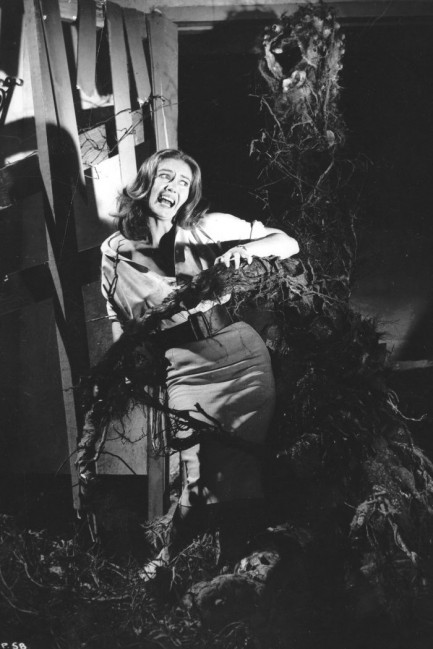 The Day of the Triffids, with Janette Scott.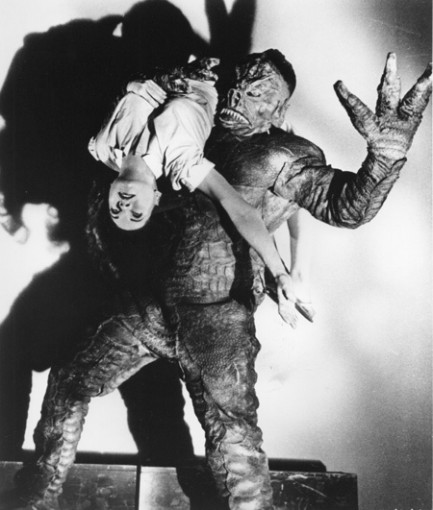 It! the Terror from Beyond Space, with Shirley Patterson.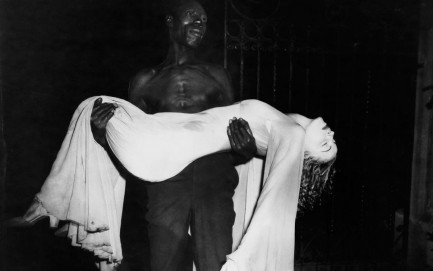 I Walked with a Zombie, with Christine Gordon.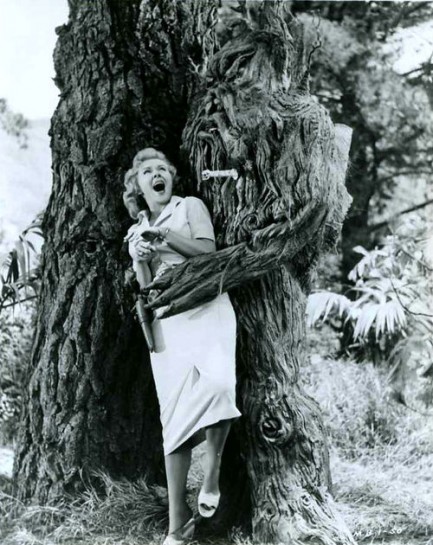 From Hell It Came.
I Was a Teenage Werewolf, with Dawn Richard.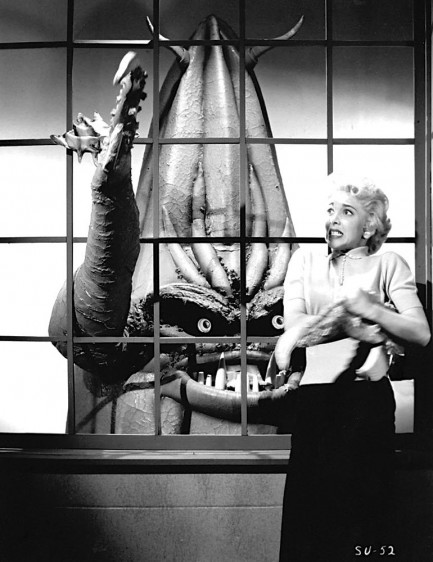 It Conquered the World, with Beverly Garland again crushing a monster's hopes for love and fulfillment.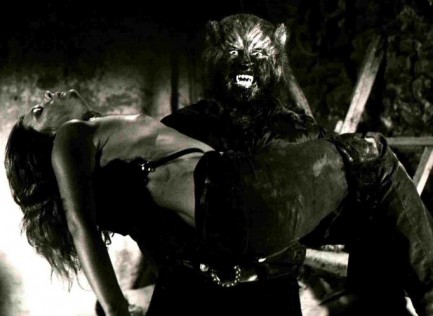 El retorno del Hombre Lobo, aka Night of the Werewolf.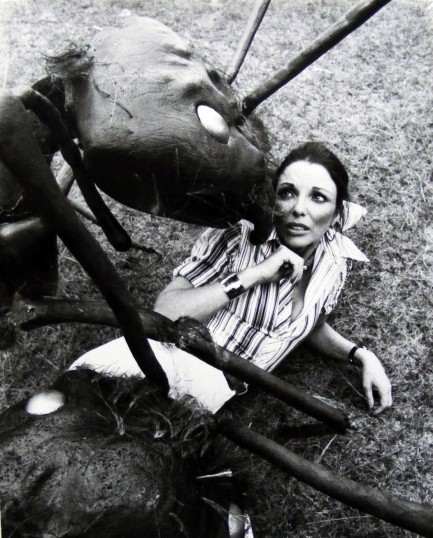 Empire of the Ants, with Joan Collins.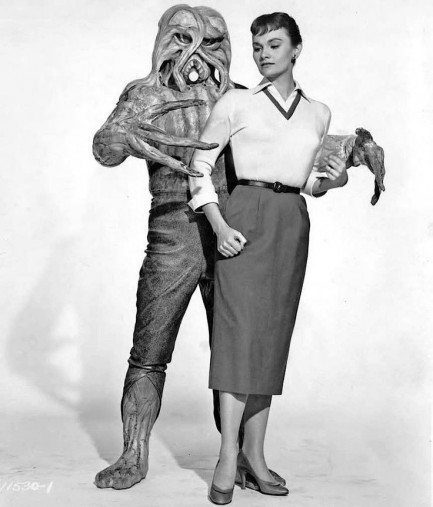 I Married a Monster from Outer Space, with Gloria Talbott.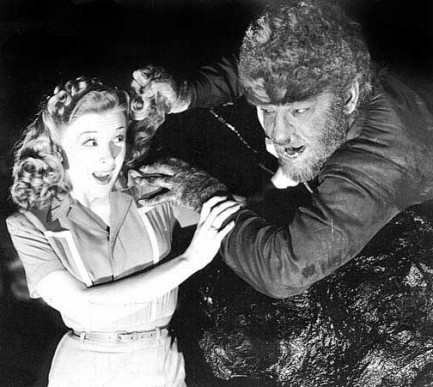 The Wolf Man, with Evelyn Ankers.


---
Wanna go out with me Friday? Oh, you're committing suicide that night? How about Thursday?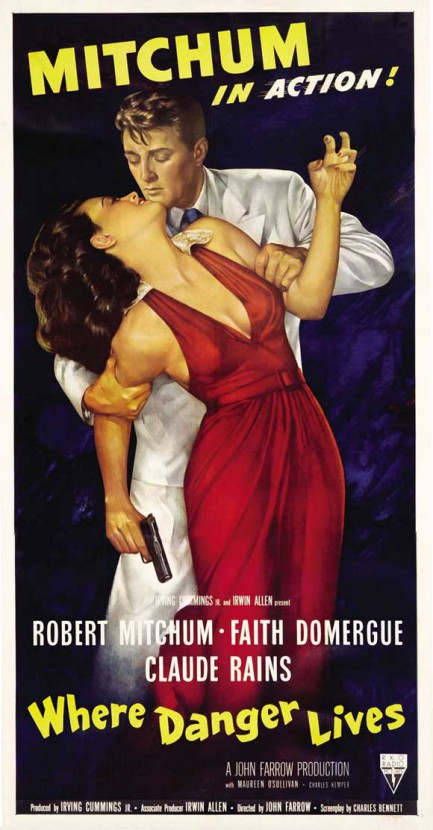 Above is one of the great film noir posters—the three-sheet promo for Where Danger Lives (presumably de-seamed by some enterprising Photoshopper). The movie starred Robert Mitchum, Faith Domergue, and Claude Rains, and deals with a doctor who gets involved with a suicidal patient, a situation that simply can't end well. Like most film noirs, Where Danger Lives is well regarded today, but it's strictly second tier—watching Mitchum stagger around for half the movie making bad decisions because of a concussion just didn't engage us, but more importantly there's no real basis for his relationship with Domergue. Writing it into a script is not enough—the actors need to establish chemistry and heat to make recklessness understandable. When you start asking questions like, "But why would he have any interest in this crazy chick when he already has a great girlfriend?" you know the movie is fatally flawed. If you like noirs, you might be inclined to give this one's failings a pass—after all, even so-so noir is better than 90% of what's coming out of Hollywood today. And it has Mitchum, who's also better than 90% of what's coming out of Hollywood today. Where Danger Lives premiered in the U.S. today in 1950.
---