Of course I have anger issues! You would too if you needed ridiculous hair to compensate for a tiny head!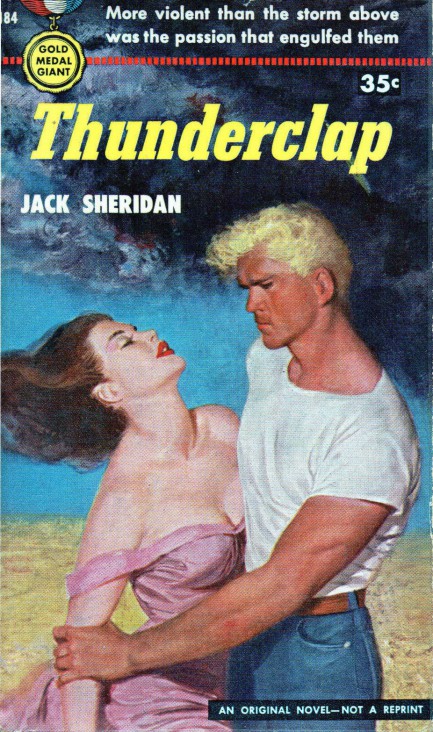 It's always interesting to compare the covers of reissued paperbacks to the original editions. Often they're similar, but sometimes—as with the above examples—they're very different. These two versions of Thunderclap strongly reference the weather but that's all they have in common. Both from Fawcett, the top cover is from 1951, and the second appeared in 1959. Which do you prefer? Think carefully—these are like ink blots. One choice indicates a sane and insightful mind, while the other reveals deep psychological issues. We'll give you a hint—Clorox 'fro bad. Uncredited art for both covers.
---
Hello? I'm from next door! If you don't turn down that infernal music I swear I'm going to shoot you!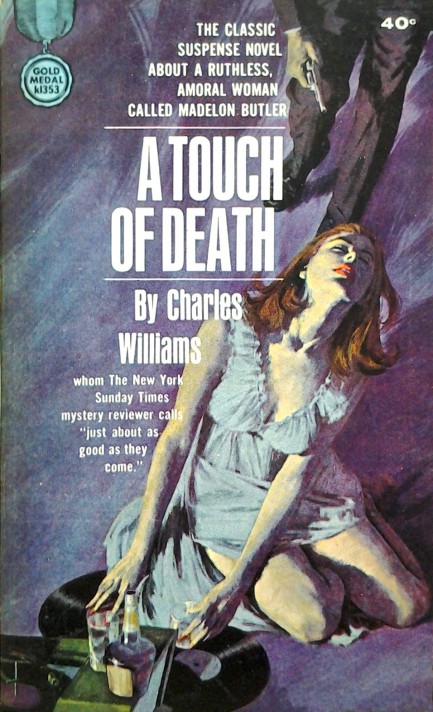 Charles Williams' A Touch of Death (published in Britain as Mix Yourself a Redhead) had several different covers, but this 1963 Gold Medal edition with uncredited art is easily the best. It's a bit strange, though. It almost seems as if it depicts a blind woman. And it does—a woman who's blind drunk. An intruder is sneaking up on her as she gets loaded and plays her record collection. Don't worry though. The hero saves her and once she sobers up she reveals herself to be one of mid-century fiction's greatest femmes fatales—the immortal Madelon Butler. This is a really good book.
---
If you're really going to keep sitting there, use your heel and hit that high a-sharp for me at the end of the chorus.
Above, Murder Me for Nickels, 1960, by Peter Rabe, née Peter Rabinowitsch, for Fawcett Publications' subsidiary imprint Gold Medal Books. The novel tells the story of a low-level organized crime flunkie named Jack St. Louis who works for a jukebox magnate. Because they control the boxes in their unspecified town and its environs they also control who scores a hit record, which brings not just money but a lot of wannabe starlets their way, some of whom Jack funnels through his side business—a recording studio. Unfortunately, Jack gets caught in a takeover gambit when mobsters from nearby Chicago try to strongarm his boss's jukebox racket. Making matters worse is his boss's available wife, who wants to be a singer. Well reviewed everywhere. The cover art is by Robert McGinnis.
---