They're barely legal but fully dangerous.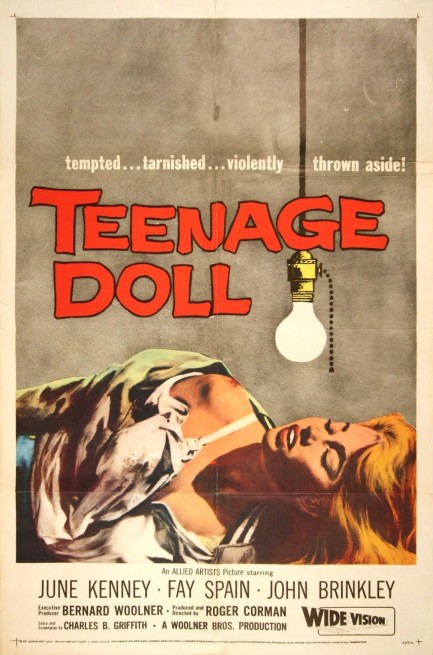 The promo poster for Teenage Doll is iconic, at least in our opinion. Has ever a lightbulb looked so sizzlingly ominous? The film, which has an amazing opening credit sequence, deals with a girl gang called the Black Widows who lose a member to a killer and vow to exact revenge on the perpetrator, a square named Barbara who had the misfortune to leave identifying evidence behind. The killing was actually an accident but the Widows don't know that and doubtless wouldn't care. They're going to hunt down Barbara—who's played by June Kenney—wherever she runs. She doesn't run far—just to her parents' house to steal a gun, even as the Widows lay their hands on a firearm of their own. There's gonna be a showdown.
IMDB.com calls Teenage Doll a film noir but it isn't. That website really needs to clean up its act—the internet was supposed to increase knowledge, not mangle it. This movie is a juvenile delinquent flick, directed by b-movie legend Roger Corman, and it's one of a truckload of girl gang pictures that came out during the late 1950s. All the action takes place at night, but to paraphrase what we wrote just a couple of weeks ago, night falls in all kinds of movies, including comedies and pornos, but that doesn't make them film noir. The best place online to find proper film categories is at the American Film Institute website, and there Teenage Doll is classified correctly—as a drama.
In fact, it even verges on melodrama, the way it drips with tragedy. But its primary characteristic is that it's amazingly earnest and in so being transforms via cinematic alchemy from cheap celluloid into pure comedy gold. This one has it all—longsuffering parents, hypergrim cops, obnoxious gang boys, psychopathic lackeys, and most importantly Fay Spain, who as the top gang girl Helen chews the scenery with thirty-six teeth and even claws it with ten fingernails. We know adults normally have thirty-two teeth, but Spain has extras to help her get through plywood and nails. Ultimately, we learn that the entire murder snafu is, at its root, a man's fault, which is the only part of the movie that's realistic. We recommend this one highly—or lowly. It premiered today in 1957.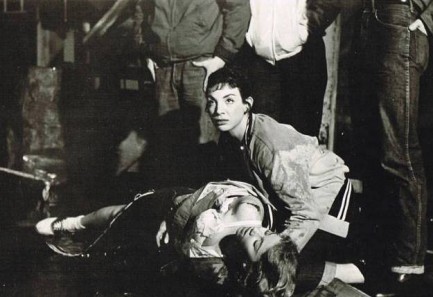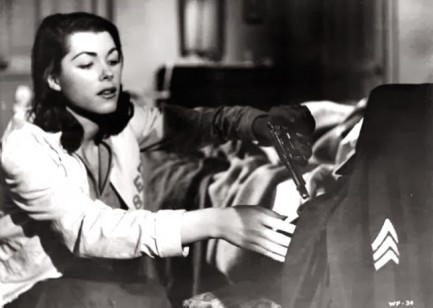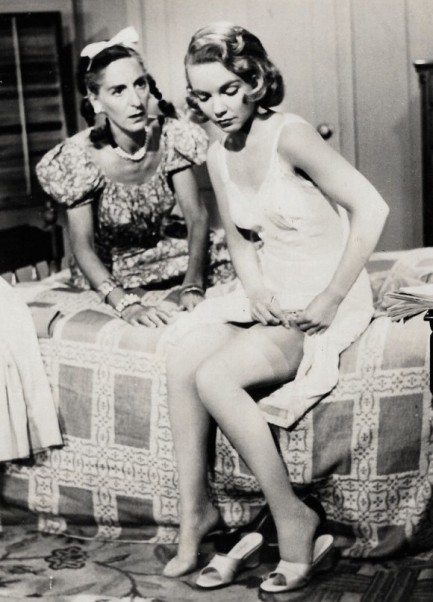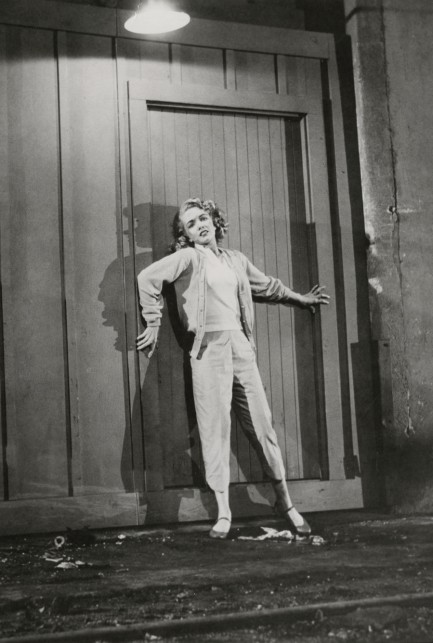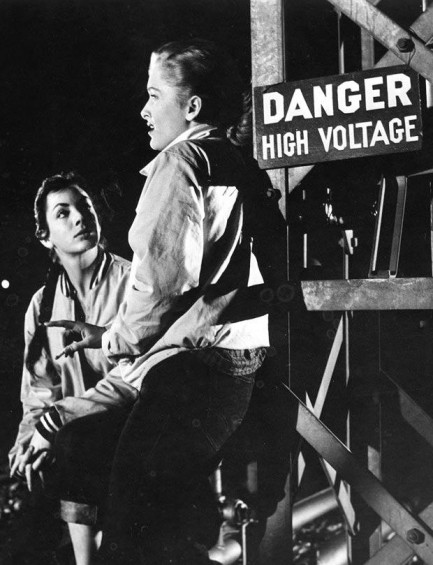 Voltage schmoltage. I failed English. And science.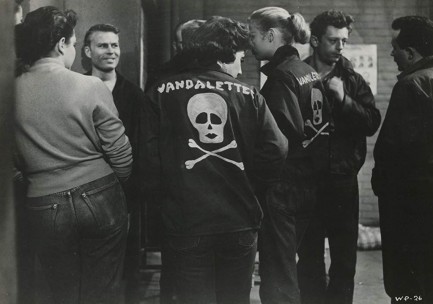 You know, Vandalettes has a sort of girl-group ring to it. Can anybody sing?


---
Mamie Van Doren makes her mark on a Generation.
We think this is a beautiful promo poster for The Beat Generation, but don't let its colorful nature fool you—the movie is surprisingly dark. It uses the beatnik counterculture as a backdrop, but really has nothing to with it, except to belittle it. Steve Cochran plays a Los Angeles detective chasing after a serial rapist. Through a random encounter, the rapist becomes aware of Cochran and decides to make his wife a victim. Will he get away with it? You'll have to watch the film. We can tell you its most dramatic aspect involves whether a rape victim can obtain an abortion. The never explored details of how she plans to do it don't matter, because we know she'll change her mind.
You can't blame the movie for being predictable in that respect, though. How else was it going to go in the 1950s? The main thing to keep in mind about The Beat Generation is that it was mismarketed—deliberately, we suspect—to trick younger cinemagoers into forking over their cash for a Trojan horse message movie. We're not big fans of that sort of chicanery, but it's well produced, reasonably good, and as a bonus features Fay Spain, Irish McCalla, Robert Mitchum's brother Jim, and Steve Cochran's chest hair. The Beat Generation premiered in the U.S. today in 1959.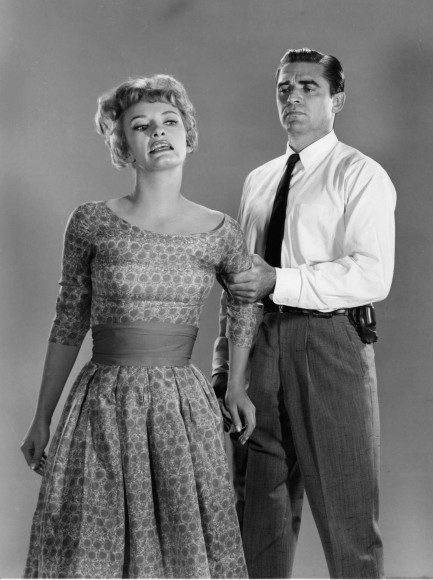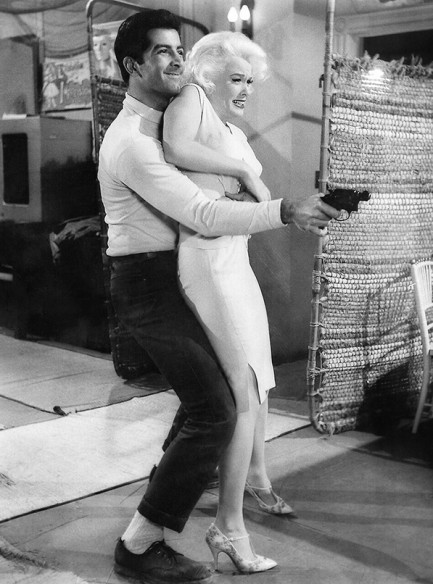 ---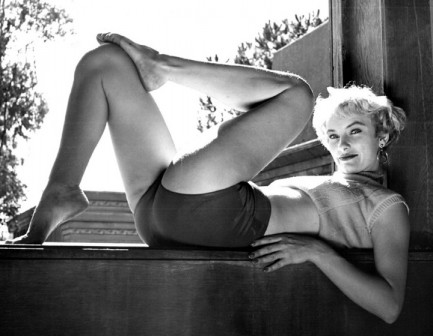 Publicity photo of American movie vamp Fay Spain catching some rays, circa 1965.
---