There's a sucker born every minute. And they die just as fast.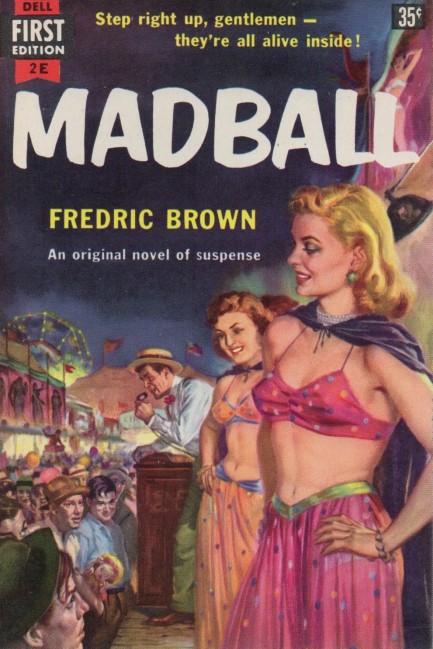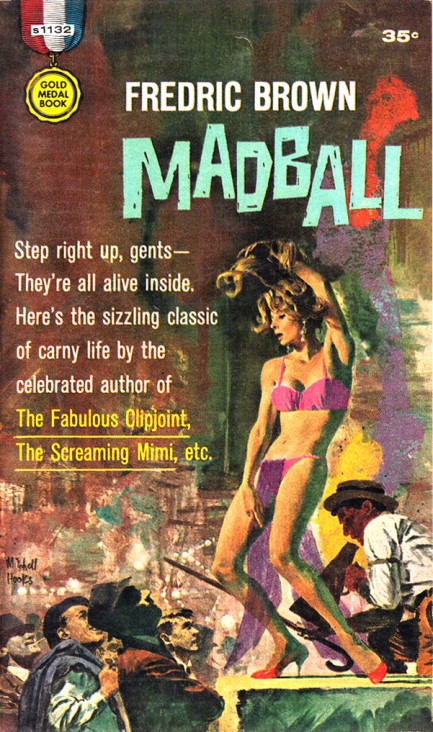 Fredric Brown's Madball was hard as hell to get at anything approaching a reasonable cost but we finally scored a copy. It's one of the more famous novels in the fertile carny niche, and had two amazing covers which you see above, the first by Foxley Griffith for the 1953 Dell edition, and the second by Mitchell Hooks for the 1962 Gold Medal edition. What's a madball? It's a gazing crystal. What's Madball about? After an insurance settlement a carnival worker comes into a couple of thousand bucks. When he's murdered his nest egg seems like the motive. But what nobody knows—or what nobody is supposed to know—is that he'd also been an accomplice in a bank robbery and possessed not just a couple of thousand dollars, but more than $40,000. That's about $380,000 in today's money—sufficient to inspire desperation and bloodthirsty viciousness. Madball is set apart by its weird backdrop, its odd carny denizens, its multi-pov narrative, and its sexual frankness. It's a mad tale, improbably plotted, testing the limits of believability, but recommended. See more carny fiction here, here, and here.
---
Um, what exactly did you mean when you said your boyfriend was a big dumb ape?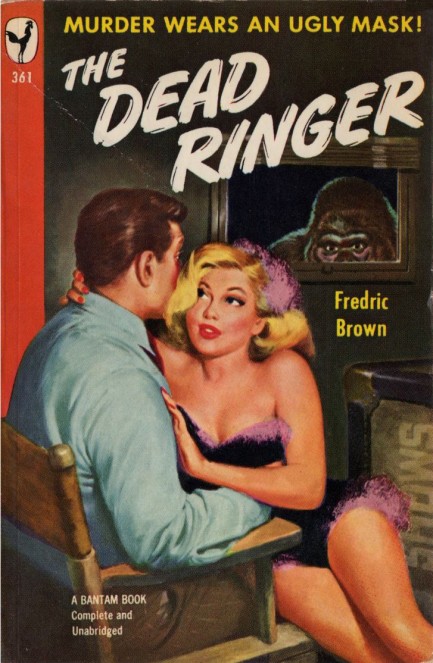 We love this cover for Fredric Brown's 1949 thriller The Dead Ringer, with art by Robert Stanley. Brown wrote about 250 books, including The Fabulous Clipjoint. This one includes the same protagonists as Clipjoint, Ed Hunter and Uncle Ambrose, sticking close to Am's circus roots (he was a carny pitchman before he became an amateur sleuth) as they try to solve a series of slayings plaguing a traveling carnival. This one may be worth a read solely for the bizarre fact that a chimp gets murdered. How many mysteries can say that?
---