Ladybug sings the blues for French music lovers.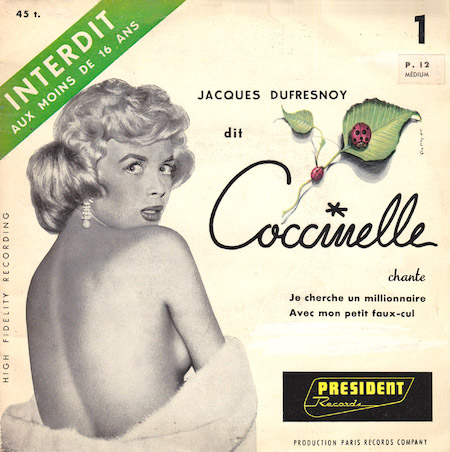 This is a cool little item. It's a record sleeve from famed transgender entertainer Coccinelle, whose nickname is French for "Ladybug." The record is called Jacques Dufresnoy dit Coccinelle, referencing her pre-trans name, and there are two tunes—"Je cherche un millionaire" on the a-side, and "Avec mon petit faux-cul" on the b. We think both songs are pretty cool evocations of a bygone era of supper clubs, cabarets, and jazzy dance numbers. We were born too late to go to such places, but we can listen to this type of music and pretend. If you want to pretend too, you can listen to the songs here and here.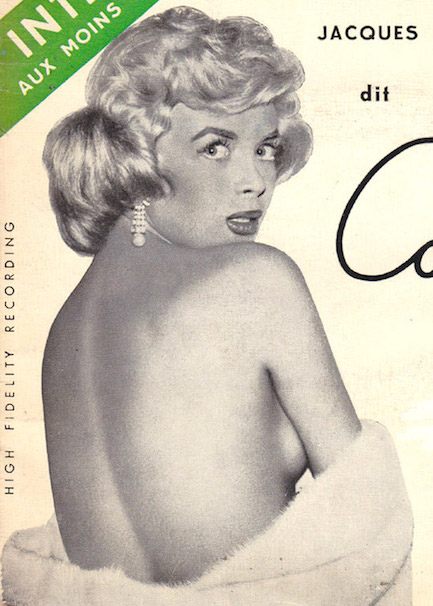 ---
The hardest question to answer is always why.
Today in 1959 in a quiet area of Inglewood, California, a police officer was putting a ticket on a car that hadn't moved for at least two days. While writing the ticket he looked in the window and noticed that on the front seat were a sweater, a pair of Capri pants—and a bloody front tooth. He pried open the trunk and inside found a dead woman, Meredith Jean Prestridge, a twenty-six-year-old married mother of two. She had been missing from her Fresno home for a week.
In the top photo police officers and coroner's personnel examine the crime scene. Soon the cops would be looking for an unidentified man seen with Prestridge shortly before she vanished. They would learn of a suspect named Robert Lee Kilmer and mobilize to arrest him where he was holed up in a friend's house. Kilmer didn't go easily, and in the end police fired tear gas and stormed the place wearing masks and bullet proof vests. In the resulting melee police fatally shot Kilmer in the head.

His guilt was not seriously in question in any of the accounts we read, but due to his untimely departure from the material realm the motives and thought processes behind his murder of Prestridge were never explained. But they surely would have been as banal as those of other murderers. Kilmer was just another bad man in the naked city, and Prestridge was just another victim in the wrong place at the wrong time.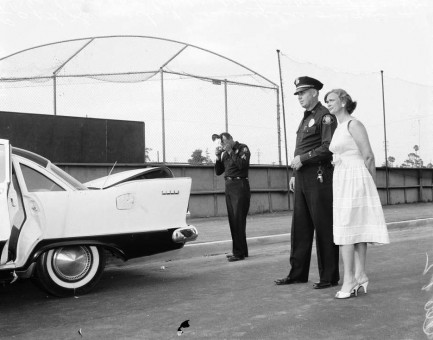 ---
I know why the caged Ladybug sings.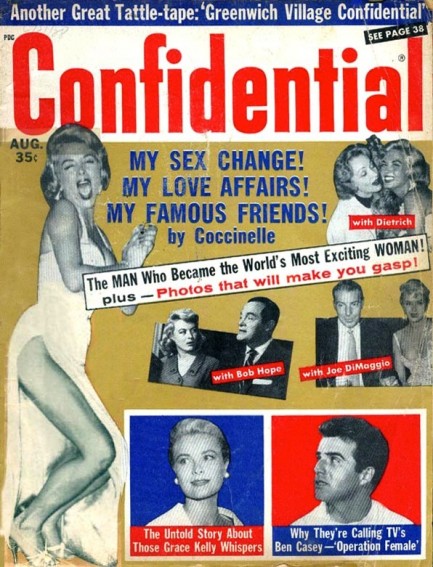 This golden issue of Confidential from August 1961 contains an article about the one and only Coccinelle, who was a French transsexual performer, almost forgotten outside her home country, but who set the world on fire fifty years ago. Born as Jacques Charles Dufresnoy, he adopted the stage name Coccinelle—Ladybug—in 1953 when he debuted at the nightclub Chez Madame Arthur. At the outset of his career, Coccinelle was a male cross-dresser, but in 1958 he underwent sex change surgery in Morocco with spectacular results, and her re-emergence onto the stage as a woman made her world famous. Adopting the persona of blonde bombshells like Mansfield and Monroe, she was able to parlay her status into film roles, and was also featured in a few shockumentaries, but it was on the stage that she shone, performing at some of France's most exclusive clubs, including Le Carrousel and Paris Olympia.
Her fame was a controversial subject of course, if not a public obsession, and her marriages caused epic scandals, but also prompted the French government to legalize unions between transgendered participants. By 1989 Coccinelle had moved to Marseilles, where she headlined at the Cabaret Spitz. She was still performing there in April 2006 when she had a stroke. She died after three months of hospitalization, but over forty years she had carved out a successful career, made a difference politically and, at the forefront of her own small sexual revolution, helped scores of people in her exact circumstances. We'll look for more information on the fascinating Coccinelle at our usual French sources and perhaps report back on her later.
---