Above, Poland-born Israel-raised actress Gila Golan, aka Zusia Sobetzcki, aka Miriam Goldberg, seen here in a promo still from the James Coburn spy flick Our Man Flint, 1966. None of her three names are her birth name. If she ever had one, it was lost to the winds of war. In 1940 during the Nazi occupation of Poland she was found, abandoned in infancy, in a Krakow train station. Raised in a monastery and sent after World War II to be educated in Israel, she won the 1960 title of Miss Israel, and came in second at Miss World, which led to her breaking into American cinema and relocating to the U.S. You can see more Golan here (don't mind the gore).
---
Midnight lowers the bar even more than usual.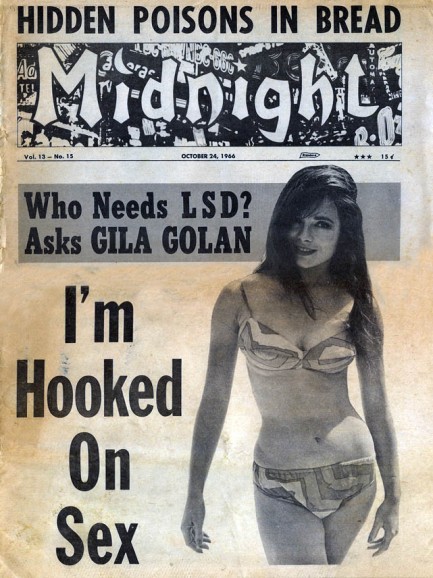 Around here we often debate whether to post something, but generally believe that as a sort of history site, it's always a bad idea to hold back. Today we have an issue of Midnight, published October 24, 1966, that goes over the top with gore. It isn't the woman whose face has been eaten off by rats that particularly worries us, nor the cop that supposedly had his eyeballs ripped out. We've posted those. No, it's the autopsied infant that gave us pause. We sometimes prattle on about refusing to self-censor, but when we say that, what we're referring to is sex and nudity, not vivisected one year-old babies. We want you to enjoy the site, not scroll down the page cringing at what gore will leap from the jack-in-the-box. So long story short: eaten face—okay; ripped out eyeballs—hunky dory; autopsied infant? Hellz no. We have our standards, though Midnight didn't.
Anyway, you do get some interesting articles in this issue. Of special note is William Holden answering questions about a guy he ran over and killed on a highway in Geneva, where he was living to avoid paying U.S. taxes. The Swiss sweated Holden for a while, but in the end he escaped with an eight month suspended sentence for manslaughter. What's especially intriguing about this story is that an online search uncovered no links to this Swiss snafu. Instead, we learned that Holden had been convicted of vehicular manslaughter not in Switzerland, but in Italy, where he had rammed another car while drunk and killed the driver. But in the Midnight

story, Holden is said to have run over a hiker. Asked whether he was under the influence, his response is: "No, I wasn't drunk—not this time."
So did William Holden kill two people with his car in two separate incidents? We tend to doubt it, but on the other hand, how could Midnight get everything so wrong, with the accompanying quote: "not this time"? Sure, Midnight made things up, but as blatantly as this? We think it very likely that the editors simply tried to write about the Italian accident, but were working on the fly and mangled everything. They probably assumed the accident was in Switzerland because Holden lived there, took his "not this time" quote out of context, and—somehow—saw the phrase "second automobile" in all the other accounts and wrote it as "hiker." Anyone could make those mistakes, right? Yeah, anyone could. But Midnight does.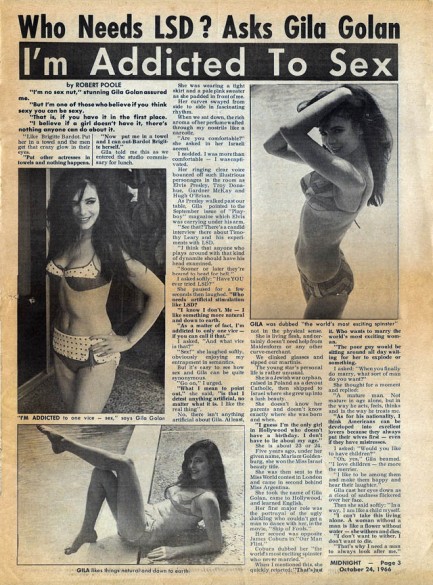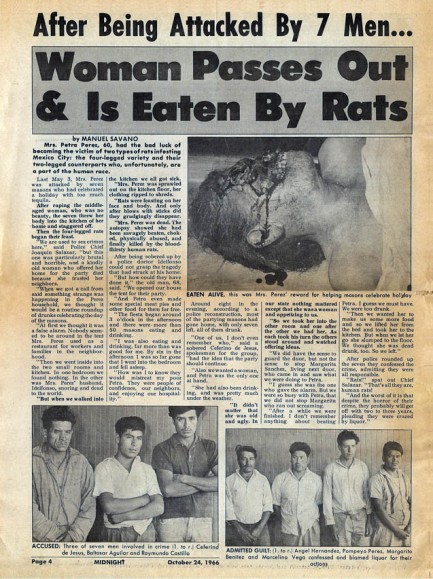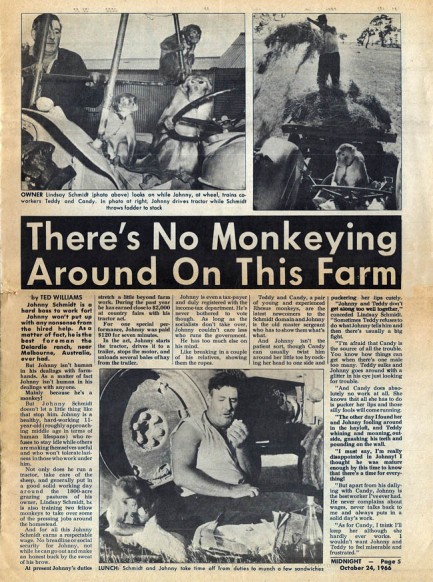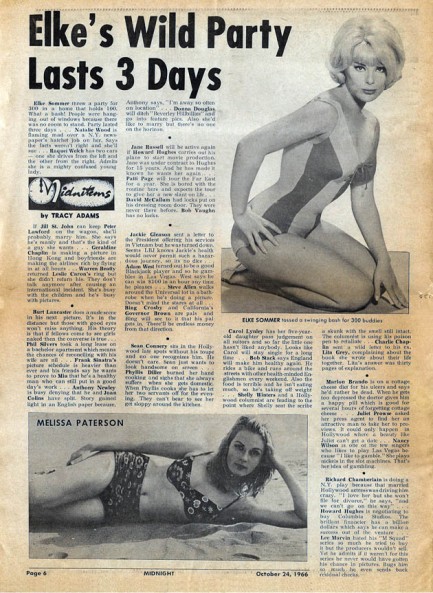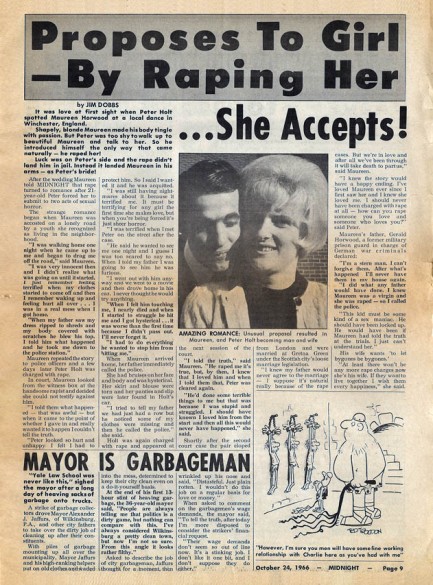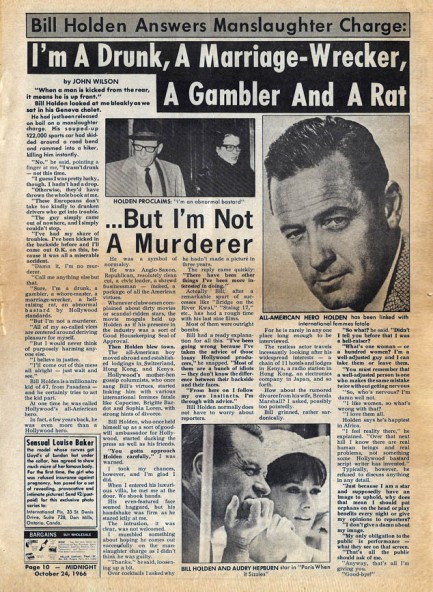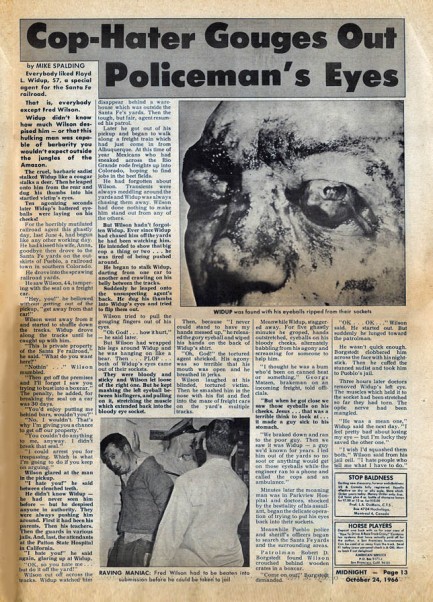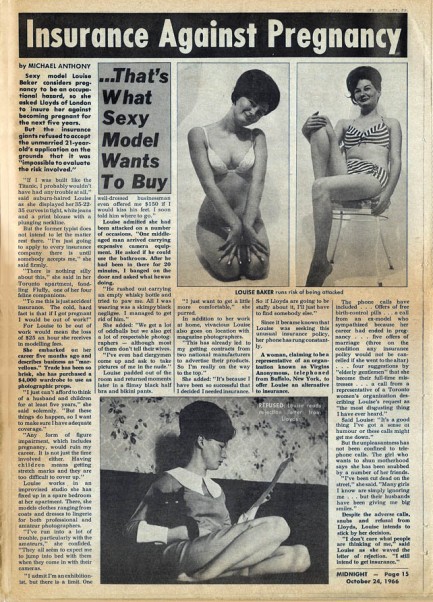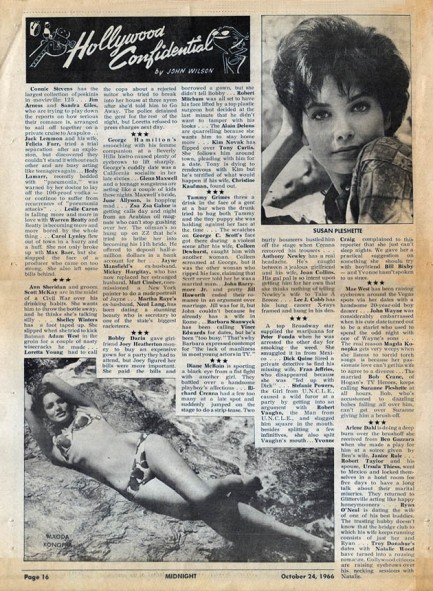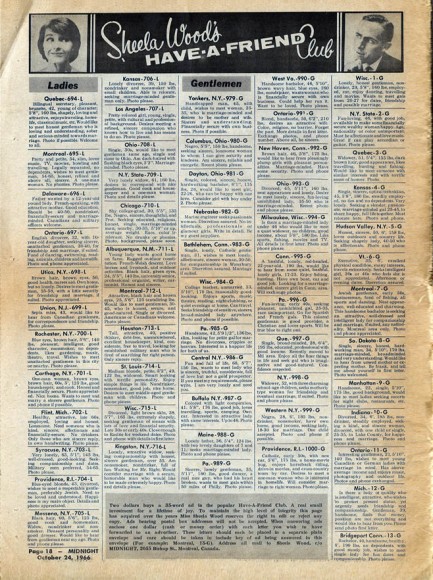 ---
Living on Tokyo time.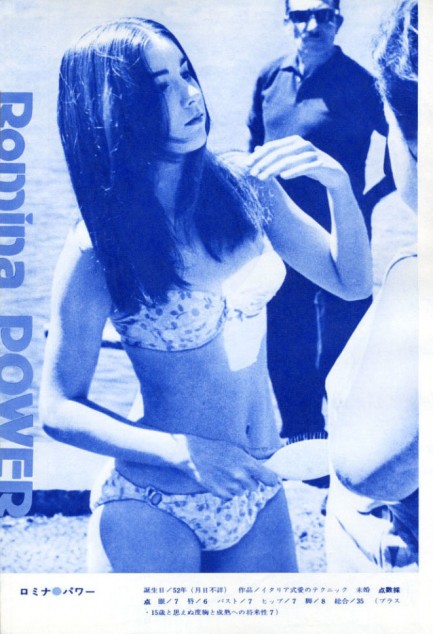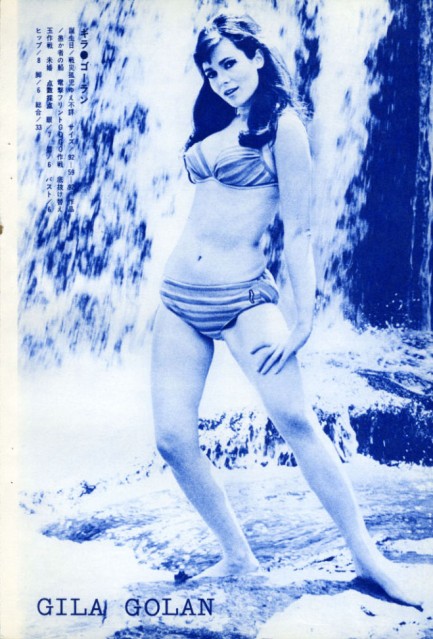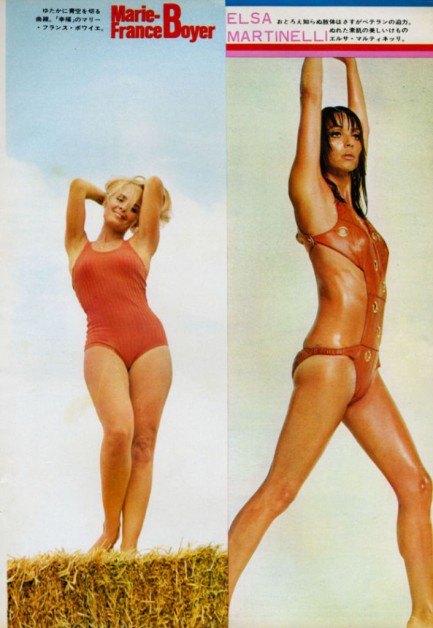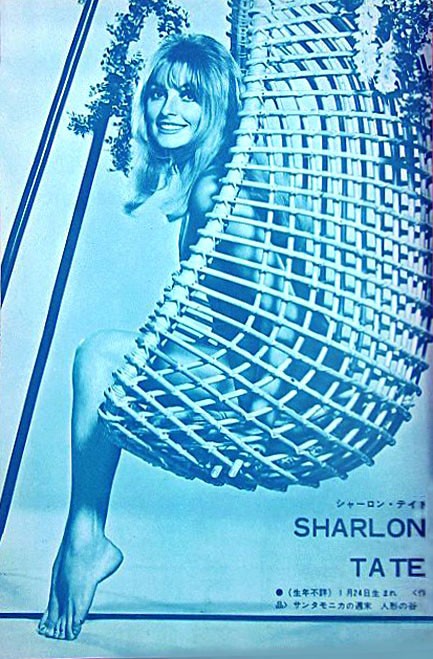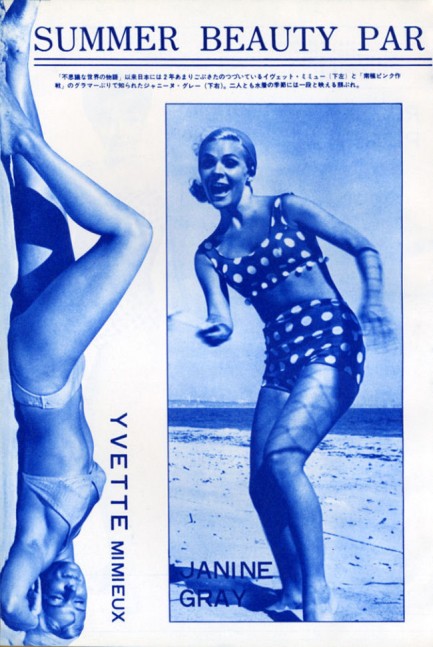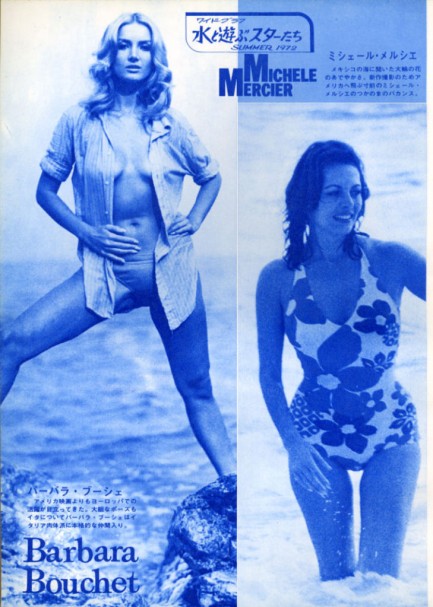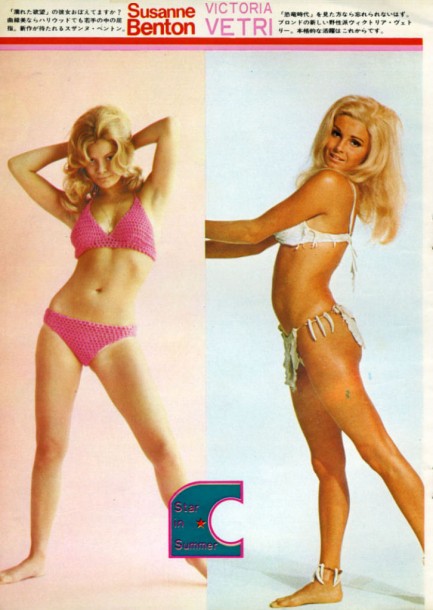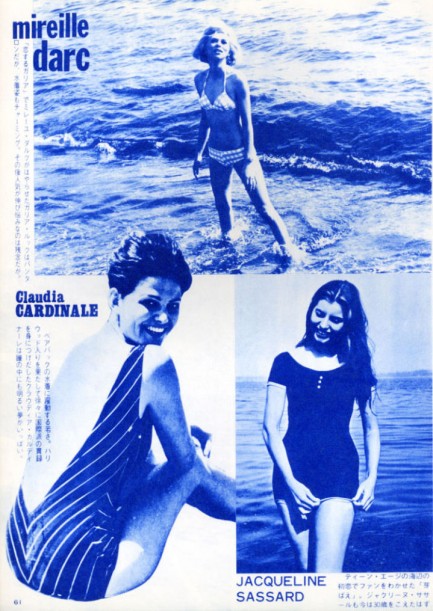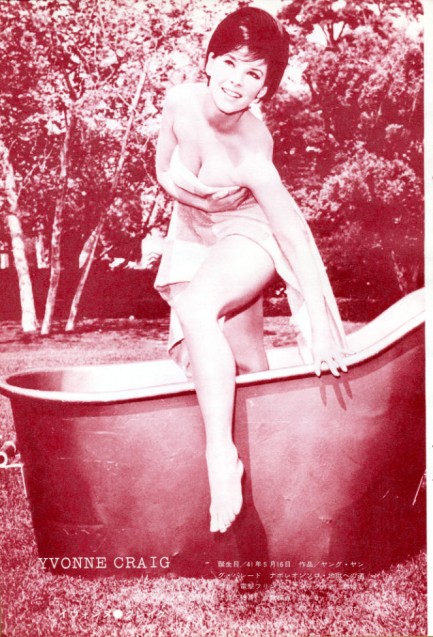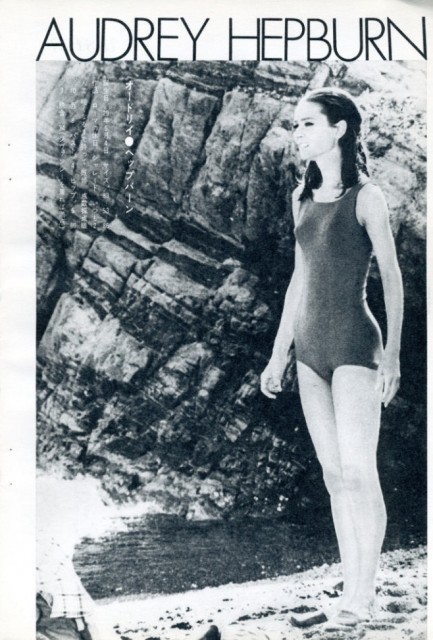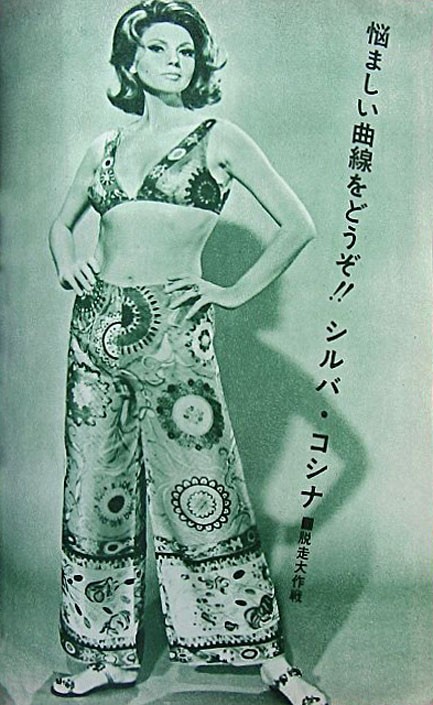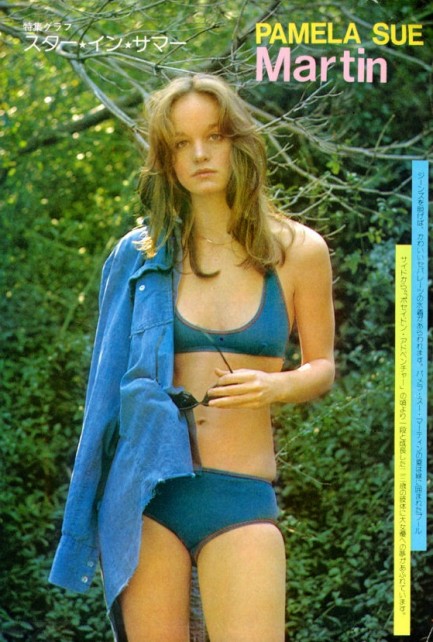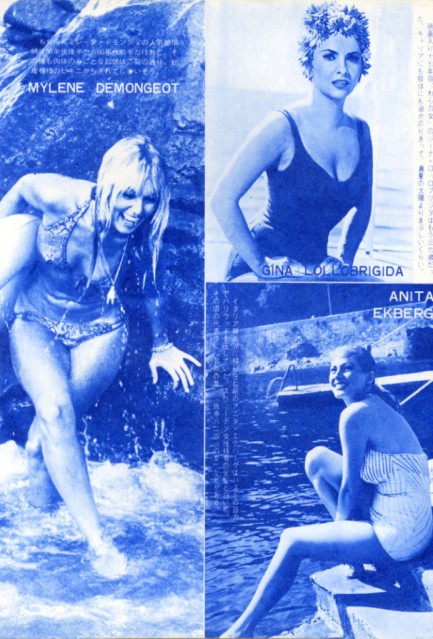 Assorted frolicsome images from Japanese celeb magazines, with "Sharlon" Tate in panel four and Sylva Koscina in panel eleven.
Japan
,
Sharon Tate
,
Barbara Bouchet
,
Sylva Koscina
,
Victoria Vetri
,
Claudia Cardinale
,
Elsa Martinelli
,
Romina Power
,
Gila Golan
,
Marie-France Boyer
,
Yvette Mimieux
,
Janine Gray
,
Michele Mercier
,
Susanne Benton
,
Mireille Darc
,
Jaqueline Sassard
,
Mylène Demongeot
,
Gina Lollobrigida
,
Anita Ekberg
,
Yvonne Craig
,
Audrey Hepburn
,
Pamela Sue Martin
,
sex symbol
---