Italian thriller offers viewers an entertaining world of trouble.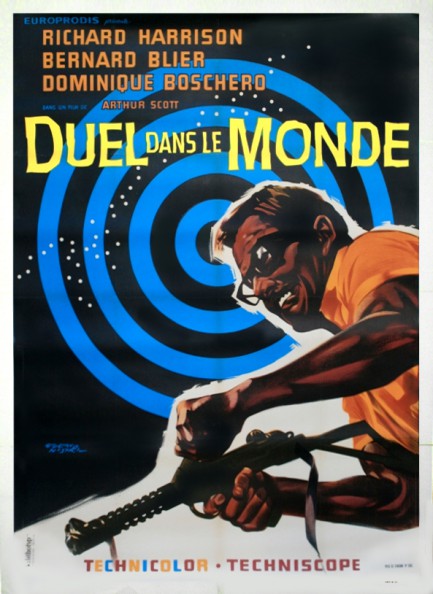 It's probably fair to say Duello dans le monde, aka Ring Around the World has been pretty much forgotten in filmdom, but maybe it shouldn't be. With a good premise, groovy-jazzy soundtrack, and location shooting in global hotspots like Bangkok, London, Hong Kong, and Rio de Janeiro, this was better than we had any right to expect. Richard Harrison investigates a series of seemingly natural deaths only to find that they were murders—in reality an assassin has shot the victims with pellets made of a frozen concoction that induces heart attacks. The pellets of course then melt and leave no trace behind.
We were drawn to this film by the excellent French language promo poster above painted by Giuliano Nistri
, but were surprised to find a semi-competent thriller in the vein of James Bond. Interestingly, there's a skydiving stunt here that predated the famous
Moonraker
opening sequence by more than a decade. The stunt isn't
exactly
the same, but the idea is close, done low budget. The movie is probably too goofy and cheap to be called good, but on the whole it's worth a look, and as a bonus it co-stars the
wonderful
Dominique Boschero. Originally released in Italy in 1966 and called
Duello nel mondo
, it opened in France as
Duel dans le monde
today in 1967.
---
Only the poodle knows what's funny, and it isn't telling.

As you may have noticed, of late we're very high on Italian illustrators. We've shown you some of the best here, here, and here. Today we wanted to share this Giuliano Nistri effort for Alberto Lattuada's 1957 romantic comedy Guendalina. The poster's inspiration is a famous scene in which star Jacqueline Sassard dances in full body tights for co-star Raf Mattioli. You may notice that Nistri seems to have expended considerable skill getting his representation of Sassard to be lifelike, but considerably less on the creepy, dead-eyed poodle next to her. That's because the poodle isn't real. In the film, it's a stuffed animal, and he got it exactly right. Guendalina premiered in Italy today in 1957.
---
Vice and virtue in Vienna.
So, quite by coincidence there's another movie we watched recently that also premiered today, though thirty years later than The Shanghai Gesture (see below). The movie is Lo strano vizio della Signora Wardh, which would translate as "The Strange Vice of Mrs. Wardh," but was released in the U.S. as Blade of the Ripper. This flick is considered one of the best gialli ever made, and it's tough to argue the point. It's intricate, absorbing, unpredictable, colorful, and shot in an array of amazing external locations and inside one of the greatest mid-century modern apartments ever conceived. It also has Edwige Fenech, whose gifts are well known. Taking place mainly in Vienna and climaxing in Sitges, Spain (which happens to be one of our favorite towns in Europe) Signora Wardh is a tale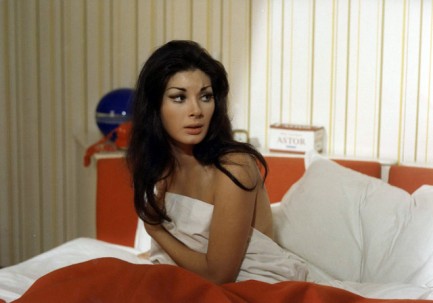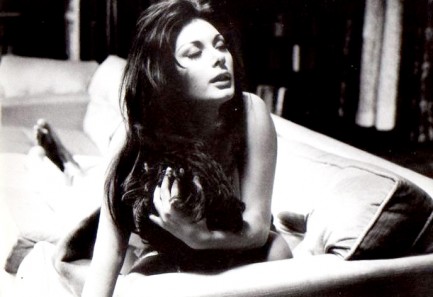 of obssession and infidelity wrapped in a murder mystery. Mrs. Wardh does indeed have a strange vice, but that's just window dressing. It's her that's being hunted throughout the movie—either by a serial killer, a demented ex-lover, or both. Or neither. They say that the only way to keep a secret is if no more than two people know it and one of them is dead. But the only way to commit murder is if the killer has an iron clad alibi, and for that he often needs help. Rule one conflicts with rule two, and that's the fun of Signora Wardh. Above you see a rare and wonderful Italian promo poster painted by Giuliano Nistri, the younger brother of equally talented Enzo Nistri. We'll get back to both Nistri brothers a little later. Lo strano vizio della Signora Wardh opened in Italy today in 1971.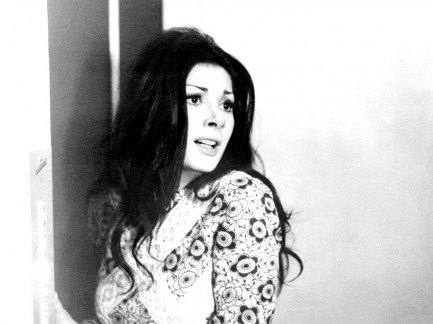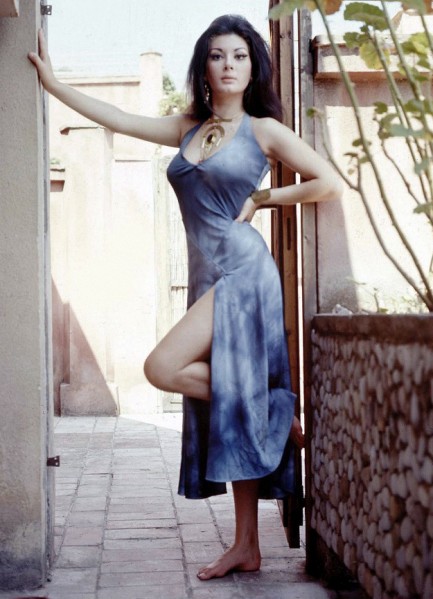 ---