Wherever celebrities misbehave National Spotlite is on the scene.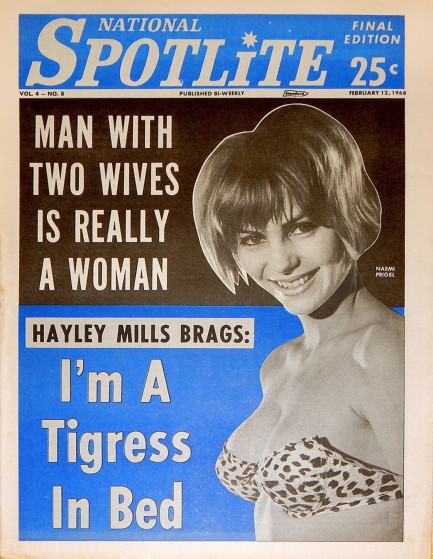 This National Spotlite published today in 1968 features cover star Naemi Priegel, a West German television actress and singer who reached the height of her fame during the 1970s. Inside are many interesting Hollywood tidbits, including former child star Hayley Mills allegedly describing herself as a tigress in bed, Marlon Brando beating up two party crashers, Elvis Presley breaking the arm of someone to whom he was demonstrating a karate hold, Richard Burton being pursued by a chorus girl who claimed he fathered her child, Gene Tierney and her husband Howard Lee getting into a public spat, and John Wayne slugging an autograph seeker who mistook him for Robert Mitchum. Was any of this stuff true? We have no idea, but it sure is interesting reading. You can see more in the same vein at our tabloid index, located at this link.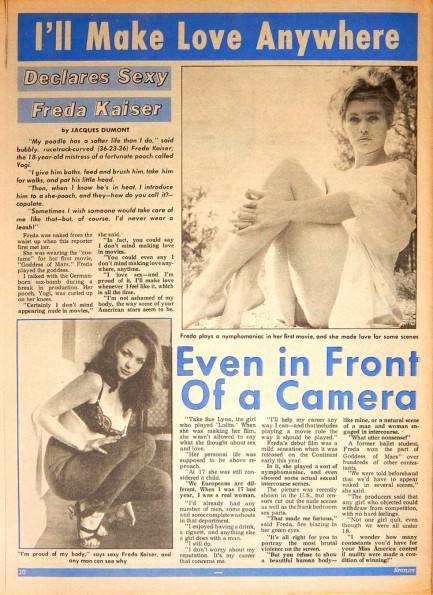 ---
Minor noble causes major scandal.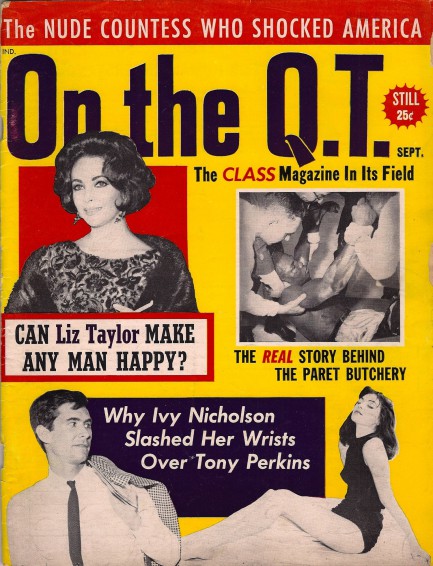 On the Q.T. labeled itself "The class magazine in its field." In practice that was less than true. This cover from September 1962 offers teasers about Liz Taylor's inability to be made happy, the fatal ring beating of boxer Kid Paret, and the inside story about Ivy Nicholson's suicide attempt. But the banner goes to the nude countess who shocked America. That would be Christina Paolozzi, aka Christina Bellin, who was a New York City fashion model and the offspring of United Fruit Company heiress Alicia Spaulding and Italian conte Lorenzo Paolozzi. The photo was shot by Richard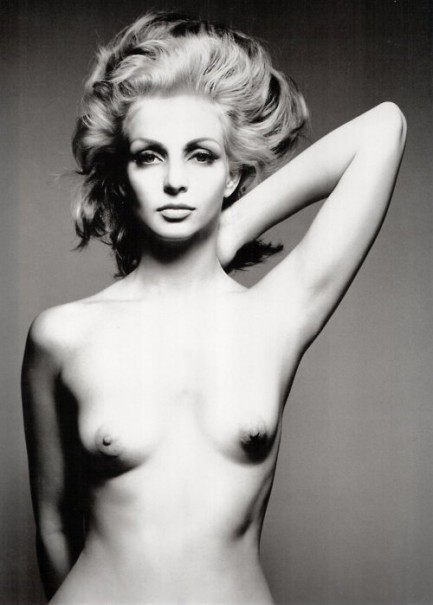 Avedon and appeared in Harper's Bazaar. Paolozzi was already considered "the first of the '60s free spirits" by the tabloids, and by stripping for Avedon she became the first recognized fashion model to pose nude, a practice that is now common.
While Avedon earned widespread recognition for the shot, which you see at right, Paolozzi was dropped from the New York City Social Register, shunned by Manhattan's upper crust, and subjected in the press to what is today sometimes called "body shaming." Columnist Inez Robb wrote that Paolozzi was "no more favored by nature than the average daughter of Eve," and added for good measure, "Harper's Bazaar, with its excursion into overexposure, has unwittingly proved that not diamonds but clothes are a girl's best friend." If that wasn't bad enough, just imagine what people wrote in the comments section. They had those then, right?
In any case, Paolozzi was a bold personality, and she went on to make waves yet again with her many wild parties and open marriage to cosmetic surgeon Howard Bellin, commenting in a mid-1970s newspaper article, "[It's] just the way life is today—one man is simply not enough." But she didn't just spend the years having a good time. She also raised money for hospitals in Cambodia and Gabon, orphanages in Afghanistan, and supported eighteen foster children. In a sense, she gave the shirt off her back. Twenty-eight scans from On the Q.T. below.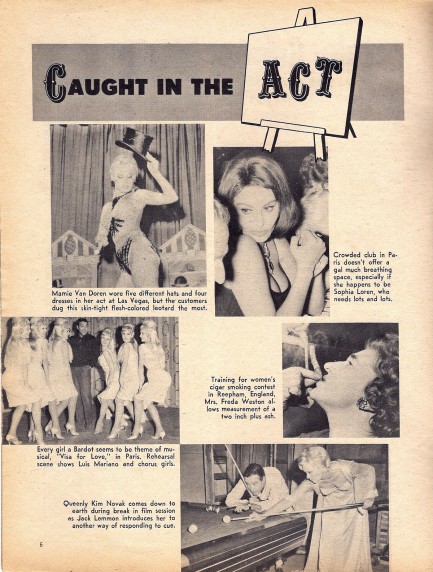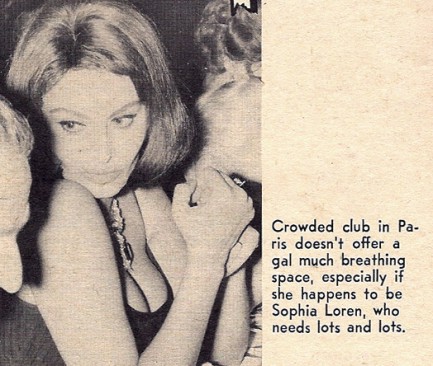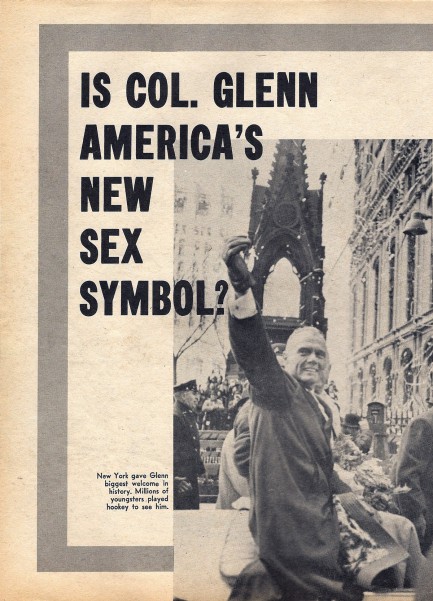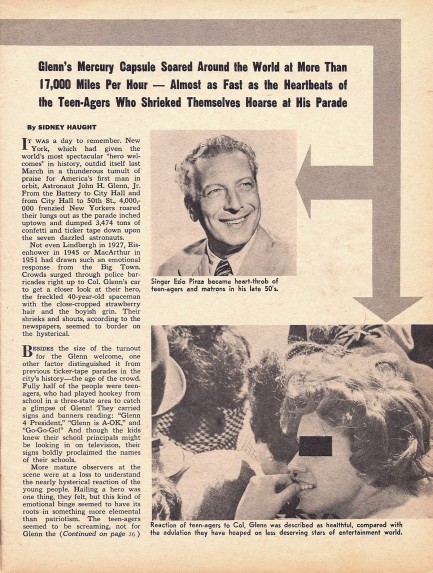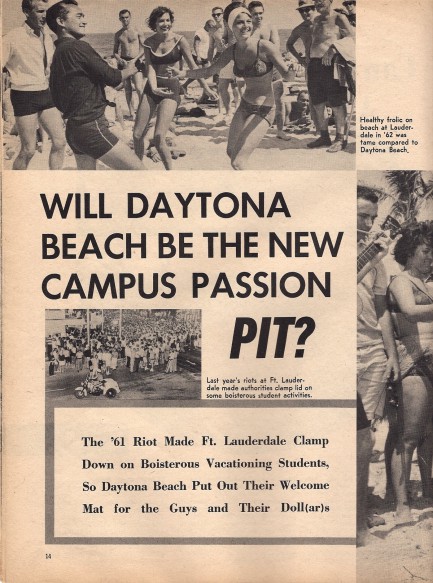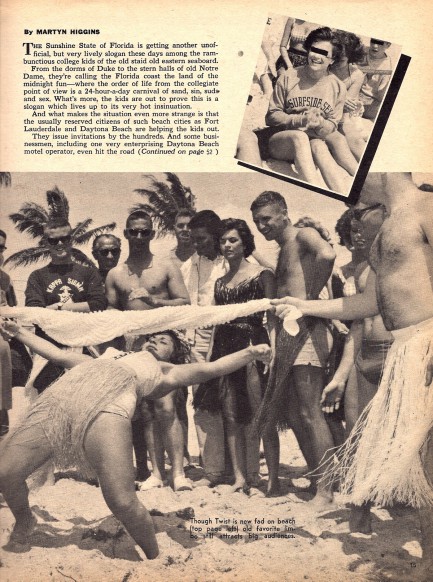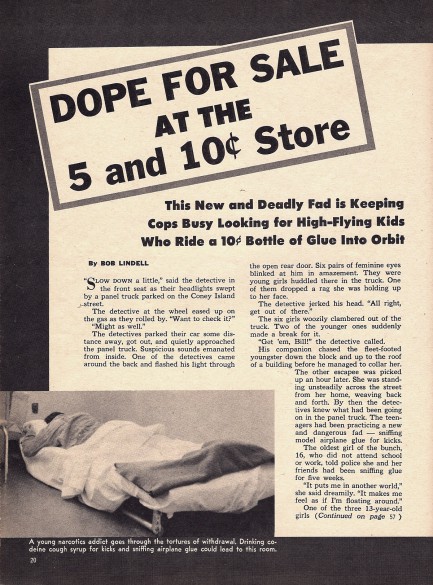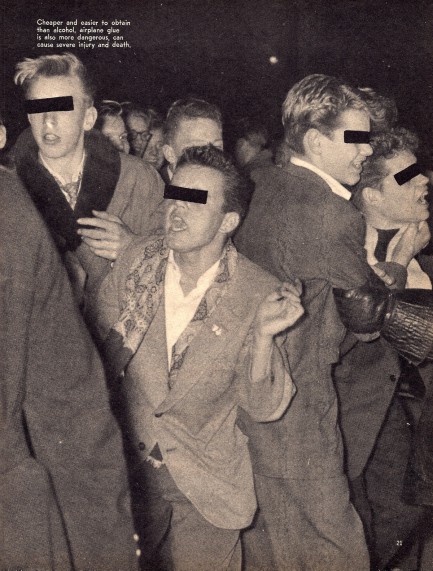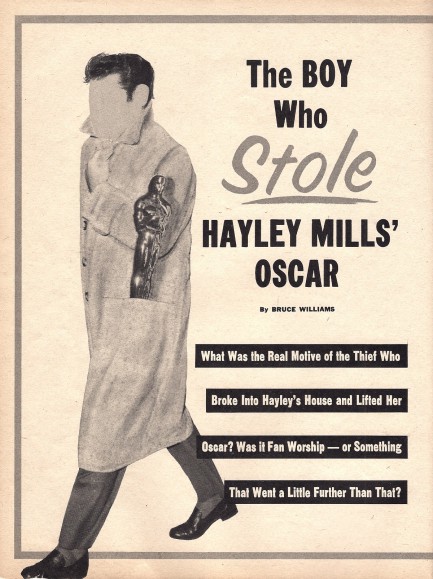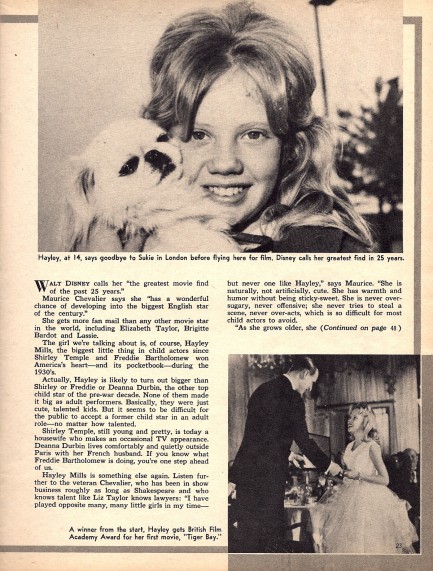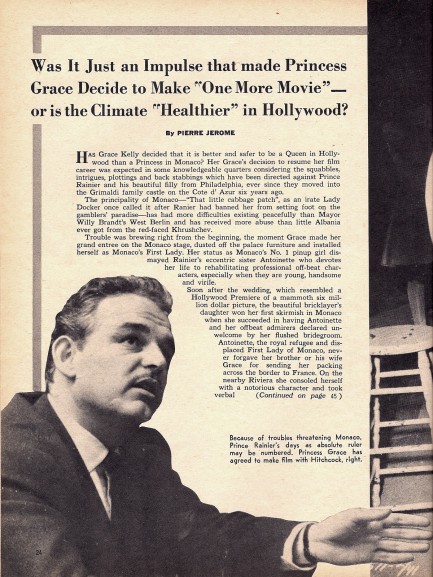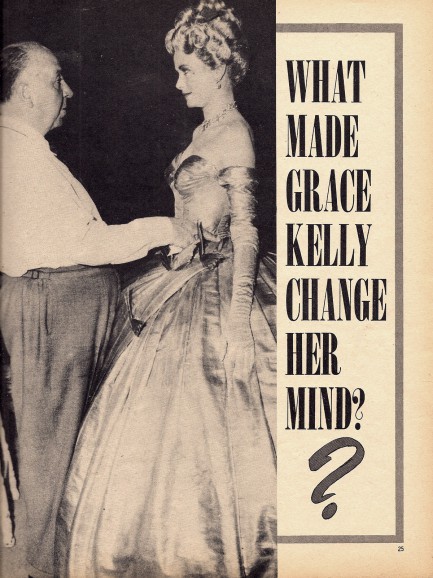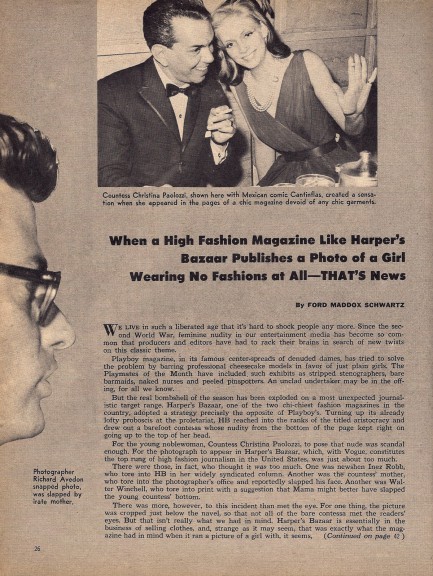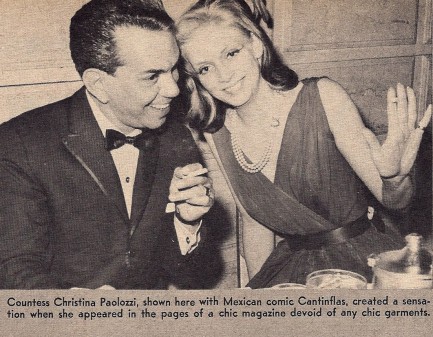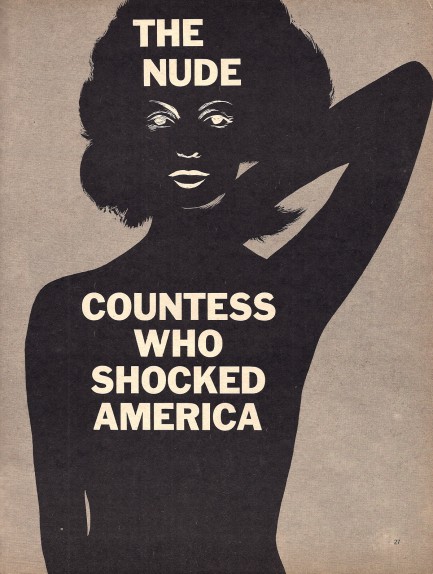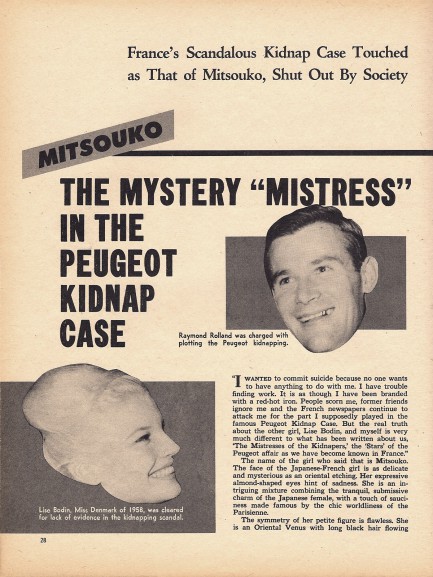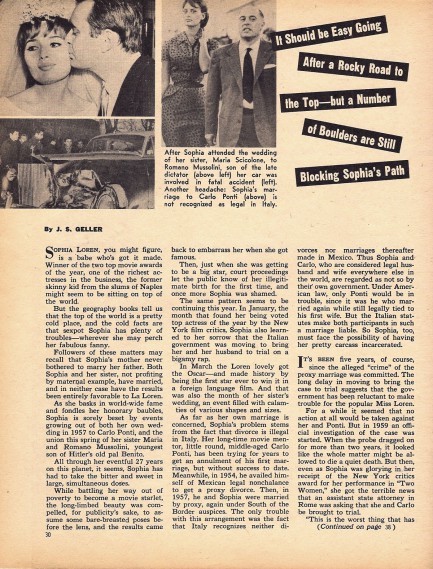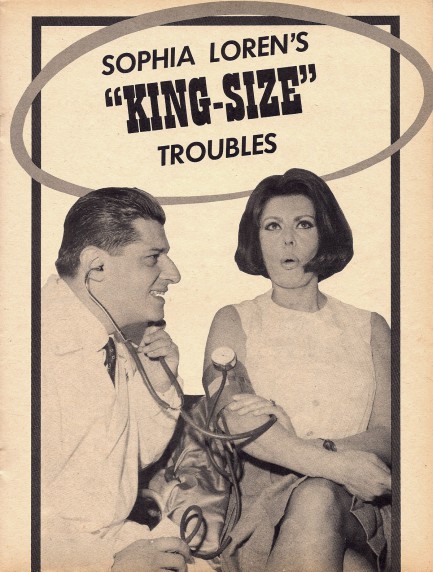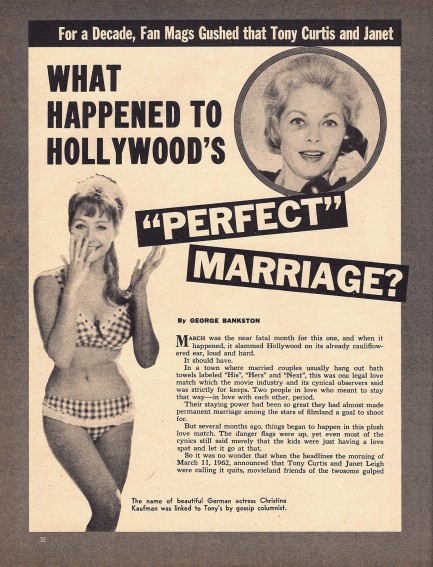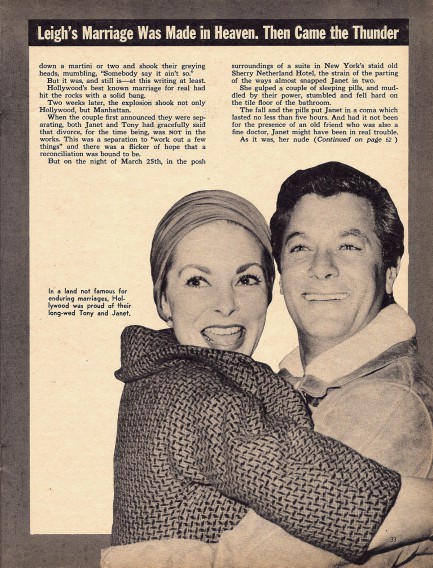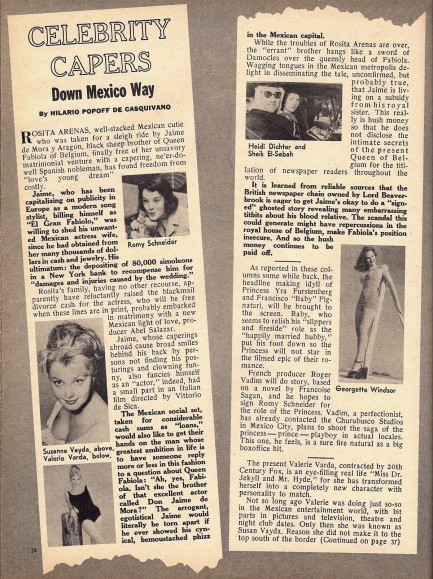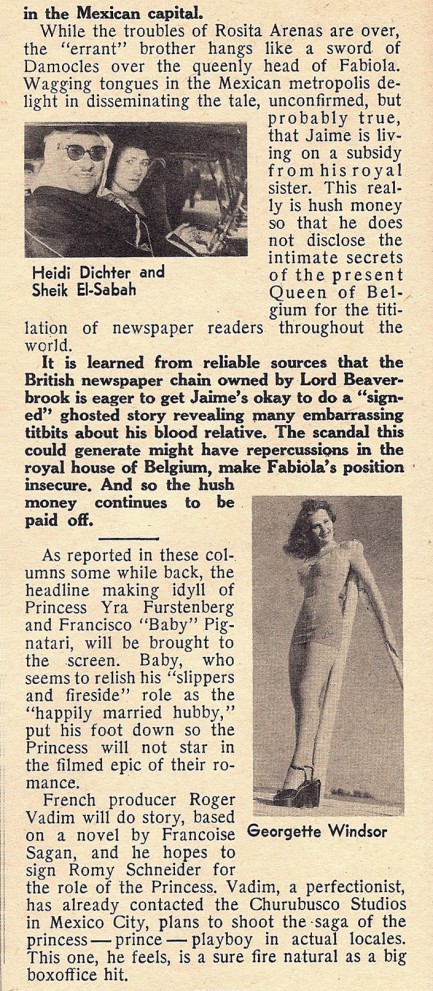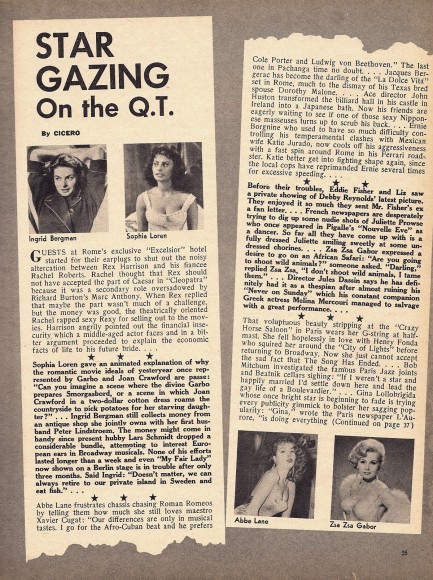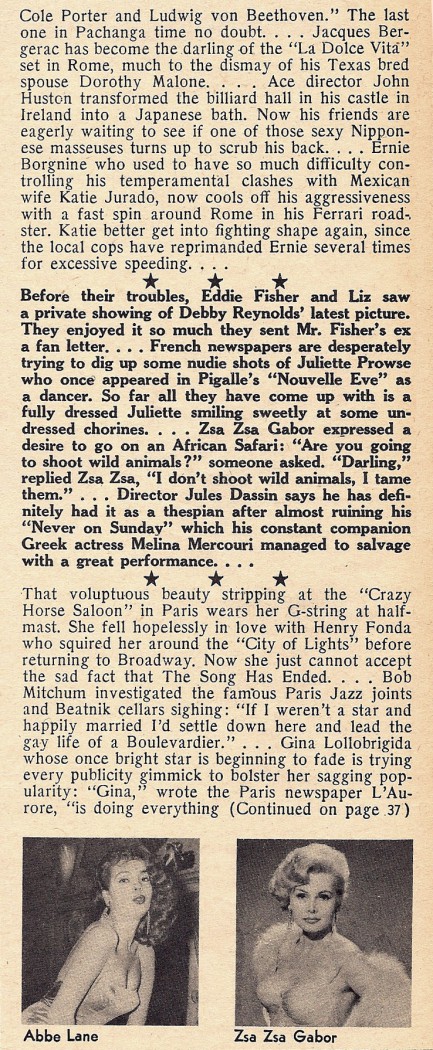 ---
Precisely when it's scarcest is when you want it the most.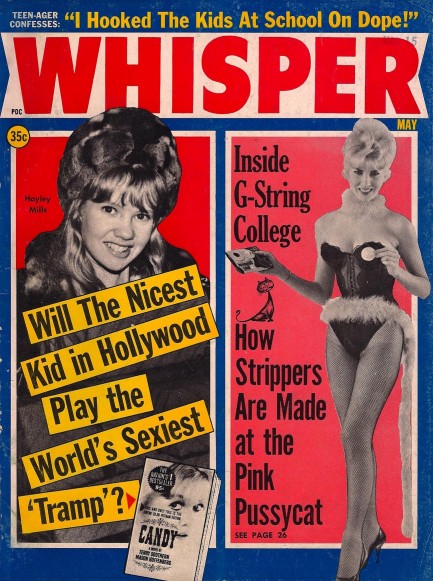 Jayne Mansfield, Mickey Hargitay, Elvis Presley, Eartha Kitt, and more. This issue of Whisper published this month in 1965 tells tales about some of the most popular stars of the day. And then there's Hayley Mills, former child star who was trying to make a full-grown career for herself where breaking from type often involves shocking the public. In Mills' case, she planned to star in the film Candy, which was to be an adaptation of the banned satirical novel Terry Southern and Mason Hoffenberg had based on Voltaire's Candide. Considered one of the sexier novels of the time, it touched on homosexuality, masturbation, interracial relations, and seemed like a disastrous choice for wholesome Hayley Mills. But if she actually wanted to change that image what could do it? Candy could. Whisper warns Mills away from the role: "We'll bet her fans—and the moviegoing public at large—won't buy it." Dire words, indeed. But in the end, Mills never got the role. It went instead to Swedish actress Ewa Aulin.
Whisper also discusses the infamous relationship between Sammy Davis, Jr. and Kim Novak, and ponders whether Novak is still carrying a torch for Davis. Journalist Pete Wallace doesn't interview Novak, but manages to score quotes from many acquaintances—or so he claims. The upshot? Novak's life has been a shambles ever since the relationship ended, but Wallace, trying to reason from afar with Novak, explains that Sammy dropped her for both their sakes because of the forces—studio, family, the American public, and eventually the Mafia—that were arrayed against them. But Wallace also sympathizes. He writes: "If the one man she ever really loved walked out on her (never mind that it was for the best of reasons) how can she trust herself to anyone less?" Who could ruin you for other men forever? The Candyman could. We have nineteen scans below of all that and more, and many more issues of Whisper to come.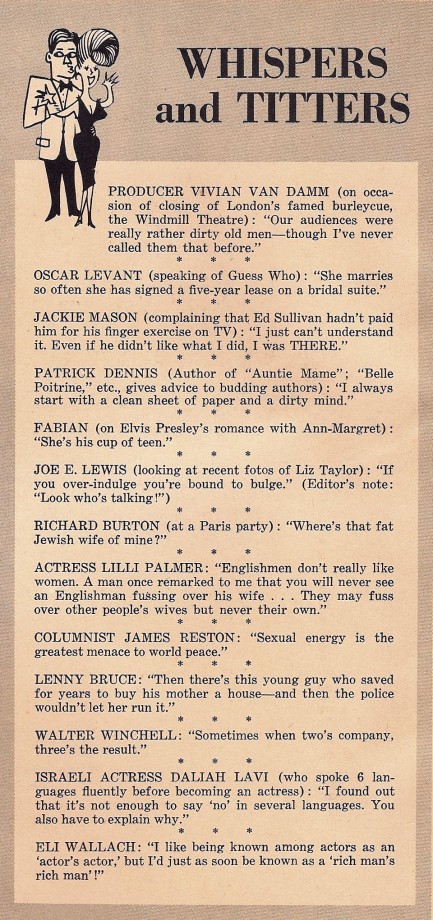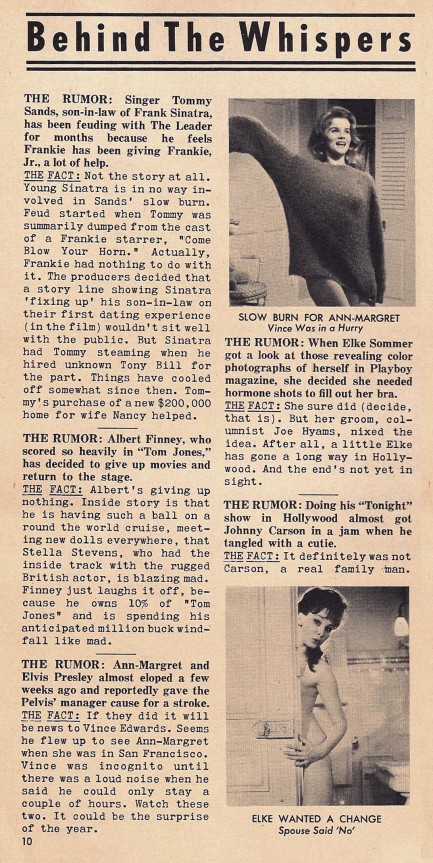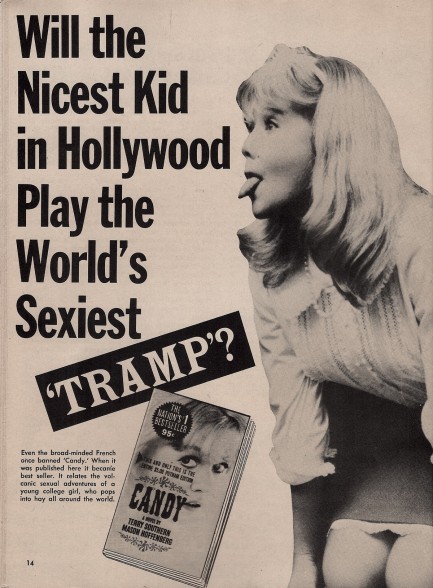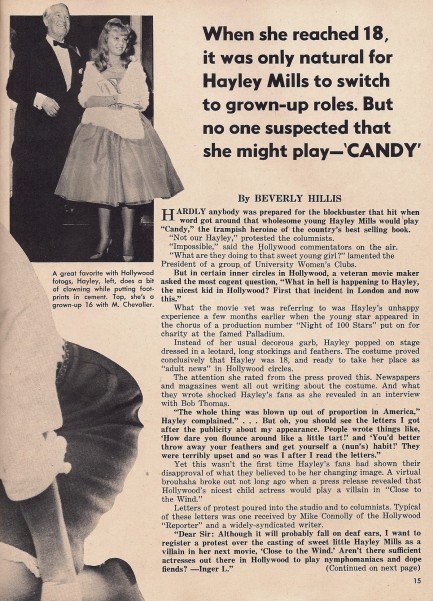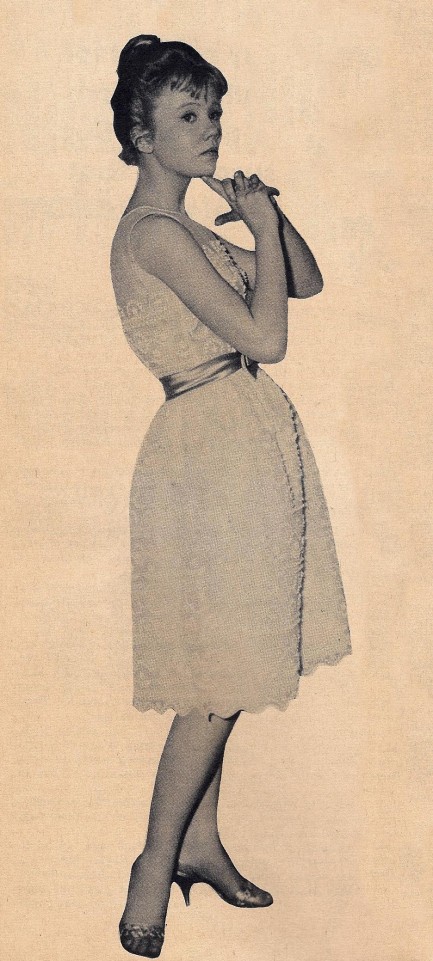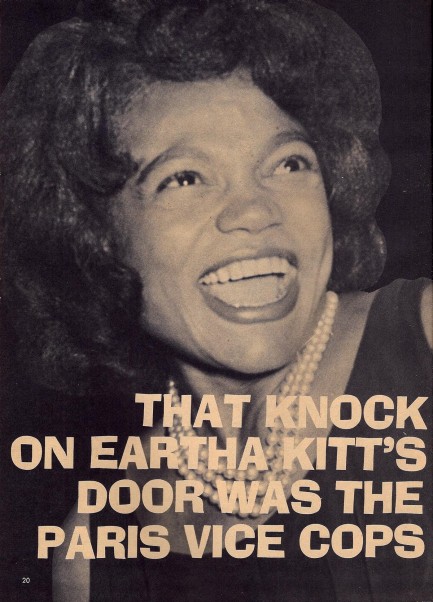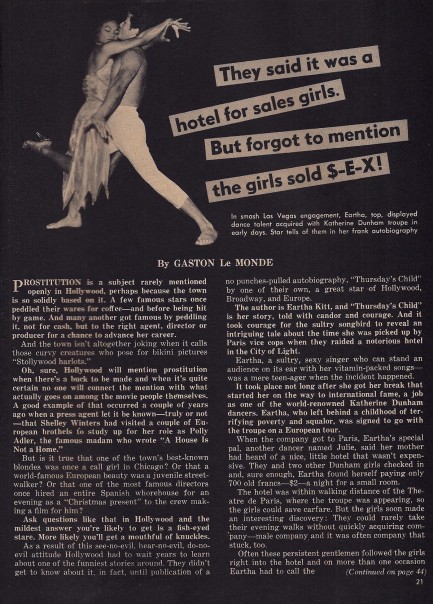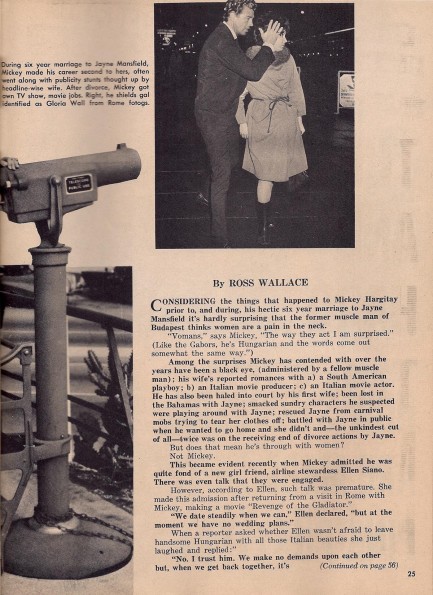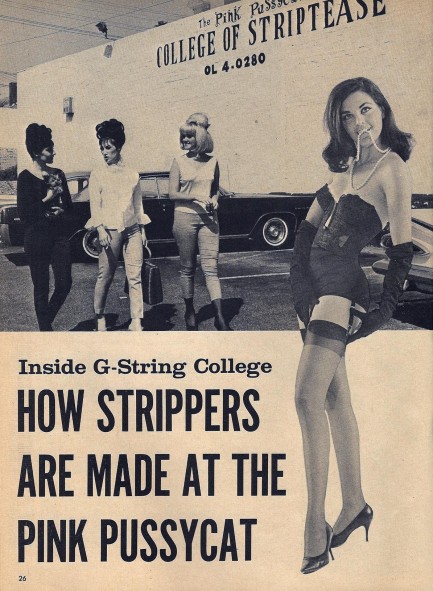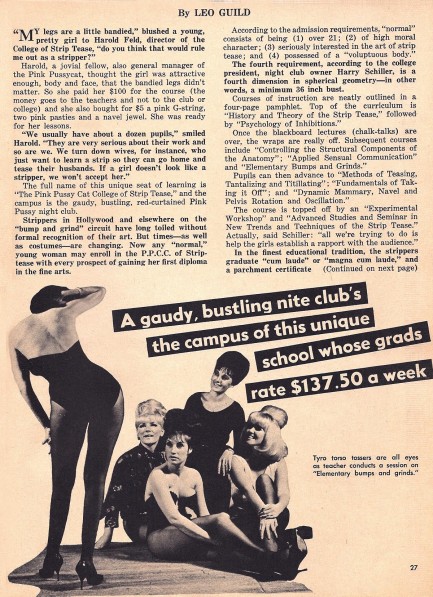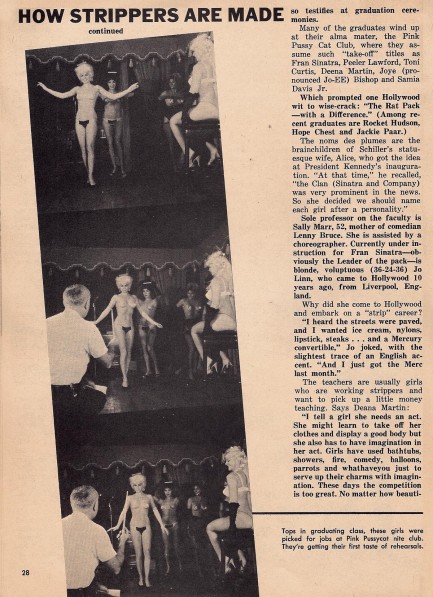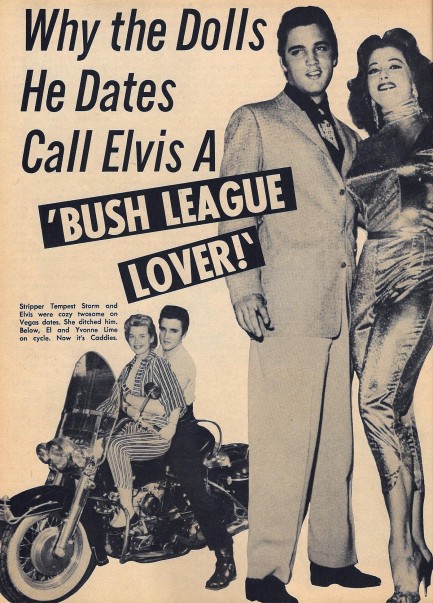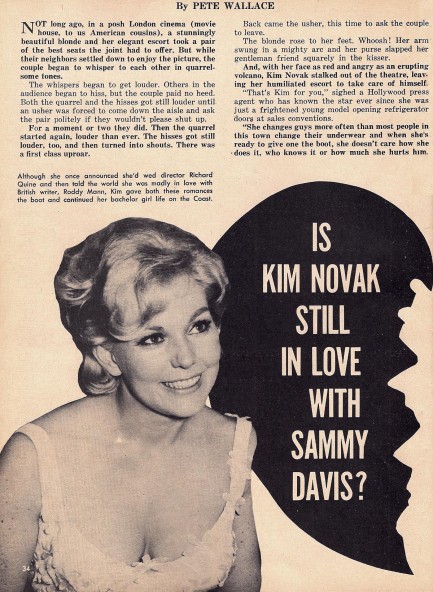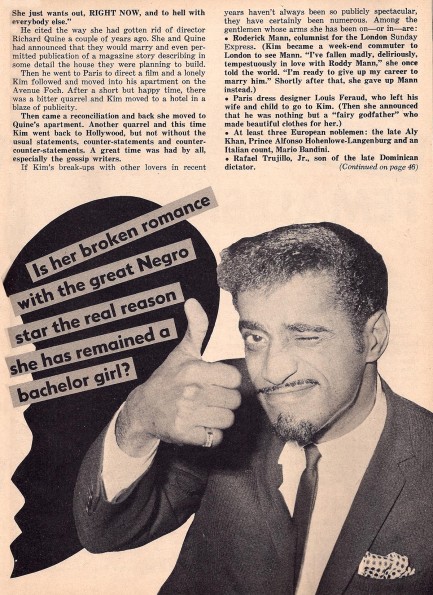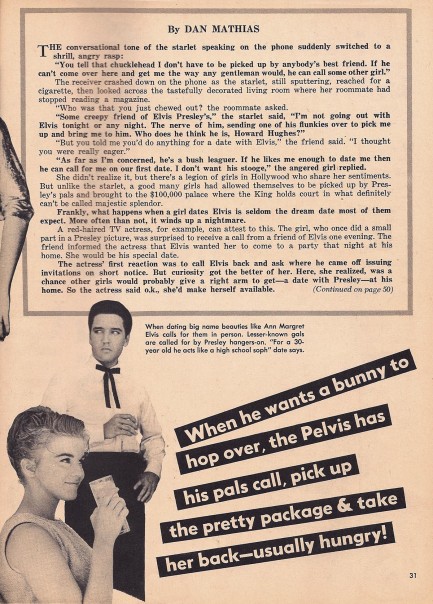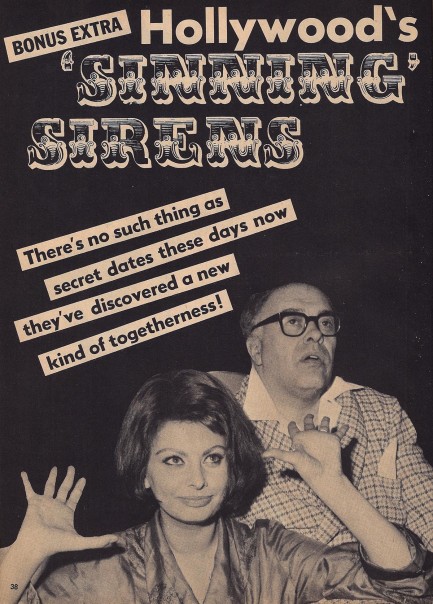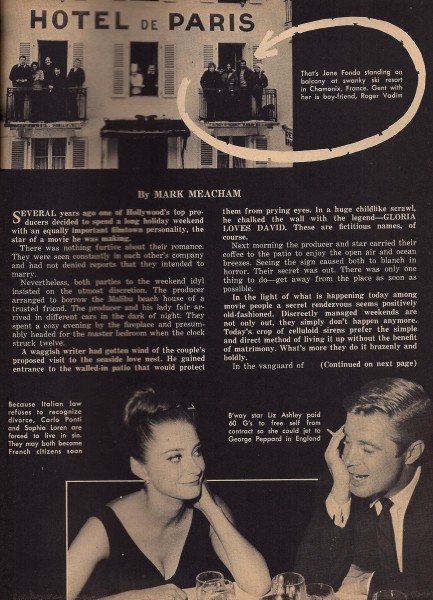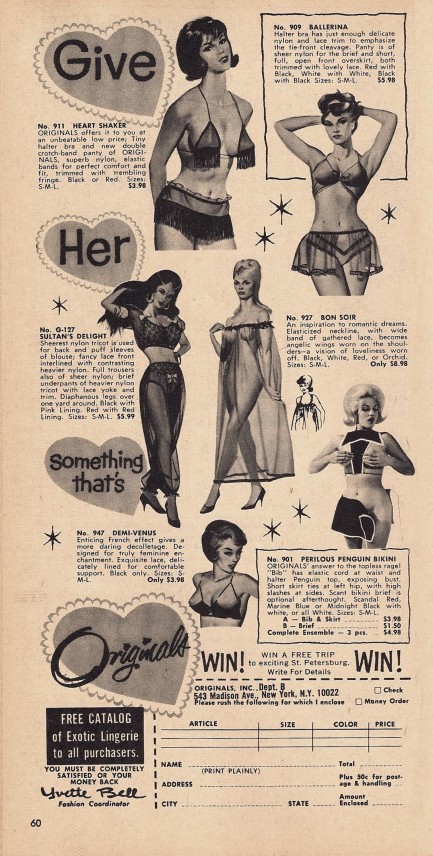 ---