What do you expect? I've tried therapy, meditation, and religion. But alcohol actually works.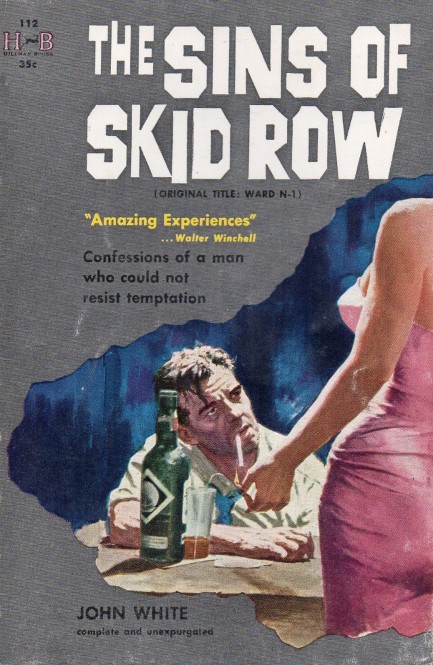 Above, front and rear covers for John White's The Sins of Skid Row, 1959, for Hillman Books. This was originally published as Ward N-1 and it's basically five autobiographical days spent in Bellevue Mental Hospital's detox wing. These were the days of involuntary commitment, electroshock, and lobotomies, with a lot of secrecy around these practices, so this was likely a very illuminating book for the time. Inside are various curious characters with nicknames like Creep, Minny, and Bomber. One Flew Over the Cuckoo's Nest, a similar story, would come along several years later, with the major difference being the ending. The art on this paperback is by an unknown.
---
Psst. Guess what unspeakable perversion I'm thinking about right now.
The Whispered Sex isn't about perversion at all, unless you assess it in 1960 terms. It's lesbian fiction involving a Los Angeles woman who is unshakably heterosexual—until she meets the right woman, a slinky nightclub singer with a bigger-than-life persona and a blazing sex drive. But even though the protagonist feels an immediate and powerful attraction, it takes some doing to nudge her into the singer's arms—namely sexual abuse by the man she had come to L.A. in hopes of marrying. After he proves himself to be a slimeball, the heroine escapes by moving into the singer's house—which is filled with more lesbians. From there things get complicated. Author Kay Martin was a pseudonym used by Adela Maritano, who was also responsible for A Taste of Passion. The excellent cover art here was painted by Ernest Chiriaka, who signed it as his alter ego Darcy. You can see a bit more from him here.
---