That dream she keeps having about an icy hand at her neck? Not a dream.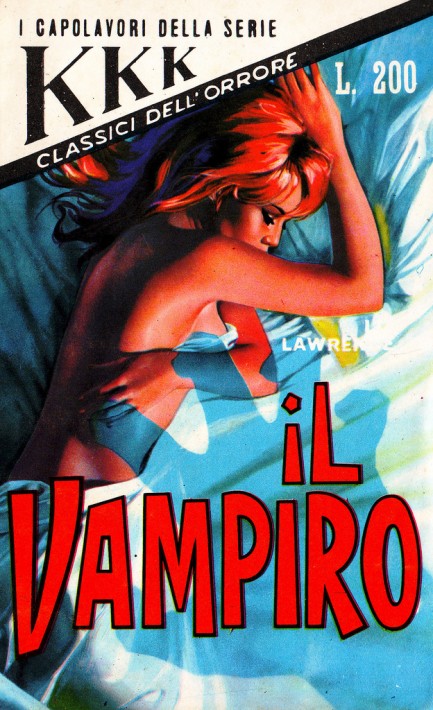 Above is another cover by Benedetto Caroselli for I Capolavori della Serie KKK Classici dell'Orrore. That's a real mouthful, but really it just means "KKK Masterpiece Series Horror Classics." This one, number 116 from 1969, is entitled Il vampiro and it was written by Liz Lawrence, who was a pseudonym of Franco Marotta. We don't know if it's the same guy, but a Franco Marotta wrote for Italian cinema for forty years, and among his work was the original Inglorious Basterds. Probably the same guy. Anyway, brilliant piece of art from Caroselli here, featuring the menacing shadow of a vampiric hand looming over a sleeping nude. See more Caroselli by clicking his keywords below.
---
She's dressed to be killed.
We found another I Capolavori della Serie KKK Classici dell'Orrore cover with Benedetto Caroselli art for your enjoyment today. This time it's La perversa by Reg Sattle, aka Oretta Emmolo, published by Grandi Edizioni Internazionali in 1964. We'll see if we can dig up more of these somewhere.
---
Another obscure Italian artist produces a masterpiece.
Some random goodness today, a cover for Sangre de toro ("blood of the bull"), book 109 of I Capolavori della Serie KKK Classici dell'Orrore (KKK Masterpieces Series of Classic Horror), a popular collection published by Grandi Edizioni Internazionali beginning in 1962. This entry arrived in '68, and was written by R.C. Perez, or in reality the Italian author Renato Carocci, who inhabited an array of pseudonyms that included René du Car, Christian Busch, Harry Carren, Roland Graves, Lucien Le Bossu, James Darren, and Elizabeth Cronin. The incredible art is by Benedetto Caroselli, who, believe it or not, is a fairly obscure figure—at least if we're to judge by the extreme dearth of info about him online. This isn't the first time this has happened with Italian art. What the heck is going on over there in Italy, guys? Surely you must love these artists as much as we do. Build a webpage or two (actually, there is one, but you don't get a good look at the art). Well, in any case, we'll definitely have more on Caroselli soon. We won't stop looking until we do. Too bad we can't remember where we found this piece. We bet there's some info there. But now a search brings up nada. Stay tuned.
---