The hardest question to answer is always why.
Today in 1959 in a quiet area of Inglewood, California, a police officer was putting a ticket on a car that hadn't moved for at least two days. While writing the ticket he looked in the window and noticed that on the front seat were a sweater, a pair of Capri pants—and a bloody front tooth. He pried open the trunk and inside found a dead woman, Meredith Jean Prestridge, a twenty-six-year-old married mother of two. She had been missing from her Fresno home for a week.
In the top photo police officers and coroner's personnel examine the crime scene. Soon the cops would be looking for an unidentified man seen with Prestridge shortly before she vanished. They would learn of a suspect named Robert Lee Kilmer and mobilize to arrest him where he was holed up in a friend's house. Kilmer didn't go easily, and in the end police fired tear gas and stormed the place wearing masks and bullet proof vests. In the resulting melee police fatally shot Kilmer in the head.

His guilt was not seriously in question in any of the accounts we read, but due to his untimely departure from the material realm the motives and thought processes behind his murder of Prestridge were never explained. But they surely would have been as banal as those of other murderers. Kilmer was just another bad man in the naked city, and Prestridge was just another victim in the wrong place at the wrong time.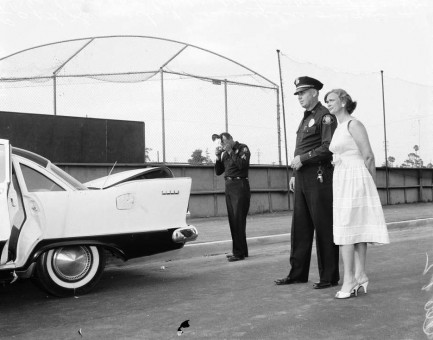 ---
A unusual Page from Hollywood history
Who is this, you wonder? Her name is Joan Page and she's posing at Hollywood Park, a thoroughbred race track located in the Inglewood section of Los Angeles. The photo, which was made today in 1954, was intended to publicize the circuit's new aluminum rails, which had replaced the old wooden rails during the off-season. The photo also announced Page's candidacy for the title of Goose Girl, the winner of the track's yearly beauty contest. Why was she called a Goose Girl, rather than a Horse Girl or a Pretty Filly, you're probably thinking? Because Hollywood Park, which was known as the Track of Lakes and Flowers, enclosed several small lakes populated by geese. In addition to posing for photos and making publicity appearances in a ridiculous outfit, the Goose Girl was required to drift around in a small boat called Miz Clementine, tossing food to the birds as the racegoing crowd cheered. Hollywood Park operated on the theory that race days were events, and successfully staged such spectacles for decades, beginning with its opening in 1938.

But times change. Hollywood Park had long been a playground for celebrities and political figures, but as the decades passed such clientele began to seek thrills elsewhere. During the 1980s some of the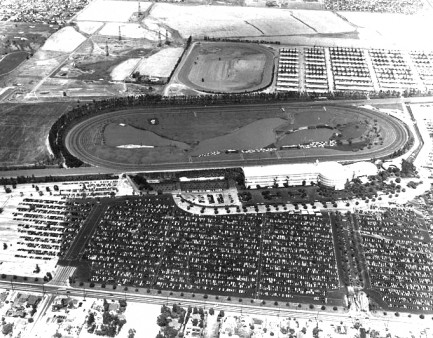 park's lakes were filled in to build concession stands, and the popular Goose Girl was eliminated, brought back in the 1990s, then eliminated again. Profits sagged, and real estate values went through the roof—always a deadly combination. Hollywood Park's land became too valuable for racing, and the site's closure was announced in May 2013. The current plan is to transform the former Track of Lakes and Flowers into luxury housing, which seems to always be the plan, everywhere. And what happened to Joan Page? Hard to say. There are several Joan Pages who appeared in films during the 1940s or 1950s, but we have no way of knowing which—if any—posed on Hollywood Park's aluminum rail in 1954, or for that matter whether she ever won the title of Goose Girl.

---