Sharks aren't the worst predators in the water.
Behold! The longest piece of promo art we've ever shared. The oceangoing thriller The Deep premiered in the U.S. in June 1977 as part of a wave of similar movies that came in the wake of Jaws (see what we did there, with the "wave" "wake" thing?). Yeah. So anyway, author Peter Benchley, who wrote the novels that spawned both films, used similar themes for the two, but switched the monster shark for human dangers in The Deep. The Japanese run of the film began today in 1977, and for once the Japanese title isn't something wildly different—they went with

ザ・ディープ

, which means "the deep."
We've never seen anything like this poster before, and we doubt we will again. Also of note is that the movie, which was not considered top notch, was a massive hit thanks to a brilliant marketing campaign that saw co-star Jacqueline Bisset wardrobed in a white t-shirt that turned transparent when wet, such as during her opening diving scene in the warm Bahamian waters. Never had a pair of nipples made such a splash. A longtime a sex symbol and thirty-three years old when the The Deep appeared, the film made Bisset a legit superstar for the first time.

---
It's possible to have too many Bonds.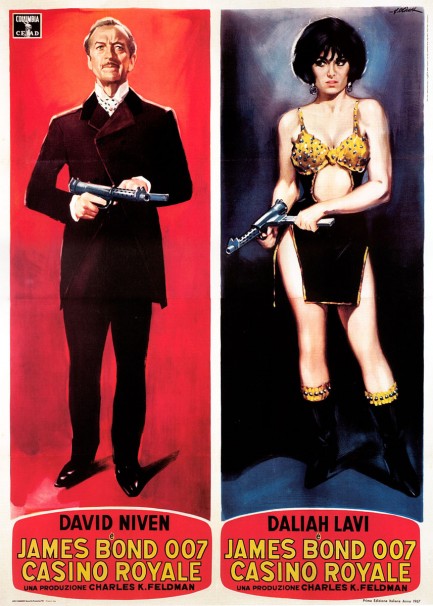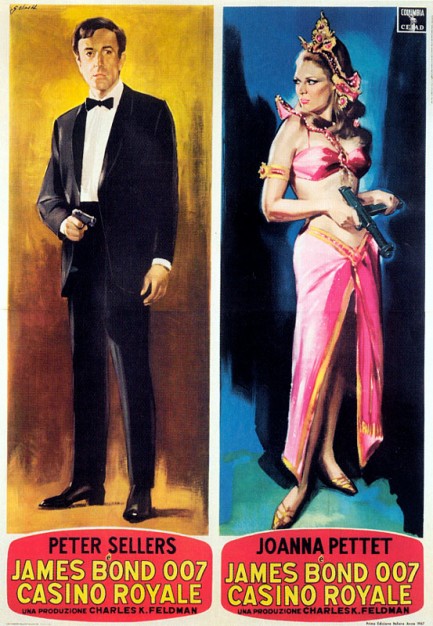 1967's Casino Royale

wasn't a global Christmas movie in the sense that today's films are, however it did premiere Christmas week in ten European countries, as well as today in Japan. The movie wasn't good. Basic idea: Sean Connery is an imposter, so the real James Bond in the form of David Niven is coaxed out of retirement, and he comes up with a plan to confuse his arch enemies SMERSH by renaming all British agents—male and female—James Bond.

Time

's review of

Casino Royale

was headlined "Keystone Cop Out," and

The New York Times

' Bosley Crowther was just as scathing, noting that "since it's based more on slapstick than wit, with Bond cliché piled upon cliché, it tends to crumble and sprawl."
But one thing about holiday blockbusters—past and present—is that they're expensively promoted. The many posters produced to sell
Casino Royale
were top notch. A U.S. poster painted by the legendary Robert McGinnis remains one of his most iconic pieces, but we also like these Italian quattro foglio promos painted by the extensively and expensively collected Giorgio Olivetti. We saw a set of these asking $8,500 at an auction site. By contrast, below are several U.S. promos, not paintings but photo-illustrations, on which the film's secondary players get starring roles. They aren't nearly as collectible as the movie's paintings, but they're pretty, so we're sharing them as well.




---
Does your wife want to kill you? The National Police Gazette tells you how she'll do it.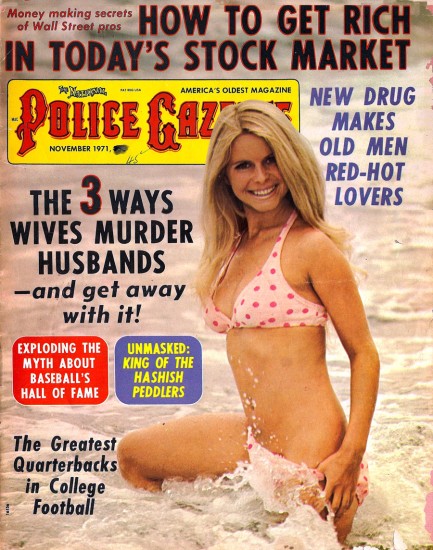 Those scamps at The National Police Gazette are at it again in this issue from November 1971, the cover of which screams: The 3 Ways Wives Murder Their Husbands—and get away with it! What ways would those be, we wonder? Well, murder method one is: Feed Him To Death. Here's the juicy bit from that section: Women prepare the meals. If the husband is overweight, has high blood pressure, and has been warned by his doctor to avoid certain foods, the truly concerned wife will follow the instructions. But we know of case after case where the wife insidiously fed her husband what he shouldn't have had, worsening his condition until the fatal heart attack. The scenario runs on for a bit, but you can imagine the rest.
Murder method two is: Nag Him To Death. Our favorite line is this: Nothing can weaken a man's will to live as much as a nagging wife, a leading psychiatrist has stated. She can undermine his health just as surely as an invading virus. What follows are some quotes from various quacks supporting the thesis, backstopped by a bogus study. But we aren't buying. The Pulp Intl. wives are nothing but rays of sunshine. And we're not saying that because they'd beat us if we didn't. Murder method three is: Sex As a Weapon. The money quote: Sexologists have long known that certain acts associated with love play are super tension-producing. Oral sex, for example, can make dangerously inordinate demands on the husband's blood pumping system. Heh. Blood pumping system.
Gazette asserts that the vast majority of murders committed by wives fall into the three categories listed, making them impossible to prosecute. Their advice? Know about the deadly weapons at your wife's disposal, and develop the proper defenses. No word on what those defenses might be, though not being an asshole and making your wife want to kill you comes readily to mind. Did we mention our girlfriends are rays of sunshine? Elsewhere in this Gazette you get Jean Harlow, Jacqueline Bisset, and more. We've uploaded a few scans, and of course we still have a stack of Gazettes to post later.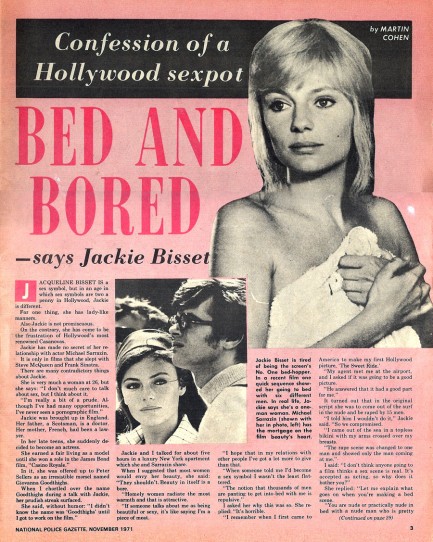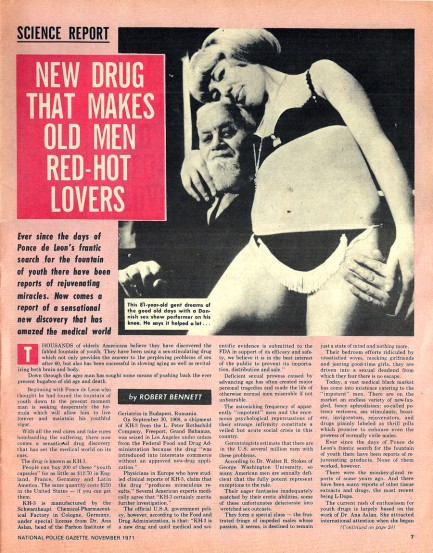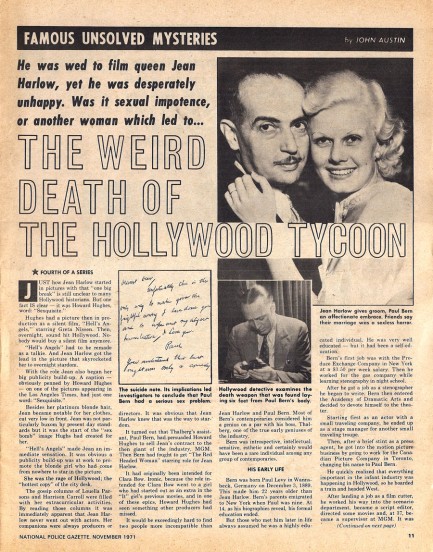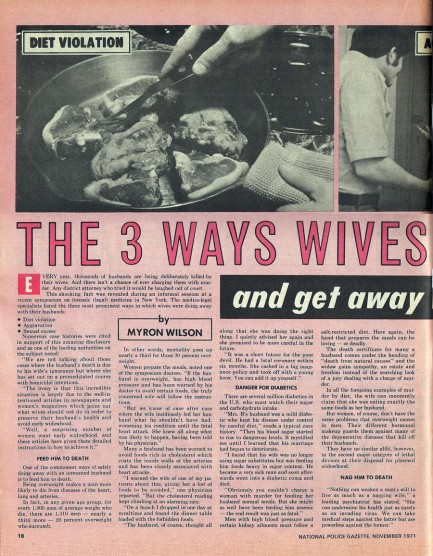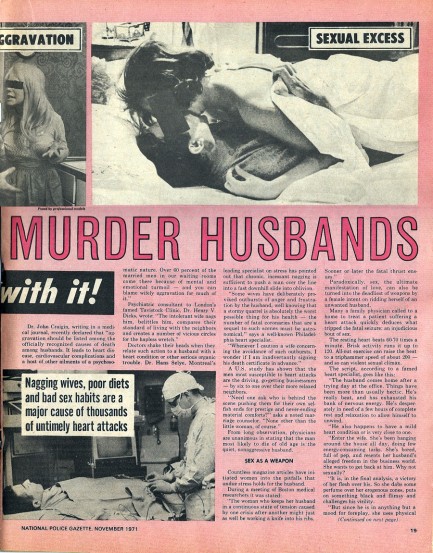 ---