Joi Lansing returns to change your luck.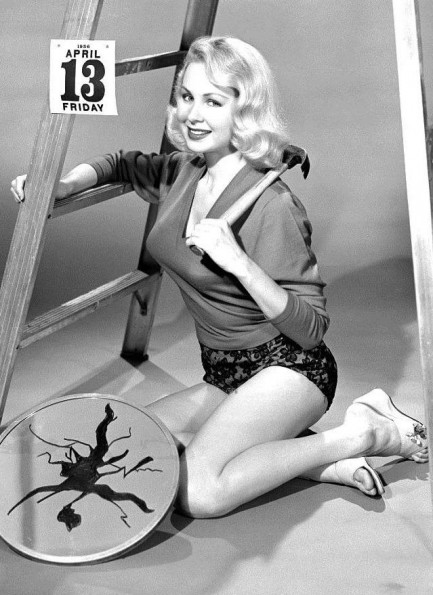 Yes, we just featured Joi Lansing as a femme fatale in March. But we came across this Friday the 13th themed promo shot of her, and since today is the dreaded day we brought her back. There's no way you can call that unlucky. The photo dates from 1956.


---
Happiness is to age well in Hollywood.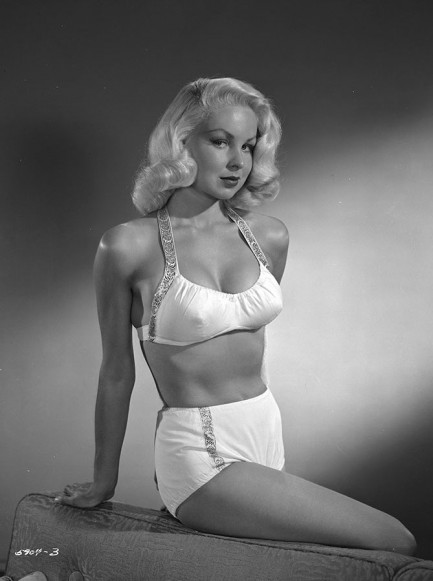 Joi Lansing was born Judy Rae Brown in Salt Lake City, Utah, and could be the best thing ever produced by a state famous for its natural beauty. While she appeared in the film noir Touch of Evil, as well as on scores of television shows, she can't be said to have achieved major stardom. However she had a long career owing partly to the fact that she didn't seem to age—quite a useful trick in Hollywood. Despite that, don't believe it when you see other sources claim the above photo was shot in 1959. She had good genes, but not quite that good. The shot is from 1956, when Lansing was twenty-seven.


---
Itsy bitsy teenie weenie polka-dot bikini.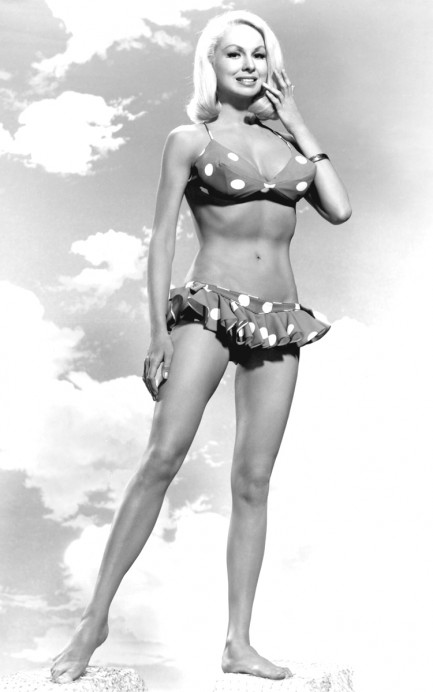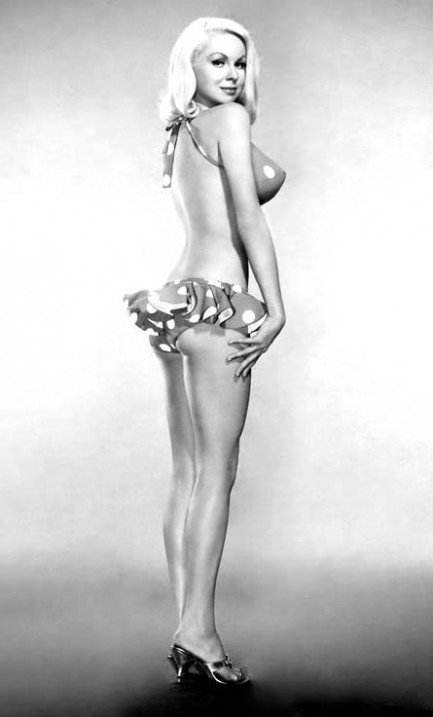 Usually we take pains to post rare femme fatale images, if not shots that have never appeared on the internet before, but sometimes you gotta make exceptions, especially when there's very little chance of improving on existing photos. Such is the case with the above images of American model and actress Joi Lansing in a skirted bikini. She posed in this suit a few times, and never have polka dots looked so good. In the 1950s there were the Monroes and Mansfields, but people who say actresses were more curvaceous are only half right. Curves were an ideal, but for every Monroe and Mansfield there were women like Linda Darnell and Joi Lansing who had what would today be considered ideal physiques. These shots are actually later Lansing, made for her role in the 1965 comedy Marriage on the Rocks, when she was thirty-seven years old.

---