Give a girl a light? You'll have to lean down here, though. If I come up there I'll start flopping around something awful.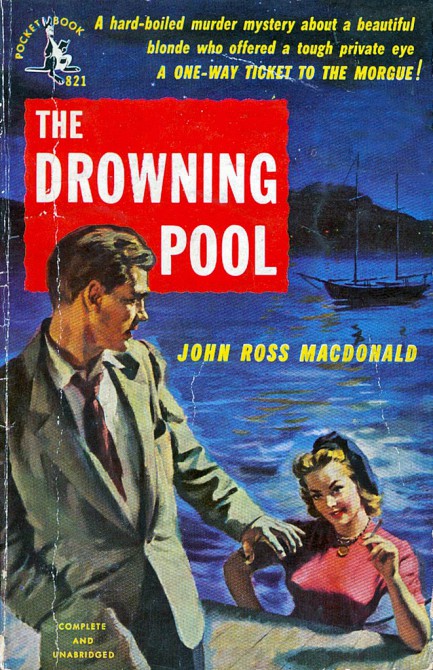 We love this Ray App cover for John Ross MacDonald's, aka Kenneth Millar's mystery The Drowning Pool because it's incredibly bizarre. Plot of the book aside (it's the second Lew Archer novel), there can be only two reasons for the female figure to be positioned as she is—she's either standing in a rowboat, presumably for the pure pleasure of it, or she's trying to conceal her mermaid half. She shouldn't worry about hiding, though—generally guys don't hang around the docks unless they're at least a little interested in seafood. 1950 original copyright, and 1951 on the paperback.
---
Not so tight sweetie—I just ate eggs.
Margaret Millar was a respected writer who won the Mystery Writers of America's Grand Master Award in 1983, and happened to be the wife of acclaimed pulp author Ross MacDonald, aka Kenneth Millar. The air she has in mind here isn't a physical thing, but rather the emotions of guilt and suspicion. Still though, it's kind of a funny title, because when you consider how married couples get after a few decades together, it's easy to imagine old Ross's reaction every time Margaret let one slip. He probably smirked and said, "Jesus, there really is an air that kills."
Anyway, the book is a mystery in which a married couple's seemingly stable existence is rocked when the wife reveals that she's pregnant with another man's baby. That man soon turns up dead, drowned in his car at the bottom of a lake. However, this isn't a straightforward puzzler. There are elements of melodrama, and the plot is stretched out over an extended period as we see the couple split and begin to live separate lives. But of course the mystery underpins everything, eventually circling back to center upon the woman's new child.
An Air that Kills is considered by some to be Millar's best work, and indeed Millar herself is considered by many critics to be a better writer than her husband. She estbalisher herself a writer before her husband, though that doesn't seem to be as widely known as it probably should. In terms of writerly skill, we aren't really qualified to make that comparison, but we're sure it made for some interesting discussions at the MacDonald/Millar dinner table. We highly recommend this book.
---