He's Keene on murder and mayhem.
We don't generally like photo covers on paperbacks but this double from Lancer Books of the Day Keene novels Who Has Wilma Lathrop? and Murder on the Side is rather nice, with pretty colors and eye catching fonts. Murder on the Side deals with an ordinary guy who, when he tries to help his hot young secretary out of a sticky situation, gets involved in troubles more serious than he planned on. He goes from being bored with his life to risking it at every turn. As for the other book Wilma Lathrop, we already talked about it. You can read our bit on that here.
---
Tough time on the front, and unwelcome back at home.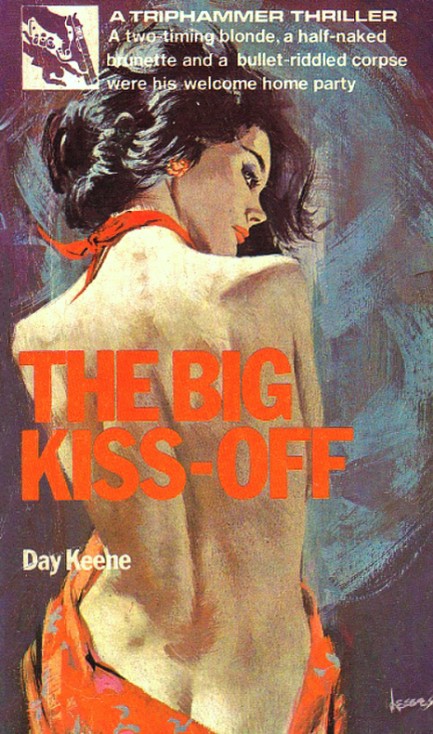 You'd never guess from the art, but The Big Kiss-Off deals with an Air Force pilot named Cade Cain who, after twelve years in Korea, returns to a life of boating around the Louisiana bayou and comes across the bodies of six Chinese men on an isolated mud flat. And on his first day back, too, which is pretty bad luck, even for a guy who got shot down and spent two years in a prison camp. He wants nothing to do with the bodies or whoever was responsible for putting them there, but somehow his old local nemesis learns of the find and before he knows it he's beaten, threatened, and told to leave town again—this time for good. Two fisted loners in mid-century fiction rarely take that sort of treatment laying down. When Cain learns that his wife has sold off his family's land, divorced him in absentia, and found comfort in his enemy's bed, something simply has to be done.
Before he gets his vengeful ducks in a row, a near-naked fugitive swims aboard his boat and the mystery deepens. Her name is Mimi Moran, because the alliteration is strong with this book. She's looking for her husband, who it happens is a pilot who flies illegal aliens into the U.S. for the bad guys. Cade Cain decides to help Mimi Moran and that's when the real trouble starts. The Big Kiss-Off is a solid yarn from Day Keene. It has the usual issues common to fiction of the 1950s, for example the hero having to constantly resist forcing himself on his beautiful passenger because he's "only human, after all." Fortunately, even though "her flesh constantly attracted his hands like a magnet," he contains himself—mostly. Not someone you'd want near your sister. Or any woman, really. But as a fictional hero he serves his purpose just fine.
With a setting in the endlessly fertile (for genre fiction) Louisiana bayou, and a narrative that wastes no time putting Cain in hot water, The Big Kiss-Off keeps the pages turning. It originally appeared in 1954 but the above edition was published in 1972 by Triphammer Books in Britain, with nice art by Ron Lesser borrowed from Robert Dietrich's (E. Howard Hunt's) 1962 Lancer Books thriller Curtains for a Lover. Notice how Triphammer erased part of Lesser's distinctive signature. That was obviously to keep the figure on their cropped art from looking crowded by the lettering, but we imagine it still annoyed Lesser. You can see a U.S. cover for The Big Kiss-Off in this collection of Day Keene novels we put together back in 2009.


---
Woman in critical condition after accidentally swallowing ice pick.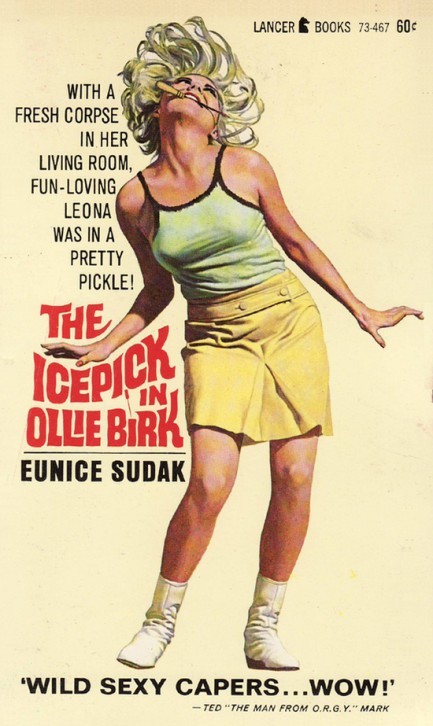 Eunice Sudak was a prolific author, but one whose bibliography is padded by numerous film novelizations, including X—The Man with the X-Ray Eyes and The Raven, after Roger Corman's tongue-in-cheek version of the Poe tale. One of her original pieces of fiction was 1966's The Ice Pick in Ollie Birk, a comedic romp about a widow forced to become a prostitute to survive. That concept is just ripe for humor, right? Almost writes itself. Anyway, the widow discovers the eponymous Ollie Birk dead on her living room sofa with her ice pick in his ear, and of course must extricate herself from this sticky situation. Who did it? Perhaps the rowdy Russians down the hall. The novel is notable for its beat slang, if not its technical merit, and the Lancer Books paperback is notable for its unusual cover art of the lead character Leona Trafalgar dancing with an ice pick in her mouth. We love this image, but it's uncredited, sadly.
---