Uncensored turns its unique journalistic eye toward Anita Ekberg.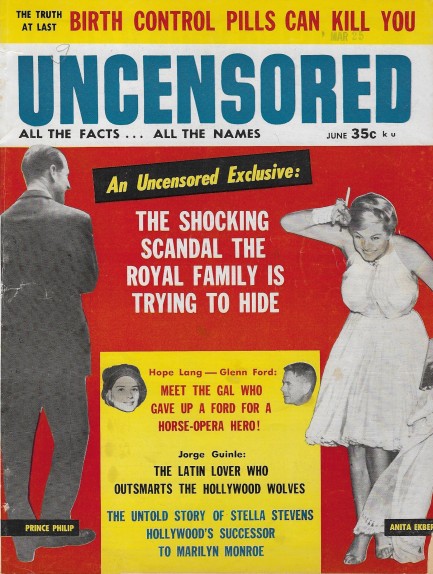 There's nothing quite like tabloid writing, a fact once again amply demonstrated by Uncensored. This issue is from June 1963, and check out this short paragraph from its feature on Anita Ekberg: "This is the Uncensored story of how Prince Philip bagged a rare and exotic Scandinavian pouter pigeon. Though its native habitat is Sweden, this double-breasted dove prefers the warmer climate of Italy. It also migrates as far from home as London and Hollywood."
Double-breasted dove? They don't write like that anymore, and a good thing too. It's sexist, of course, but the tabs were generally belittling of both females and males—though in different ways. Women were derided

for dating around, such as when Uncensored refers to Ekberg as "Sexberg," whereas men were usually disparaged for not being manly enough. That typically involved either being rebuffed by women, not scoring with enough women, or sexually preferring men. You see this in the story on Marcello Mastroianni, who's called "lazy" for passing on Brigitte Bardot. And you see it in the story on the United Nations, which is referred to as the "U.N. pansy patch."
From the perspective of 2017, the heteronormative insecurity is pretty obvious. Men are to be prowling wolves, and any failure to live up to the ideal prompts insults; women are to be readily available for action, but not to other men. The story on Ekberg treads the line of admiring her beauty, but being suspicious about the freeness of her affections. There's a photo of her dancing with a black G.I. in Rome, and while the caption is neutral, in the context of the story the meaning of the shot is clear: "Ekberg will even dance with a black man!"
We love the photo. Ekberg looks a bit baffled, as if the soldier is telling her, "We'd be in mortal danger for doing this in most of the United States, you know," and Ekberg is saying, "What the hell are you talking about?" The photo also shows how tall Ekberg was, almost 5' 7", probably 5' 10" in heels, which is towering for an actress who needed to star alongside all those mid-sized leading men. We think this is the first time this image has appeared online.
Other elements worth noting in this issue include French actress and Pulp Intl. femme fatale Dominque Boschero as a mermaid, Marlene Dietrich looking dapper in a tux, Jayne Mansfield and one of her famed toy poodles, and burlesque queen Blaze Starr sudsy in a bathtub. There are plenty of other great shots too, and you can see them all below in nearly forty scans. Uncensored will return.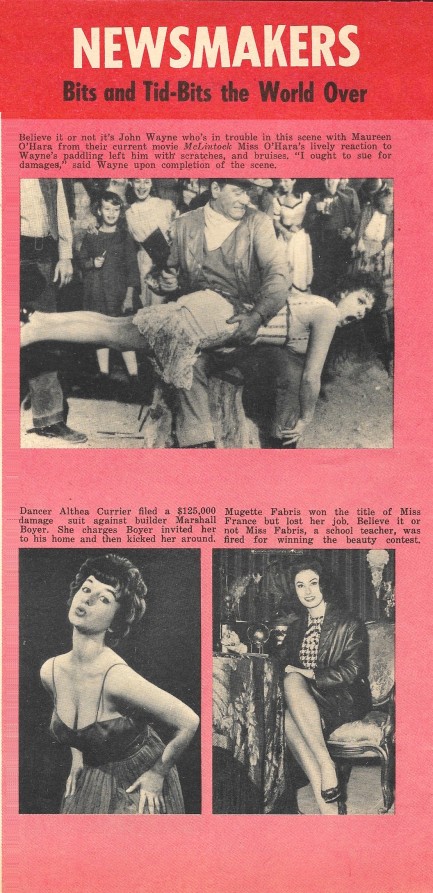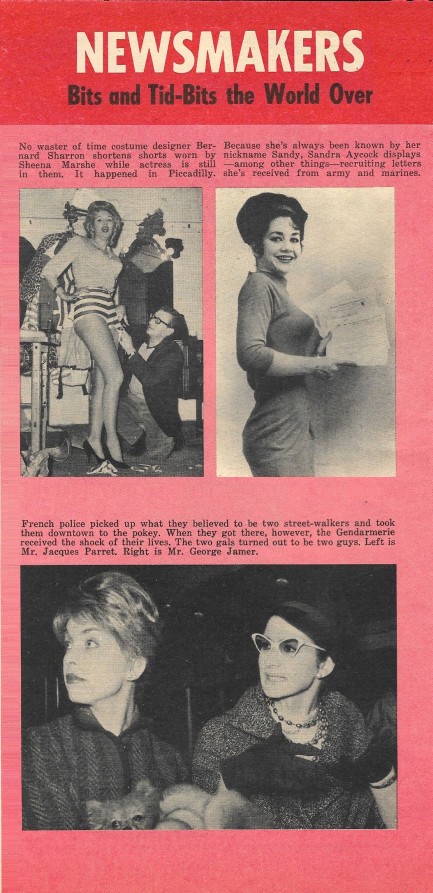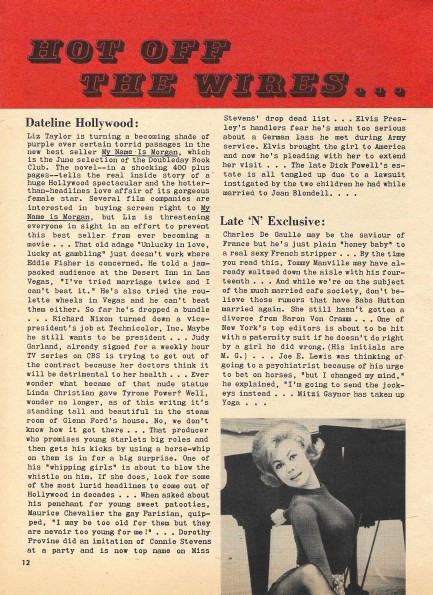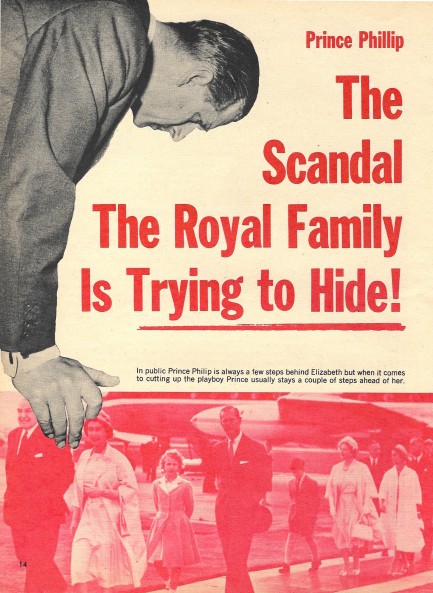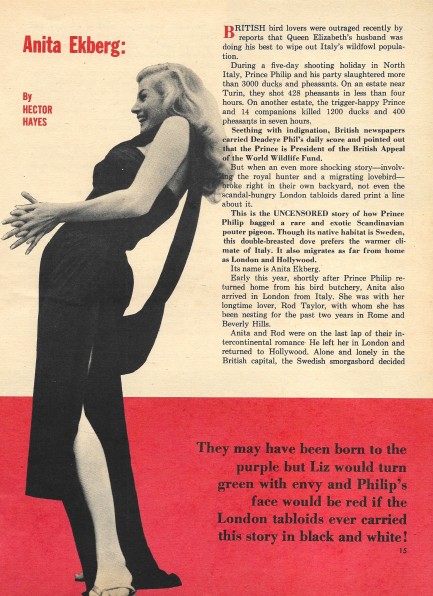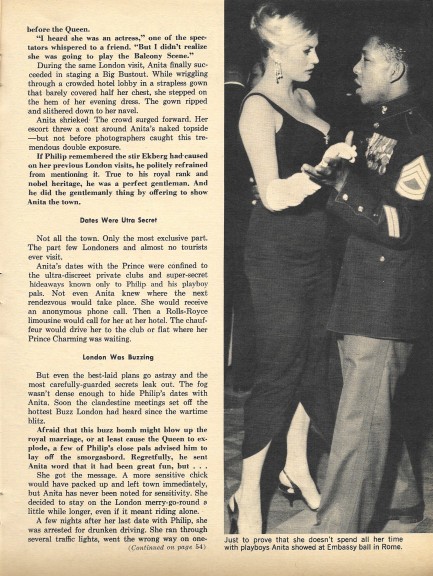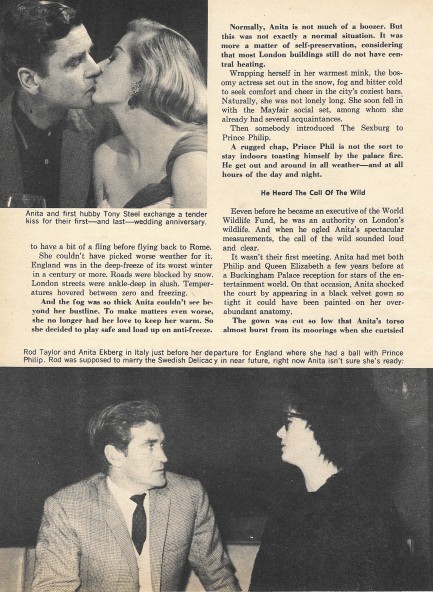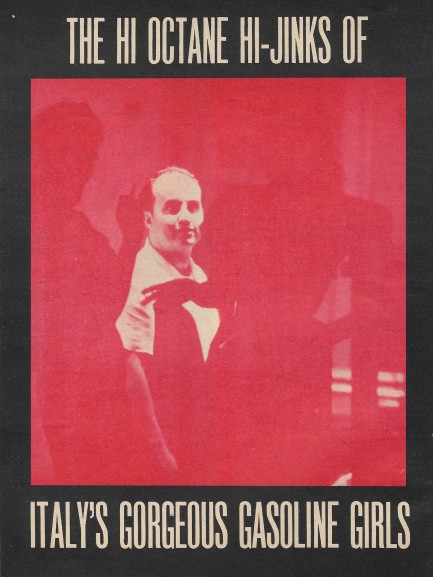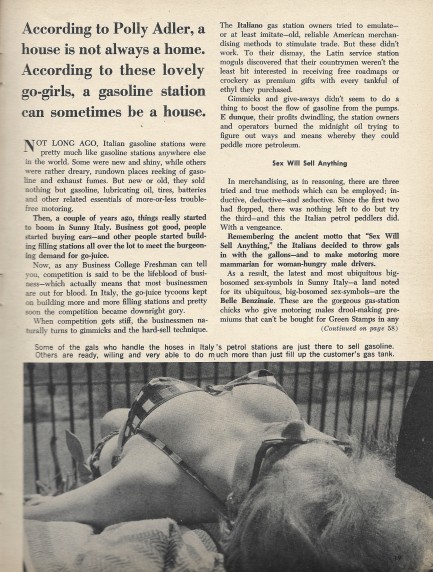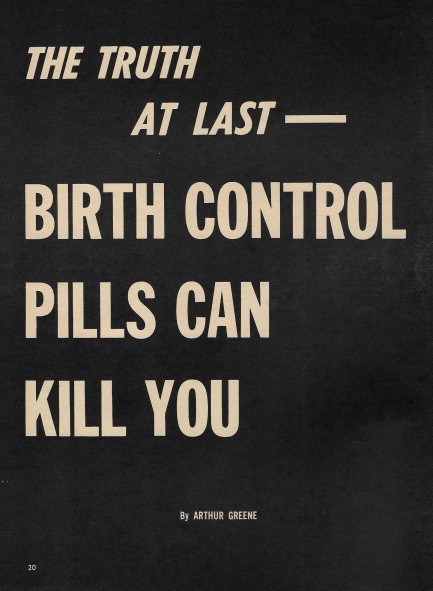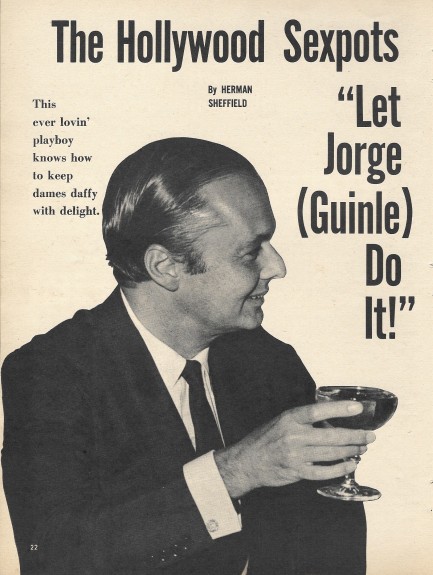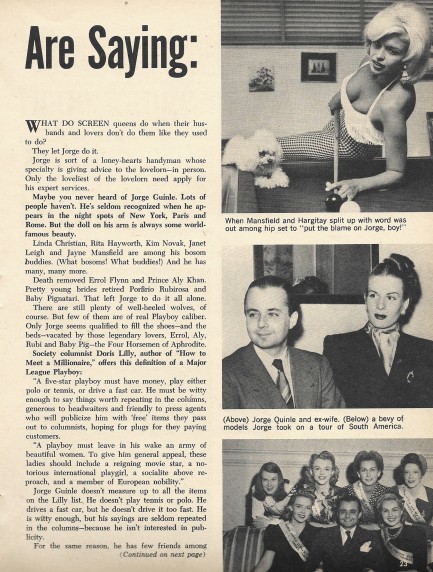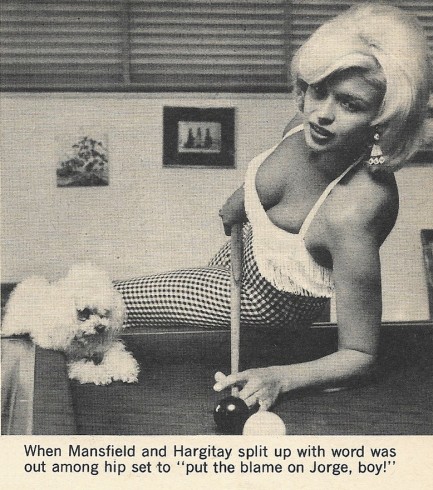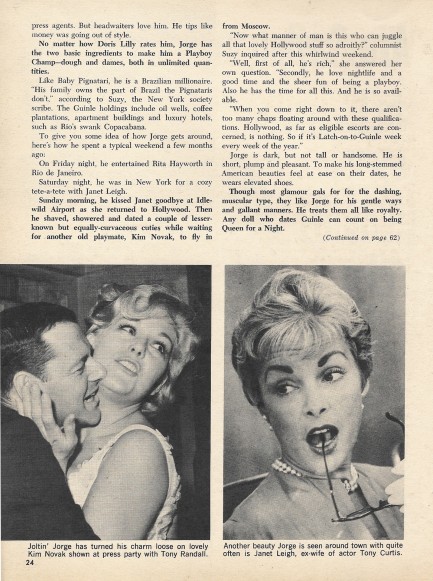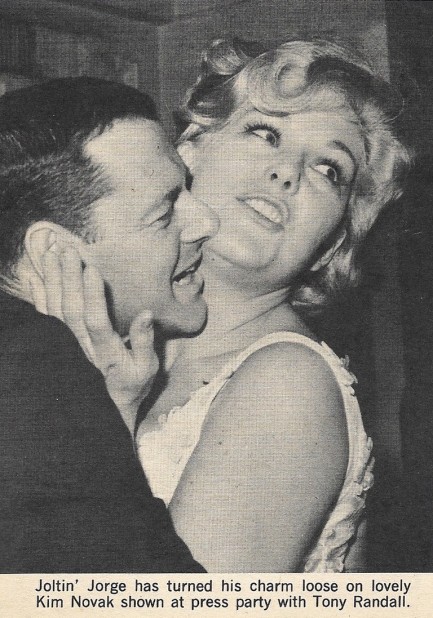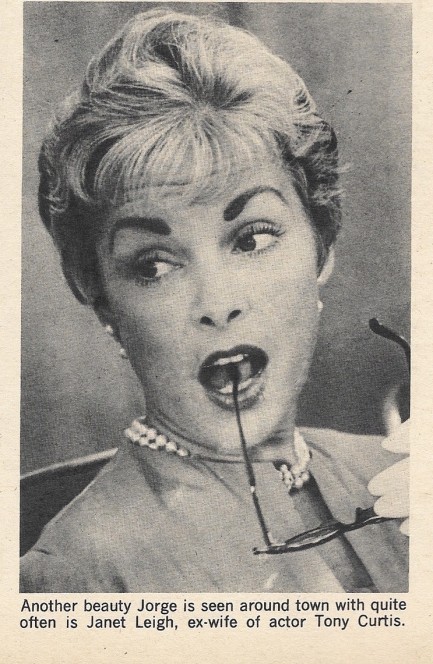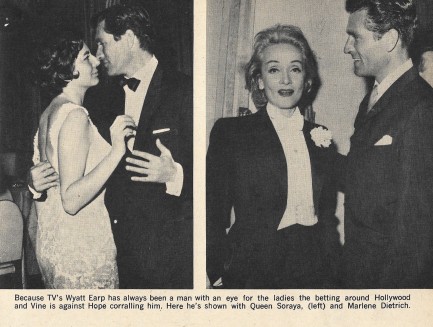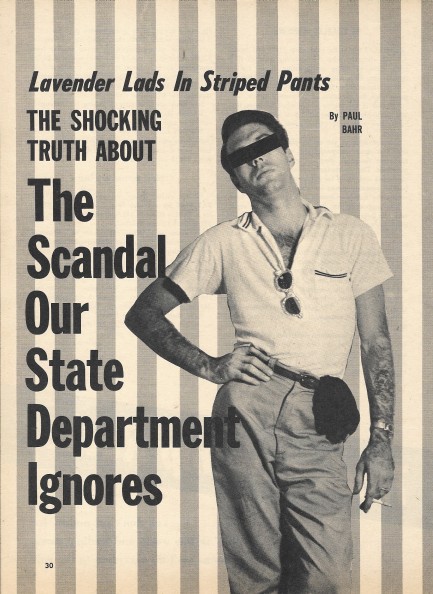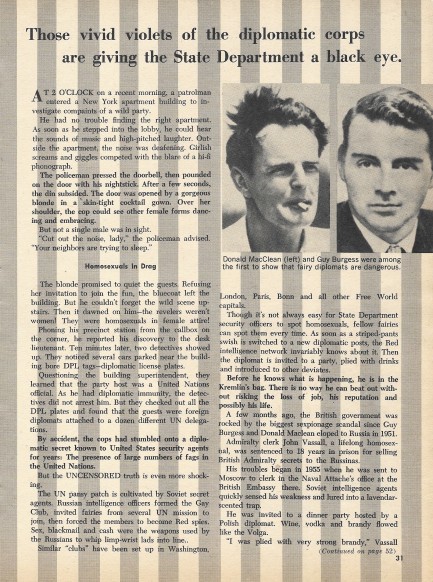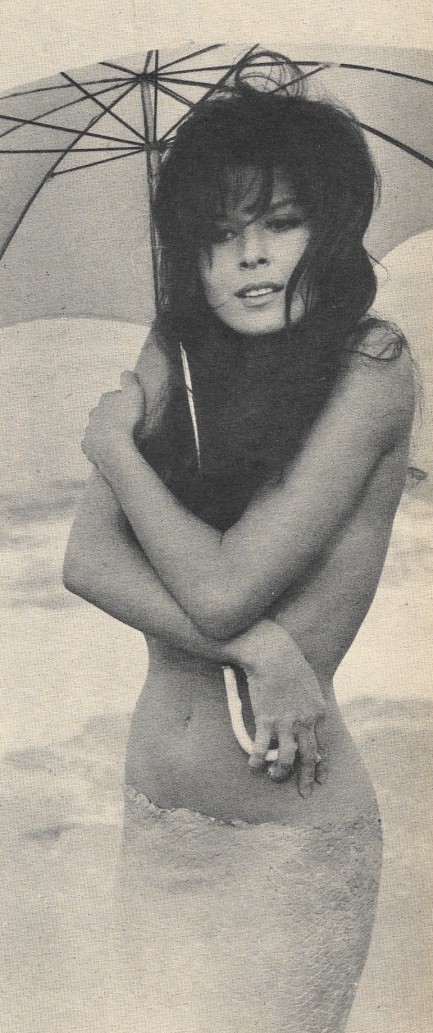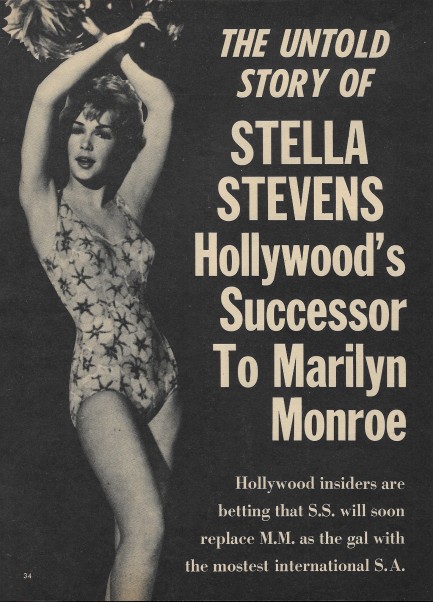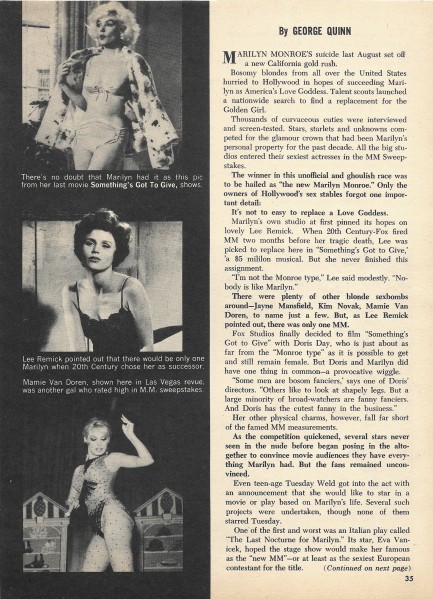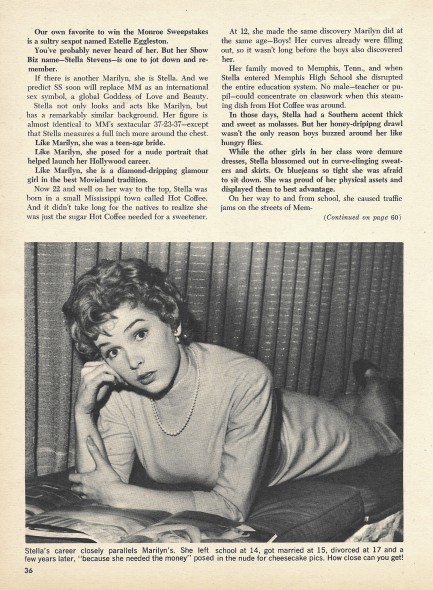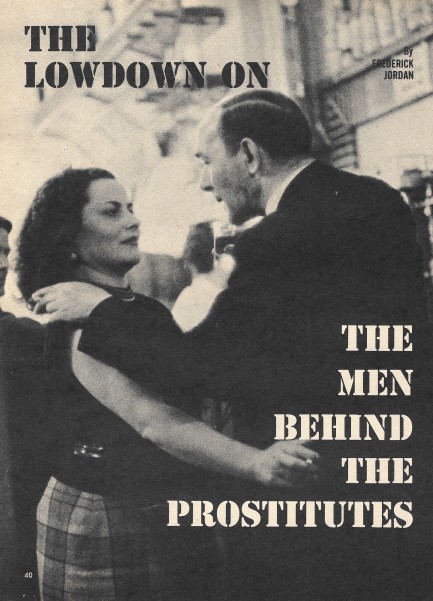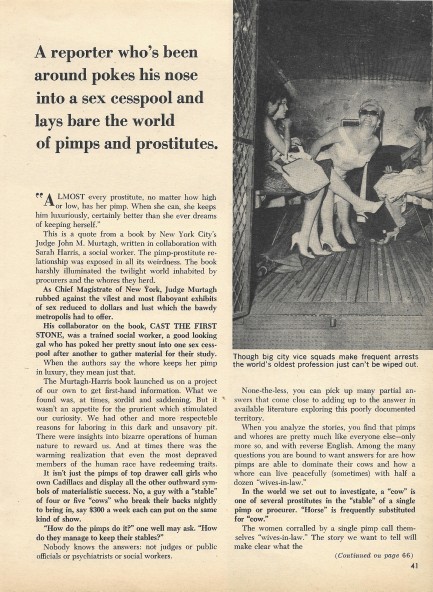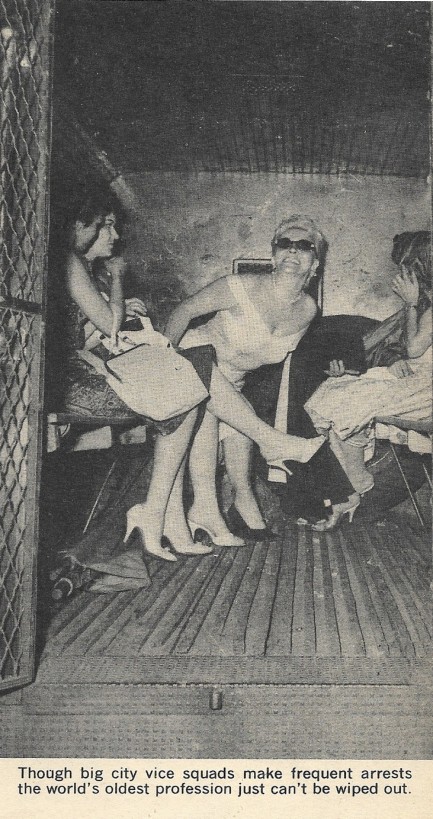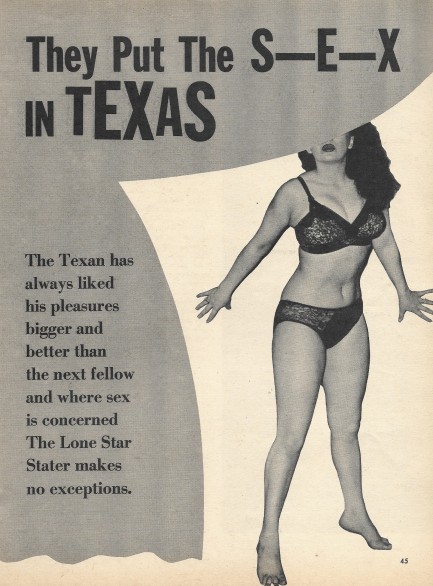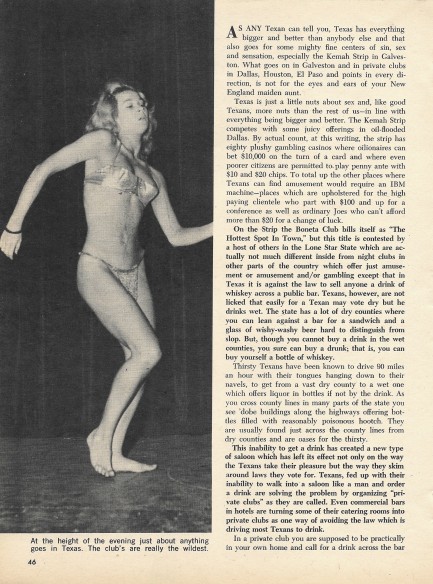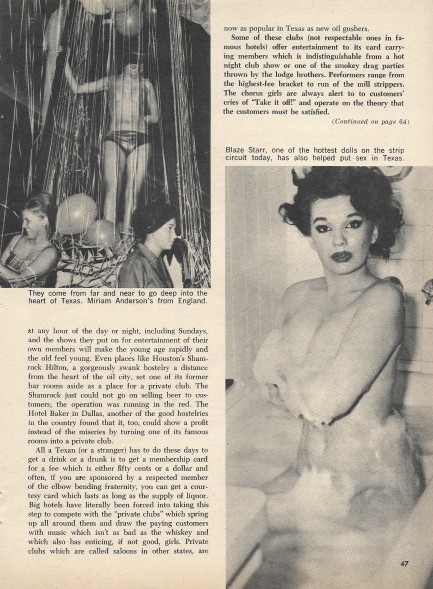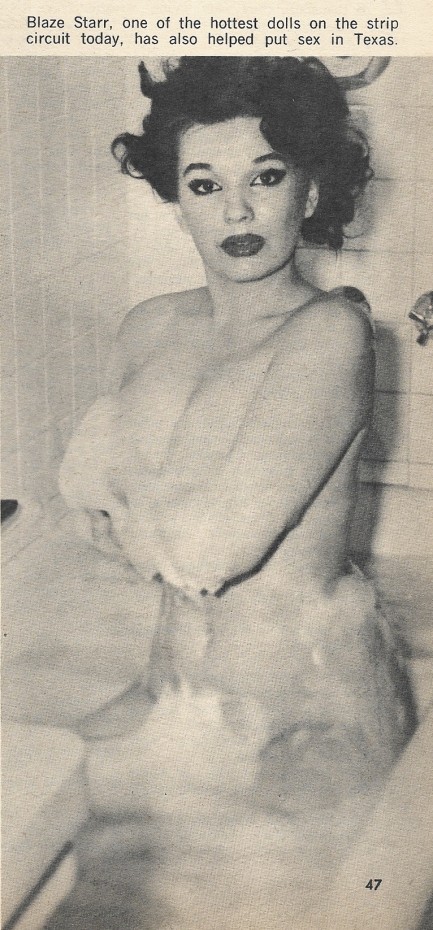 ---
Even southern girls get the blues.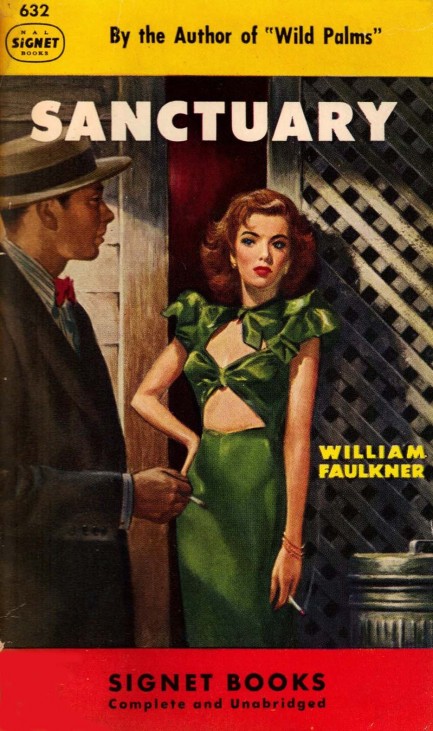 You know we like to share these pulp style covers certain publishing houses cooked up for reprints of serious pieces of literature. Today, it's William Faulkner's turn, and the subject is his 1931 novel Sanctuary, which Signet released in 1950 with this cover. Sanctuary was Faulkner's fifth book and first success, but he wasn't particularly fond of it, dismissing it as commercial claptrap written purely for financial reasons. If that was truly his intention, it seems like leaving out all the depravity and violence would have been a better way to go about it. In any case, critics did not consider the book lightweight in the least, and a central rape scene involving a corncob understandably generated quite a bit of controversy. When the book was adapted into a 1933 movie entitled The Story of Temple Drake starring Miriam Hopkins, the corncob was removed, but the film still caused a stir and helped bring about the introduction of the Hays Code—the censorship doctrine that predated the establishment of the MPAA. In 1961 Sanctuary was adapted again, and this time not only was the corncob removed, but a sizeable chunk of Faulkner's original plot. Despite his professed distaste for commercialism, Faulkner had by then worked on dozens of movie projects. He wrote screenplays for To Have and Have Not and The Big Sleep, and also became a sought after script doctor, massaging projects like Mildred Pierce, The Southerner and Gunga Din. We have a collection of posters from some of his projects below. If you've neglected to see any of these films, we highly recommend them and, of course, his novels are well worth a read.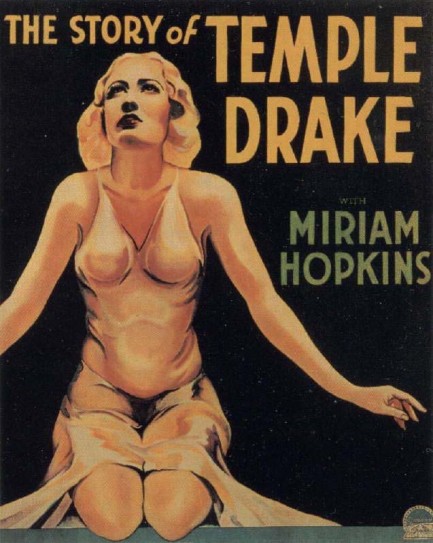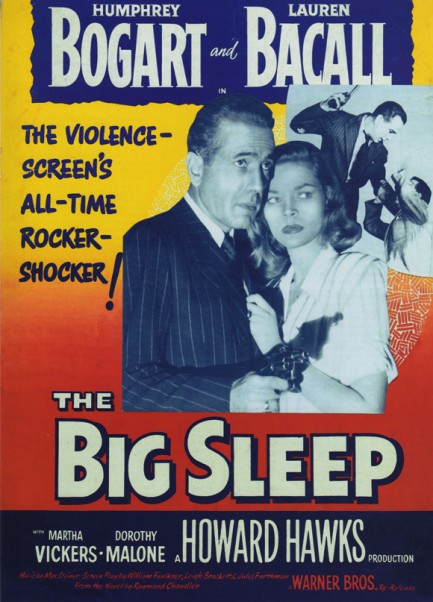 ---