The best defense is a good offense.
Four robbers knock off a bank in Kansas City with plans to split the money after the heat has cooled. The mastermind behind the job has arranged it so the crooks don't meet before the job, and wear masks during it, thus can't possibly identify each other. But each man has an ace, torn in half to create a unique mate, to match with the second half and confirm his identity when the time comes. It all sounds clever and foolproof, except the mastermind has framed someone for the robbery to throw police off their trail, and when this man is arrested but turned loose from police custody due to lack of evidence, he decides to track down the men who set him up.

This character, played by John Payne, is our anti-hero and looming wrench in theives' works. He quickly picks up the trail of one of the robbers in Mexico, but the police have too. In trying to discover who framed him, Payne could look to these lurking cops as though he's a member of the gang—if they spot him, that is. When Payne sees an opportunity to adopt one of the robber's identities—no difficult task since they've never seen each other—he leaps at it, but this draws him in even deeper. He's now in danger from the men he's playing imposter to, while to the cops he looks like a participant in the robbery.
There are more twists, including a star-crossed romance with Coleen Gray, but we'll stop there. This is a nice, multi-layered film noir, with good performances all around. Considering the risk Payne has to take we aren't sure we fully buy his motivation, but once he's made the decision there's no easy way out, and it's fun to watch him threaten and beat his way up the chain to the top guy. Coleen Gray always adds a nice element to any movie she's in, and Lee Van Cleef is good in a tough guy role. The only serious blemish here may be the silly final minute, but you shouldn't let it ruin the film for you. We recommend giving this one a whirl.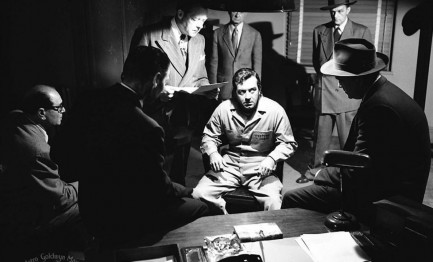 ---
Lesser-known noir The Big Combo is well worth a viewing.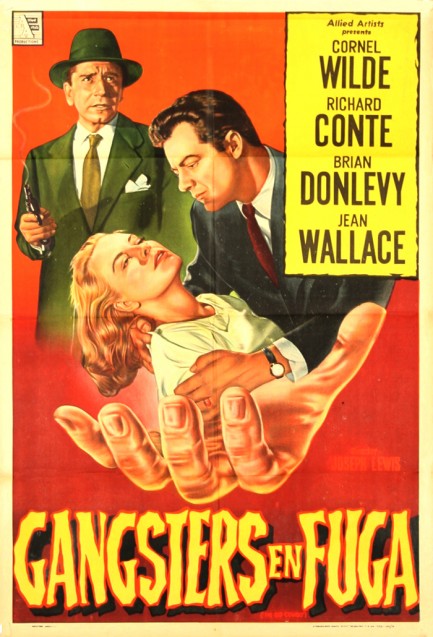 In the old noirs criminal gangs are sometimes the Mafia, sometimes the Mob, and still other times the Syndicate. In this one the gang is the Combination, hence the title The Big Combo. While the film isn't a big budget noir, it makes up in inventiveness what it lacks for dollars. Example: one thug who wears a hearing aid is about to be rubbed out. He begs for his life, and one of his executioners says, "I'll do you a favor—you won't hear the bullets." He then snatches out the thug's hearing aid and we see a silent close-up of muzzle flashes. The film is filled with visual treats like that, and as a bonus it has first-rate acting, with the lead Cornel Wilde even pulling off a crying scene. For real. He turns on the waterworks with no help from the make-up department and it's an exceedingly rare feat for male actors during the 1950s.
Another characteristic of The Big Combo

is its sexual undercurrents. One character is a stripper and during a backstage scene we get a surprising flash of her bikini-clad bottom. Meanwhile, Lee Van Cleef and Earl Holliman play two hired thugs who we're supposed to suspect are gay. We've seen the great documentary

The Celluloid Closet about the many gay characters hidden in old films, so we're familiar with the hints screenwriters like to drop. In this case the relationship between Van Cleef and Holliman is clearer than usual, which makes us wonder if it was an
accident or a deliberate attempt to push the envelope when Holliman utters the line, "I'm sick of swallowing sausage." Shortly thereafter the two are dispatched via hand grenade, so unfortunately we don't get to know any more about these two great characters.
We've already given away too much, so we'll quit while we're ahead. If you like film noir, definitely give this one a spin. It'll be a good expenditure of time, we promise. Above you see the great Spanish language promo art for this underrated classic. It was released with the title Agente Especial

in most Spanish speaking countries, but for Argentina the producers went with

Gangsters in Fuga, which translates rather poetically as "Gangsters in Flight." It first flew in the U.S. in 1955, and migrated to Argentina in the spring of 1956.


---