What's in the box? Uh, you know, lipstick, gum, cigarettes, the souls of men I consume. The usual.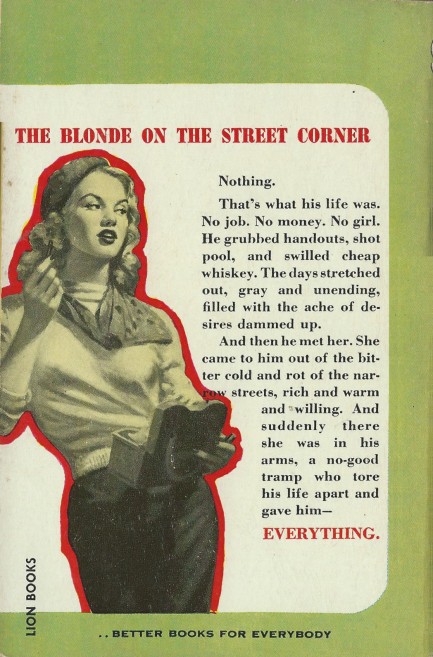 Above, really nice front and rear cover art for The Blonde on the Street Corner by David Goodis, which was published by Lion Books as a paperback original in 1954. Set in Philadelphia during 1936, the book examines a bunch of guys who have big dreams but no money, no motivation, and no ideas how to escape dead-end Philly. The narrative is basically plotless, like the characters' lives. Talk about a great depression. The cover art, by Robert Maguire, is beautiful but the blonde depicted is nothing like the blonde Goodis writes about. Goodis's blonde is overweight, married, and in her mid-thirties. She does have a sexual aura, though, and certainly fits the mold of a femme fatale. This is considered lesser Goodis, but it's still good enough.


---
For a lonely boy he sure has plenty of company.
Awesome cover art here for Alan Kapelner's proto-beat novel Lonely Boy Blues, originally published in 1944 and dealing with a cast of NYC oddballs during the 1930s and leading into World War II. By proto-beat we mean it was a precursor to Kerouac and the like—verbally experimental, trying to capture with its prose the rhythm of jazz and bop. It was panned in its day but seems to be enjoying a bit of a revival. The person responsible for this masterpiece of a cover for Lion Books' 1956 re-issue is Arthur Sussman.


---