The lady of the harem is in.
Above is a pretty cover for Louis-Charles Royer's 1931 romance Le Sérail

, aka

The Harem. You may remember a reader sent in a front for this a year ago. This alternate version, which we stumbled across just yesterday, appeared in 1954, and the cover art is by the brilliant French painter and portraitist Jean-Gabriel Domergue. His work was used for several Royer covers, and though they aren't pulp influenced, they're so good we decided to share a few below.
France
,
Les Editions de Paris
,
Le Sérail
,
The Harem
,
Les ensorcelées
,
L'amour à Honolulu
,
Haras humain
,
La La Maîtresse noire
,
Louis-Charles Royer
,
Jean-Gabriel Domergue
,
cover art
,
literature
---
It seems, cherie, zat you have ze heart murmur. And what does it murmur? Ooh la la.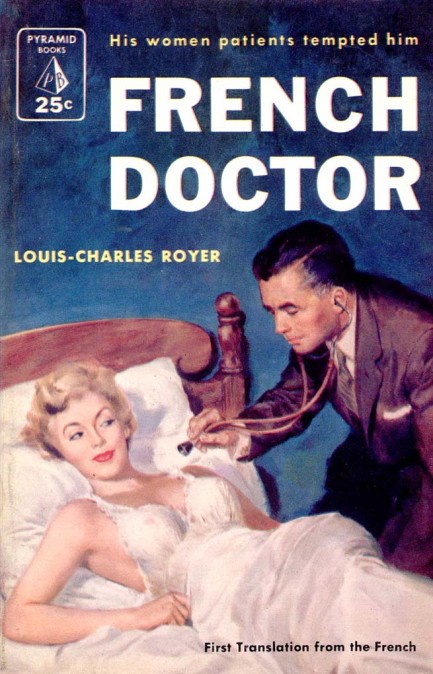 That old rascal Louis-Charles Royer is at it again, this time with French Doctor, which appeared as a Pyramid paperback in 1951 and was popular enough to be reprinted multiple times. Originally published in 1942 as Le désir, it's the story of a French doctor and the internal medicine he provides to three women named Magoune, Elise, and of course, Kitty, because no French sleaze novel would be complete without a Kitty. Royer wrote principally during the 1920s and 1930s, but his work proved enduringly popular, thus English translations appeared throughout the 1950s and 1960s. It's interesting that as popular as he was, there's virtually no info on him. There isn't even a web page—French or English—listing his full bibliography. Maybe we'll step up to the plate on that one later. The cover of French Doctor was painted by Hunter Barker, as was the one immediately below. We also found a third American version. And finally, in panel four we thought we'd show you the French paperback, with art by the genius painter Emile Baes.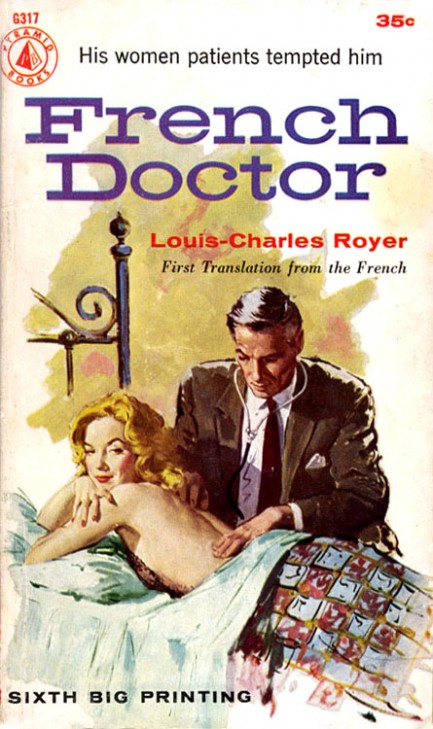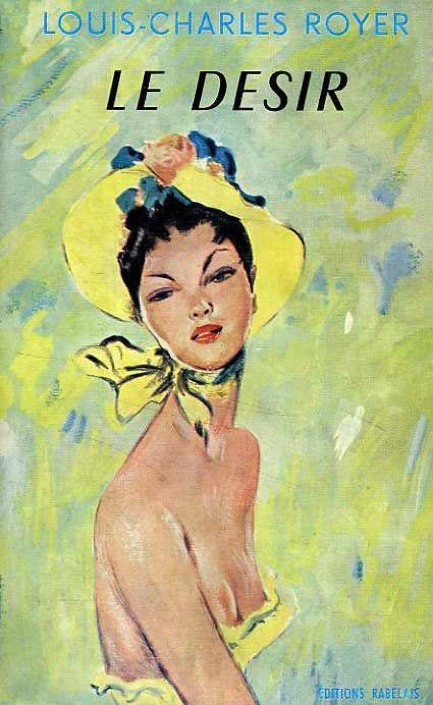 ---
Early '50s paperbacks—when "French" was the byword for erotic.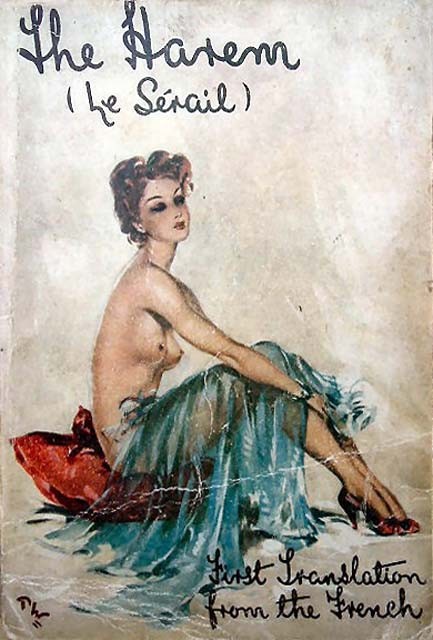 A delightfully decaying cover from what remains of my collection.
submitted by scorzonera
Even our girlfriends liked this one. Thanks a million, sir. We gather that this was written by French author Louis-Charles Royer in 1931, near the beginning of his prolific career.
---