Around the world in sixty pages.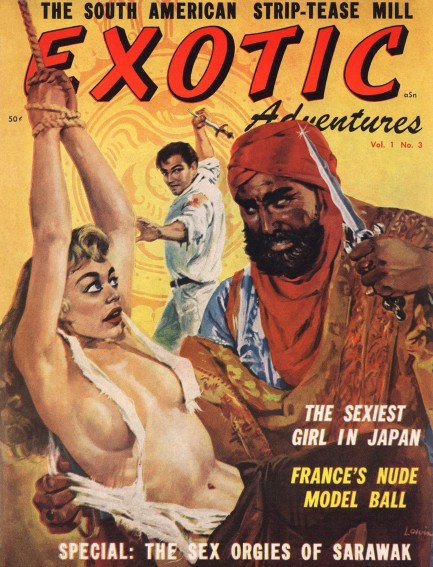 Exotic Adventures was a men's magazine put out by NYC based Gladiator Publications, Inc. It seems obvious the company had great ambitions, but it managed only six issues before folding. This one came in 1959 with cover art signed "Louis," whose full identity is not given. In fact, only three people are listed as staff—editor George P. Wallace and two others—so the cover artist wasn't the only hard worker who got short shrift. The individual authors are given bylines, though, as are the men who narrated their "true" tales to biographers.
Exotic Destinations
lived up to its name, with pieces set in Kashmir, French Cameroon, Morocco, Honduras, Malaya, and Borneo, and nude models who are supposedly from Japan, Brazil, France, and Germany. It was all printed on glossy paper, which is why you won't see the usual yellowing you get with old magazines, though the printing got a little streaky and inconsistent in the middle pages. Still, taken as a whole Exotic Adventures is a high quality publication, which we snared courtesy of the now idle Darwin's Scans blog. Forty-plus panels below.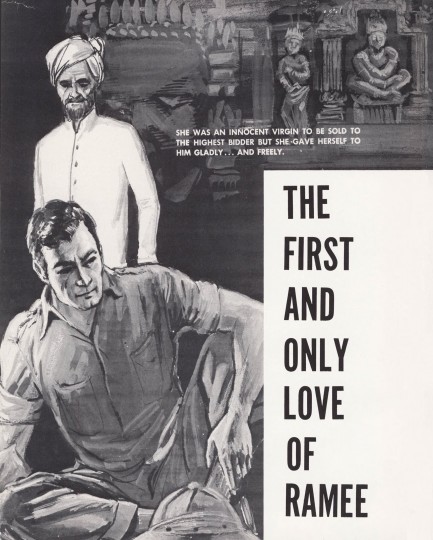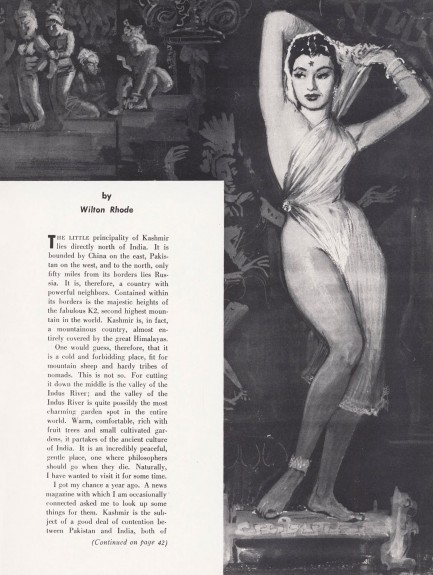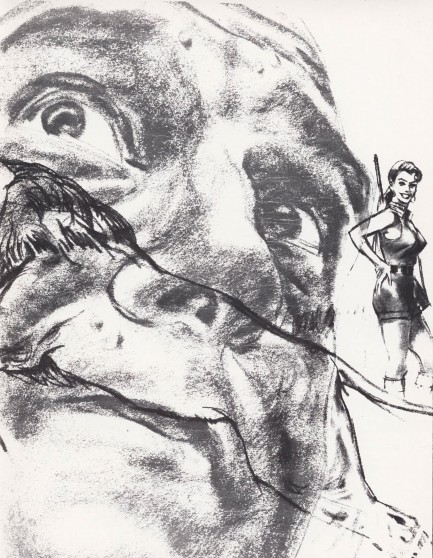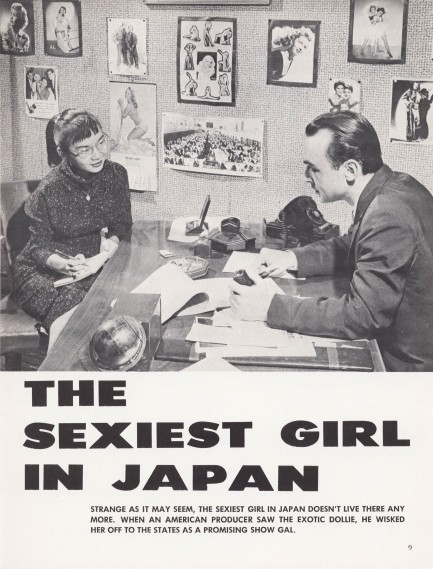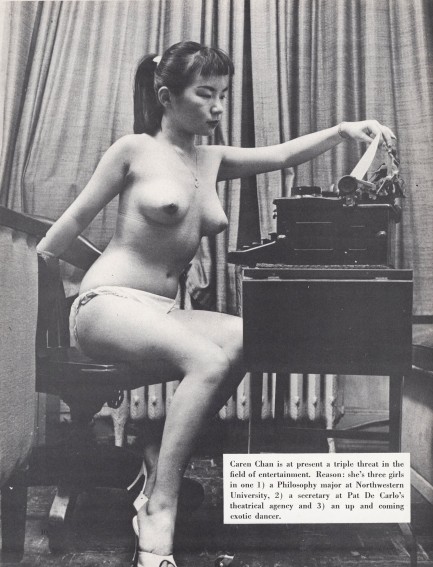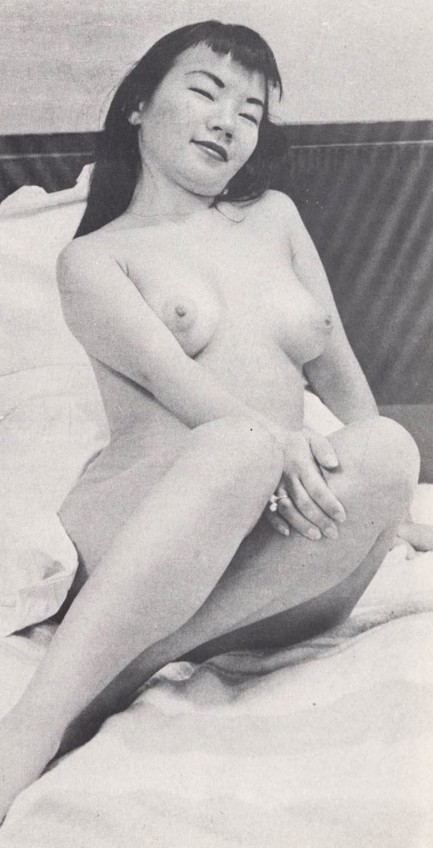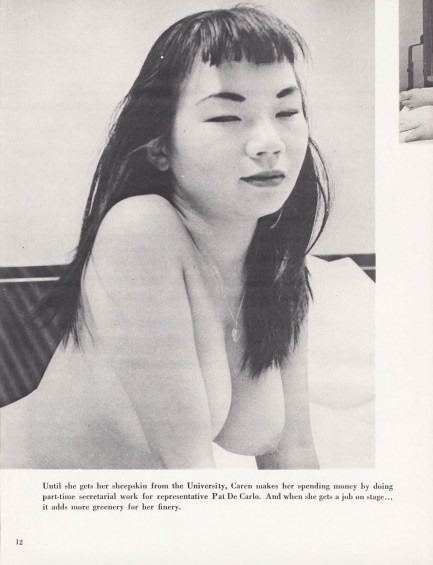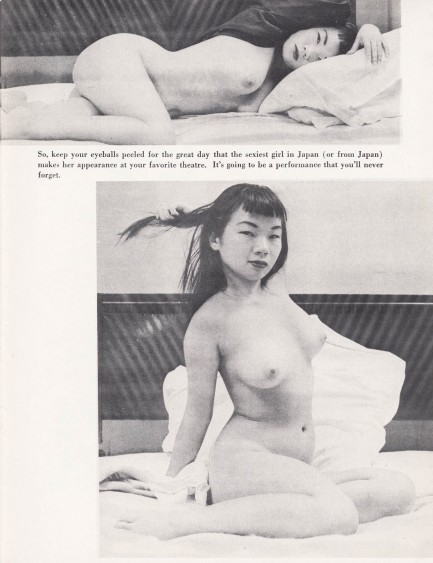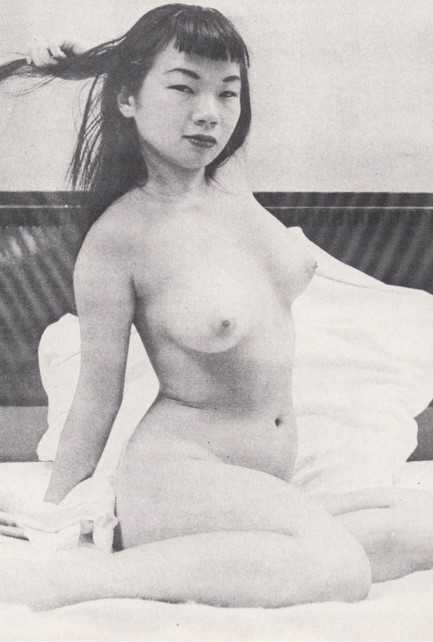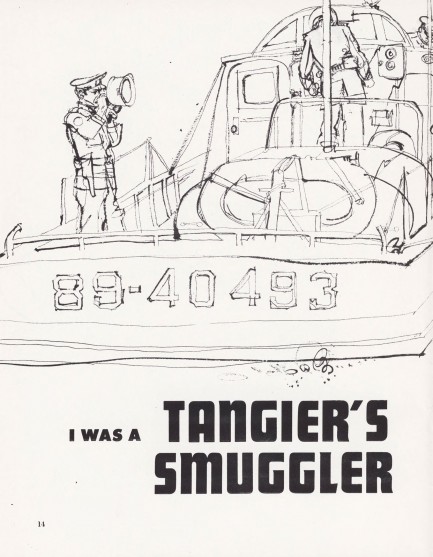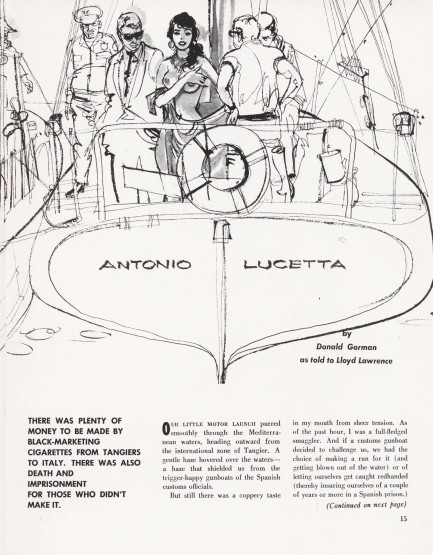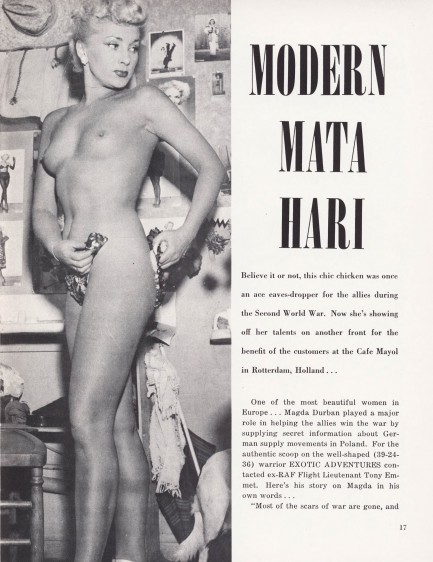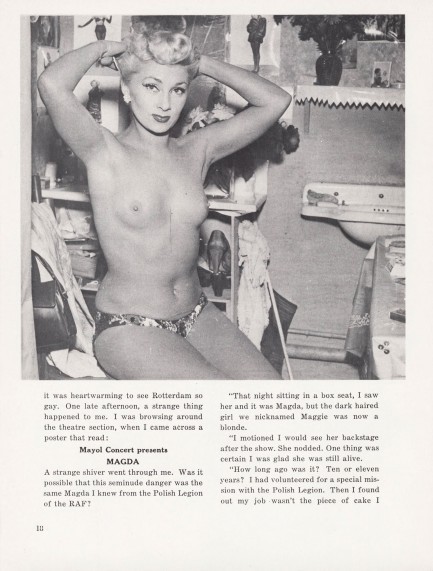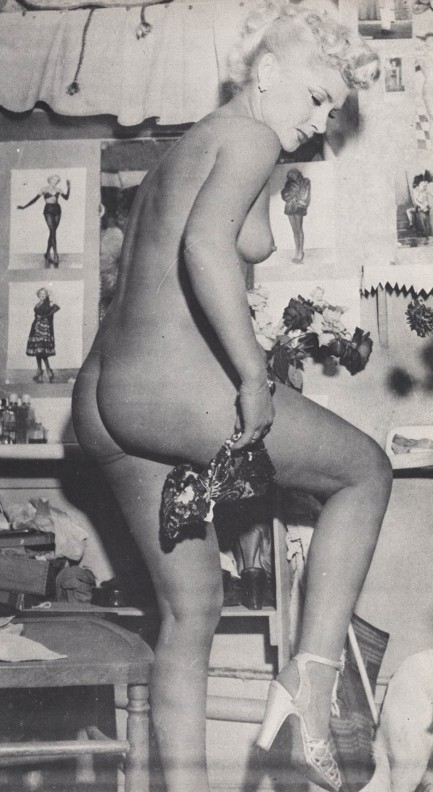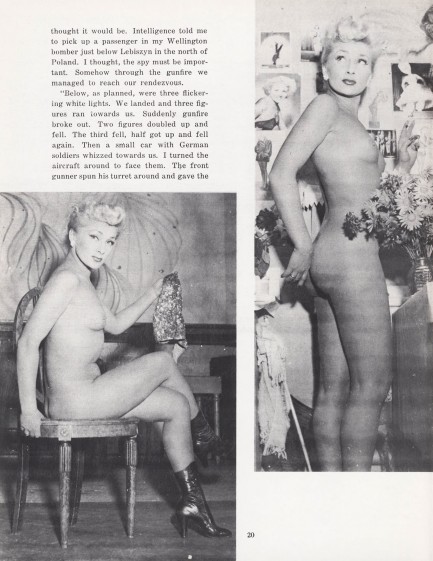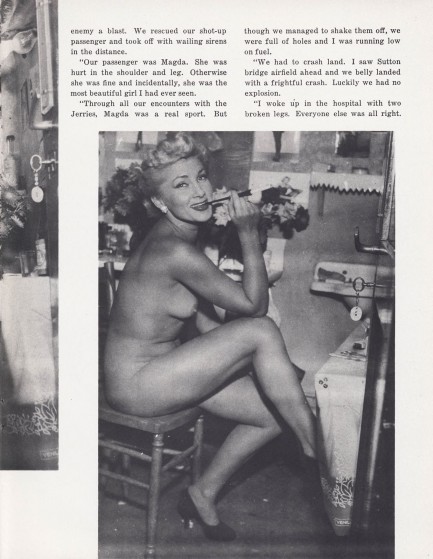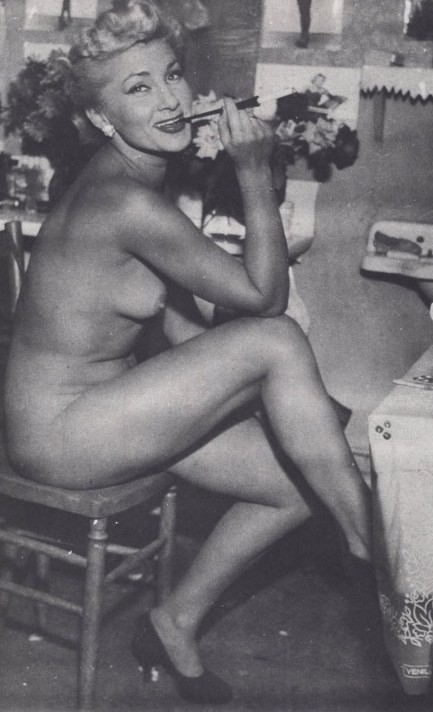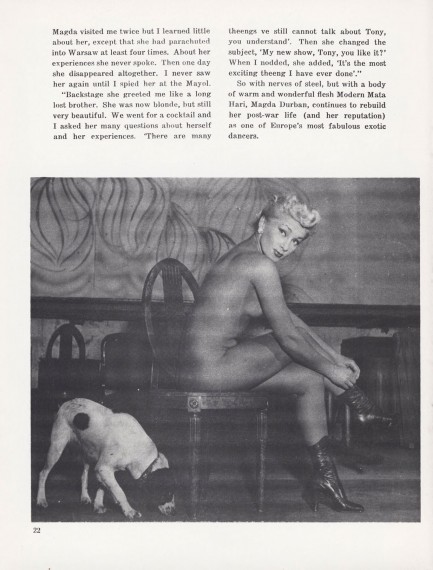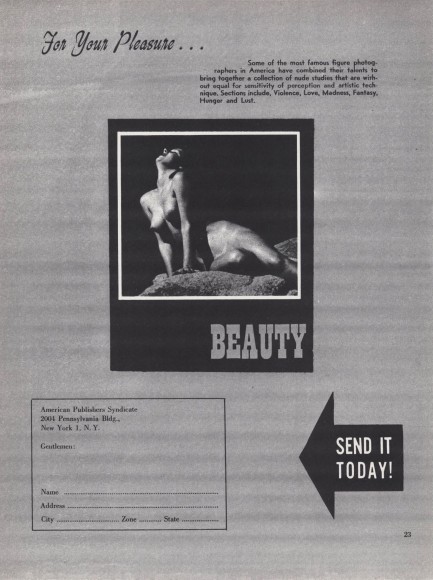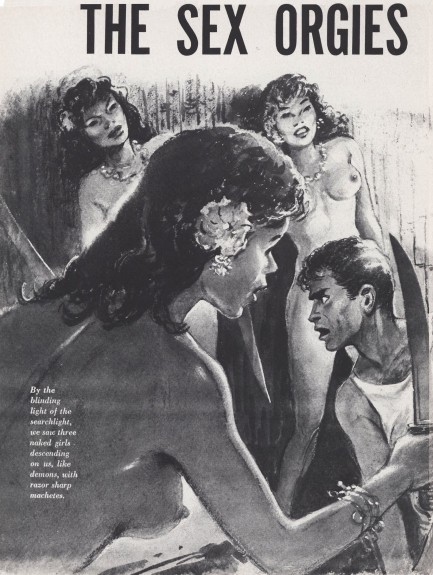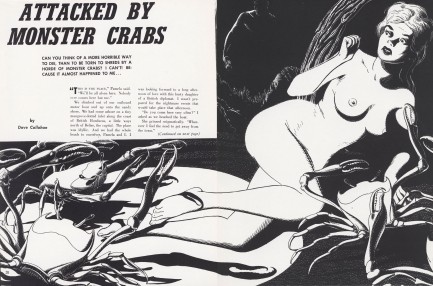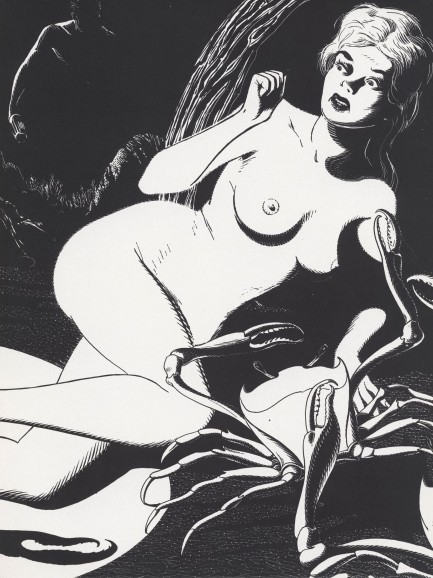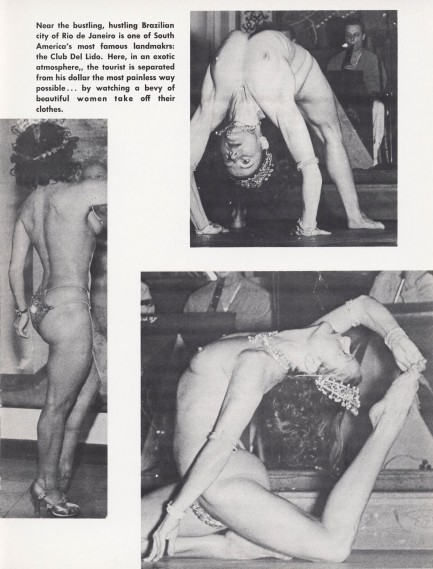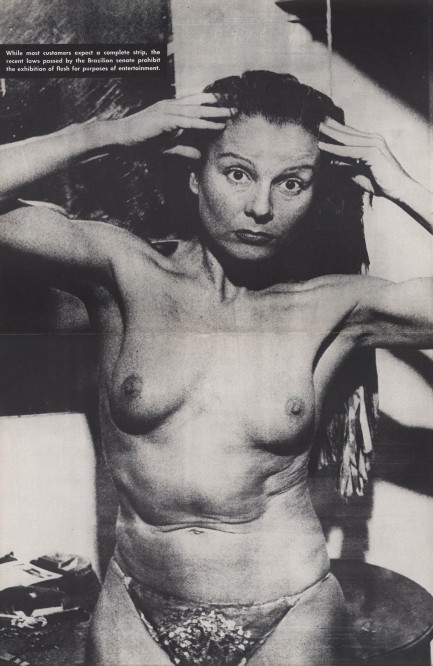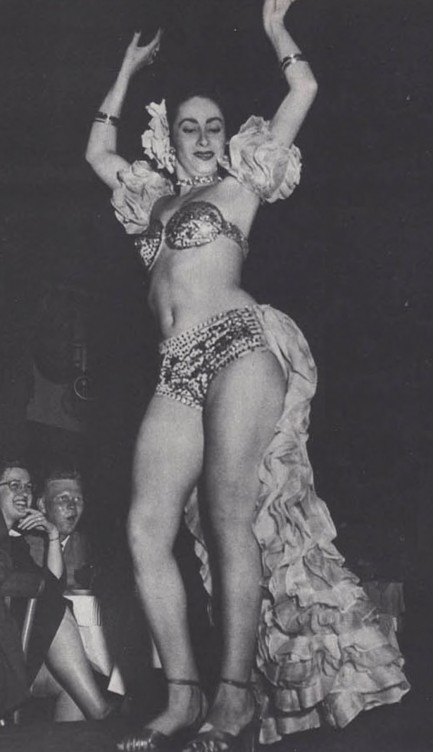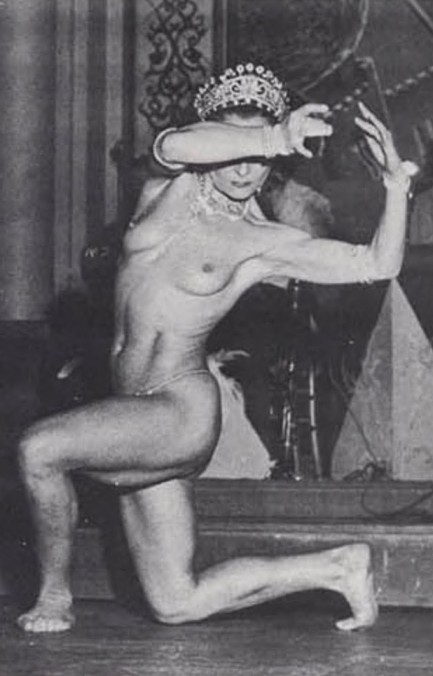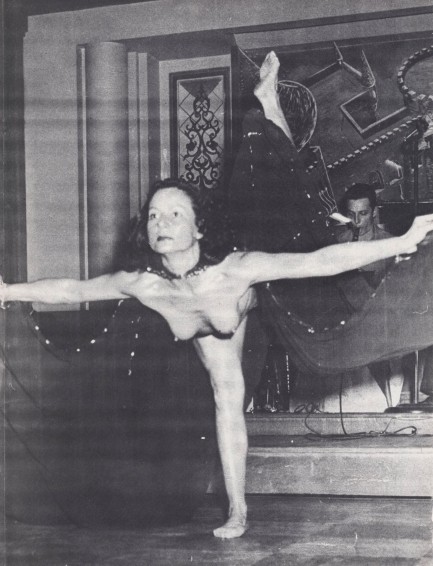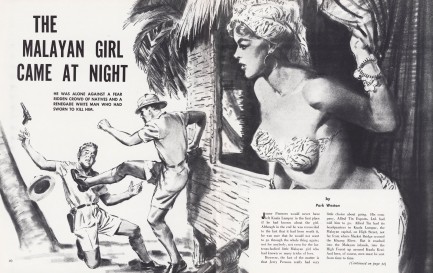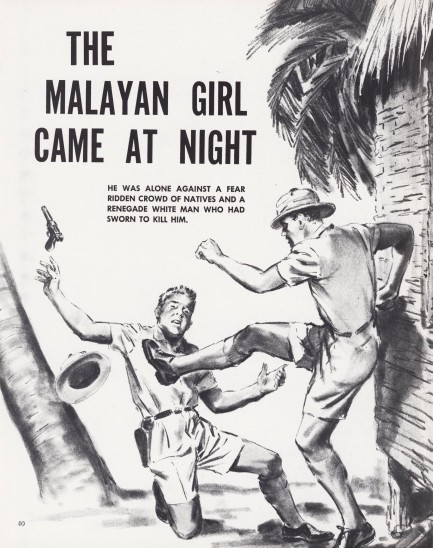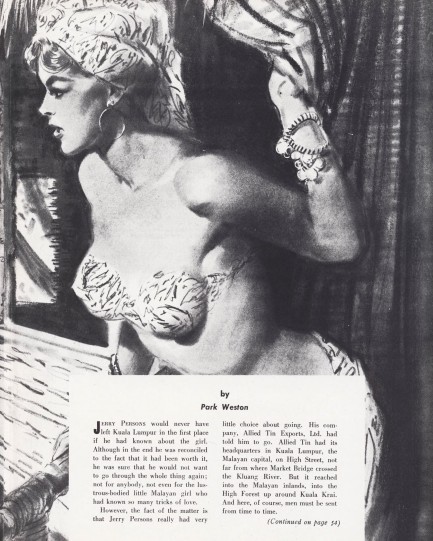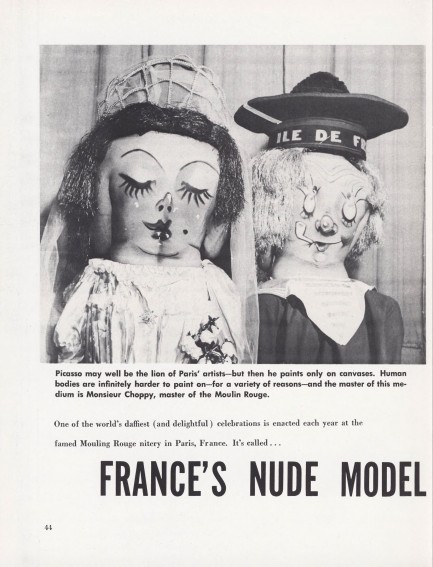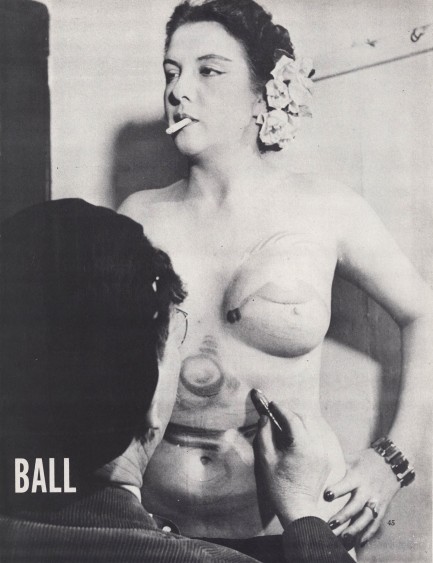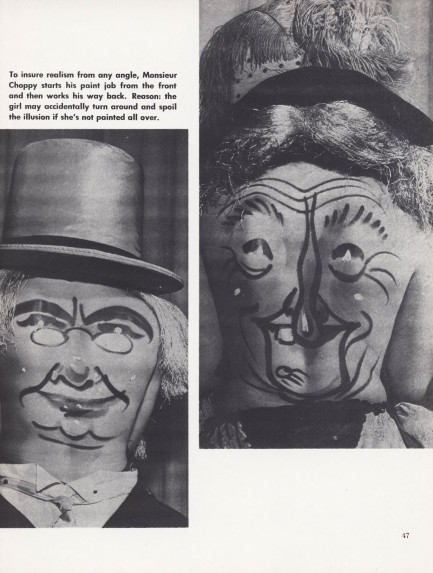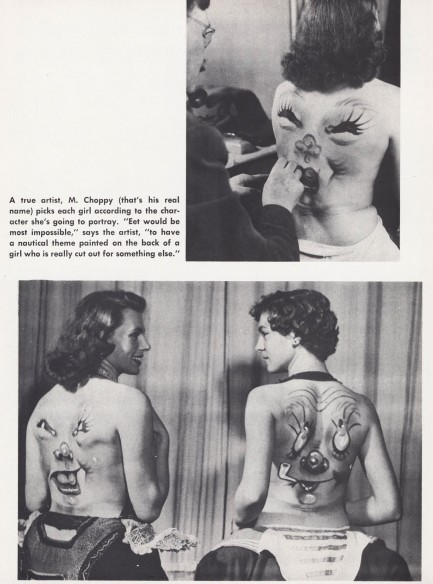 ---
… two... and three. Wait. I screwed up again. That would've been on three and. I meant to do it on three.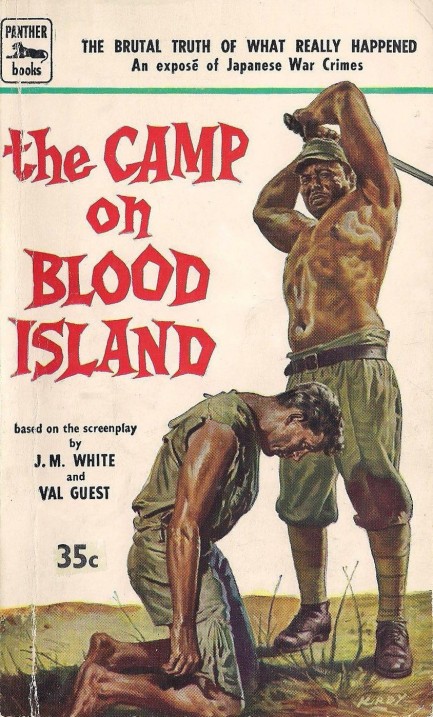 Here's something backwards from what we usually share—a novel adapted from a film instead of vice versa. The Camp on Blood Island is a 1958 British-made World War II film written by J.M. White and Val Guest, and when you learn it was produced by schlockmeisters deluxe Hammer Film you could be forgiven for suspecting it was low rent b-cinema, but this is Hammer trying to be highbrow. Near the end of the Pacific War, a Japanese prison camp commandant decides that if Japan surrenders he'll execute all his prisoners. So the prisoners decide to prevent news of any prospective surrender from reaching the commandant by sabotaging communications, and they also prepare to rebel when the times comes. We may check the film out sometime, but we were mainly drawn by the paperback art. Not only did it remind us that prison camp novels are yet another subset of mid-century literature, but we saw the Josh Kirby signature on this one and realized we haven't featured him near enough. Last time we ran across him was on this excellent piece. We'll dig around for more. And we may also put together a small collection of prisoner-of-war covers later. They range from true stories to blatant sexploitation, and much of the art is worth seeing.


---
Monroe may wobble but she won't fall down.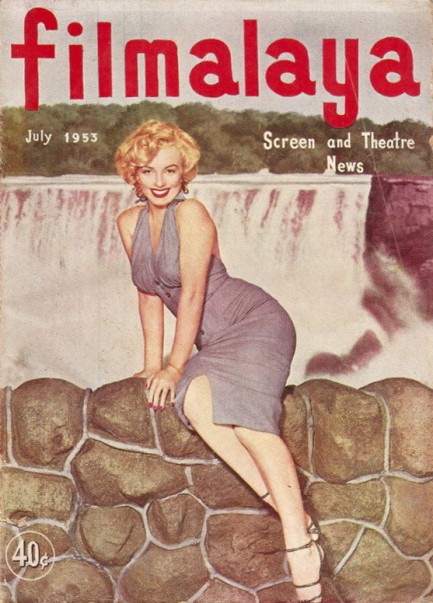 Marilyn Monroe shows up just about everywhere, and here she is yet again where we didn't expect to see her—fronting a Malaysian film publication that appeared today in 1953. The magazine, called Filmalaya, is in English, which marks it as aimed at the British colonial community that occupied the upper stratum of society in Malaysia and Singapore. The cover photo is from a publicity series made when Monroe filmed the movie Niagara in Ontario, Canada in late 1952, and let's just assume her perch is not as precarious as it seems and there's a handy ledge or lawn behind her in case she goes heels up. But if she does, there are other stars in the magazine, such as Joan Collins, Betty Grable, Rhonda Fleming, Ava Gardner, and Nat King Cole.
Filmalaya represents an interesting snapshot into colonial society, as in the article about Queen Elizabeth's coronation in London, which describes the thrills and excitement in Malaysia during the event. Doubtless, the mood around the Commonwealth probably seemed festive when viewed from inside the colonial bubble, but we doubt actual Malaysians were particularly moved. Needless to say, this magazine is rare, but luckily items from Asia are often a bargain, so this cost a mere six U.S. dollars. While the inside is nothing special visually speaking, that doesn't matter when the magazine has this great cover and is such an informative slice of history. We've uploaded a few of the best pages below. Enjoy.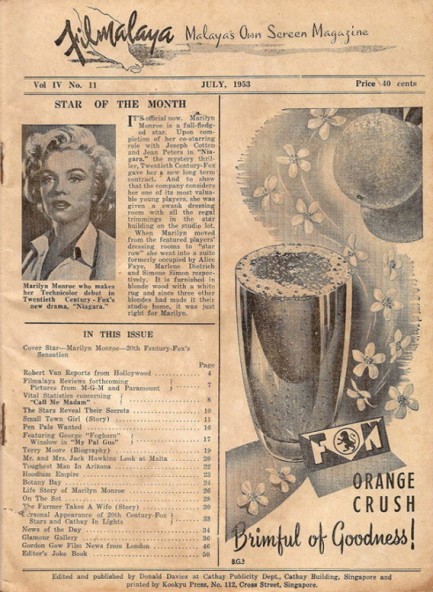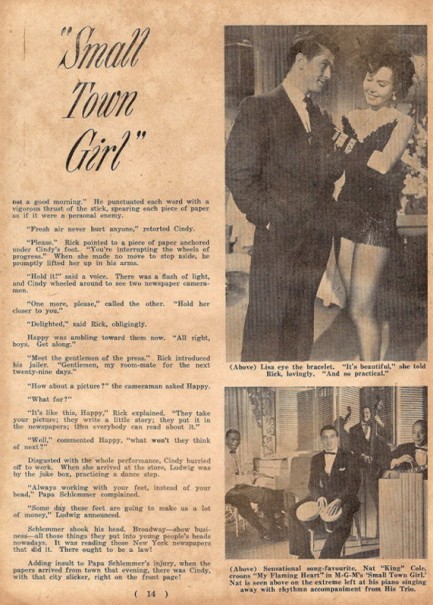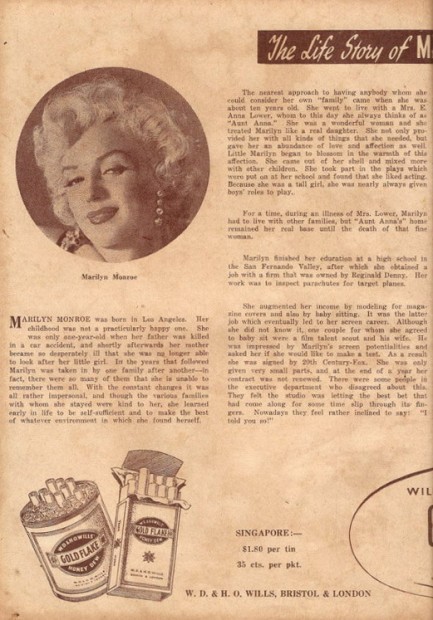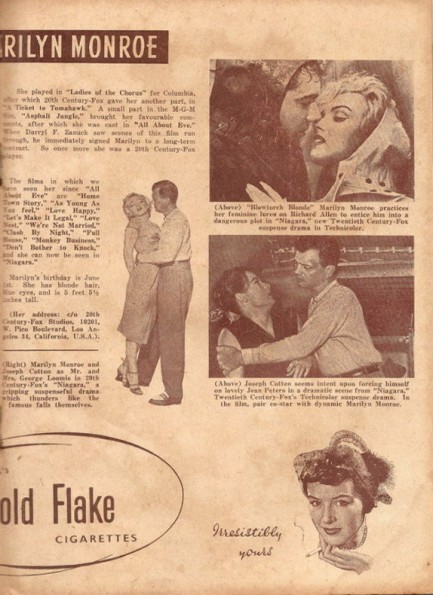 ---