Can you get the ship's doctor for me? I seem to be stuck this way.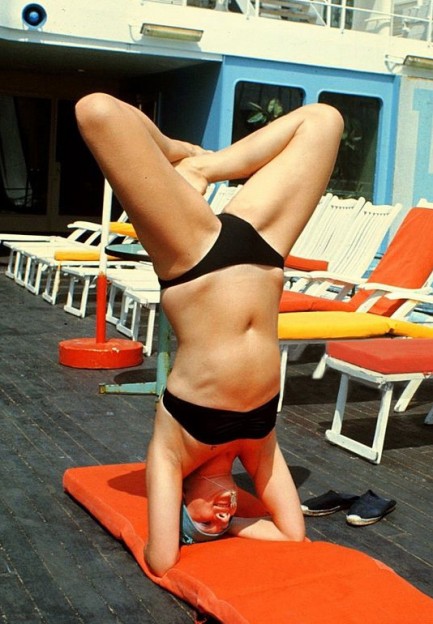 What is this yoga position called?
Actually, it's none of those, though we think flying lotus is probably closest. Let's just say Danish singer Gitte Haenning is performing a little yoga on the deck of a cruise ship steaming its way to Mallorca in this photo made in 1977. We've been to Mallorca a few times, and on none of those occasions did we bother to exercise, so good on Gitte. Haenning's last name was difficult to pronounce, which led to her becoming a one-name star—just Gitte—in both music and cinema. All-in-all, amazing accomplishments for someone who spent so much of her time as a soft pretzel.


---
That was great. Send in the third mate when you go. And tell the fourth and fifth mates to get warmed up.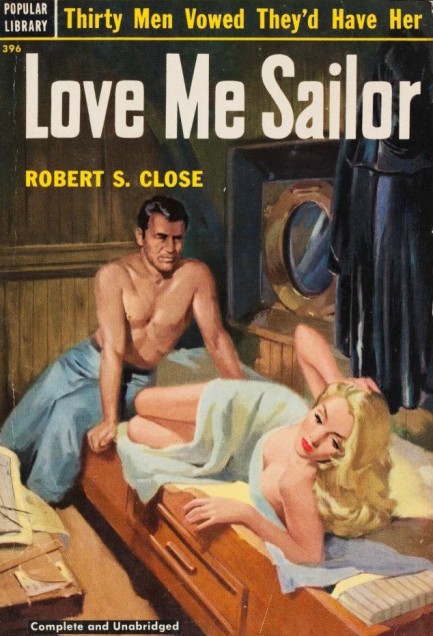 Love Me Sailor was originally published in 1945 by the Australian imprint Georgian House and what a bombshell it was. After much legal wrangling it was banned in 1948 and author Robert S. Close was tossed in prison. His sentence was three months but he served only ten days. He's the only Australian ever jailed for writing a book. After his release he left in disgust for France and didn't return for twenty-five years. Even then he stayed only briefly before leaving again and living the rest of his life on Mallorca.
So what was the fuss about? Love Me Sailor tells the story of a male crewed windjammer that takes on a single female passenger in the form of Emma Miller. The men soon want to slide their dinghies into her cove but because she likes both sex and variety they're soon at each others' throats. Men, right? As a hurricane spins up, the question that arises is whether the crew can function well enough to survive. T
he book is a serious effort at literature and is highly regarded by many. The edition above from Popular Library appeared in 1952, and the cover art is by unknown.
---
Okay, I'll have one drink. Geez, you dead are pushy.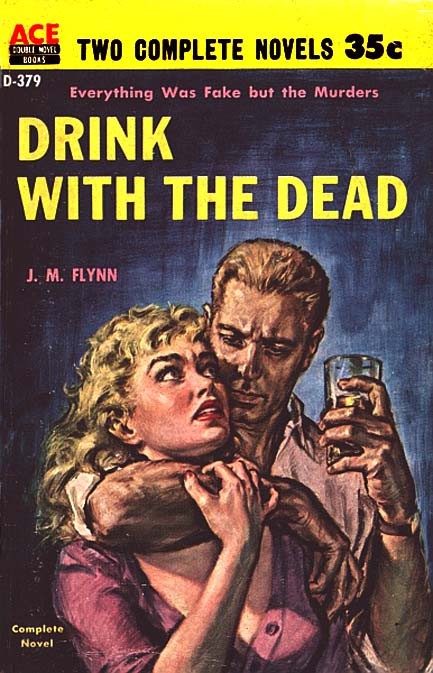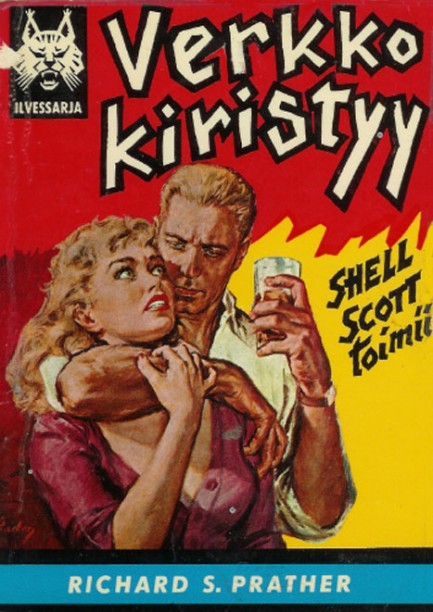 American author Jay Flynn, aka J.M. Flynn, is one of those writers whose real life reads as entertainingly as some of his fiction. He was a heavy drinker with a case of wanderlust, and he set up shop in places like Massachusetts, California, Paris, Mallorca, and Monte Carlo. 1959's Drink with the Dead is considered one of his better books—you see Paul Rader's U.S. cover art above, and as a bonus we've shared Richard S. Prather's Finnish edition of Bodies in Bedlam, which borrows the same image. Anyway, Drink with the Dead concerns a bunch of modern day bootleggers—ironic, considering Flynn got involved in the illegal liquor trade at one point. He was one of those rough and tumble writers that injected a lot of personal experience into his fiction, and whose erratic, hellraising ways always made subsistence a struggle. He spent time on skid row, was hired and fired by a lot of publishers, and refused to give up the booze even after his doctor said it would kill him. He died younger than he should have, perhaps, but left behind a lot of writing. You can find a detailed review of Drink with the Dead here. and a detailed bio of Flynn here.
---