Facts and fictions of American life.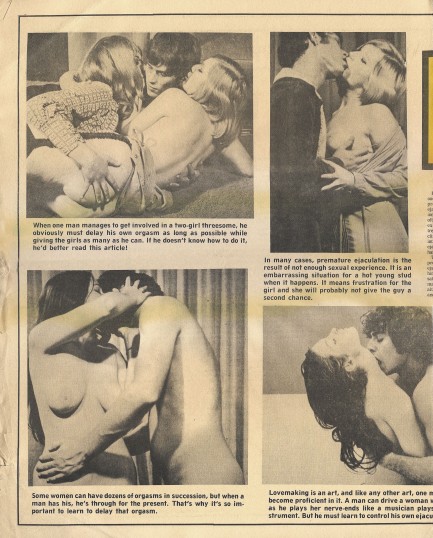 Above, the cover and assorted scans from an issue of National Informer published today in 1972. This particular example is from a batch of ten we picked up cheap but which were water damaged. You can see that some of the ink has been washed away, but most of the images and text survived. Luckily, some of that text comprises one of the funnier typos you'll see: Woman Throws Baby To Loins! Elsewhere in the issue, resident seer Mark Travis gets one almost right in his "I Predict" feature: "I predict the abolition of so many jobs by automation will result in nine of ten citizens living on welfare within ten years." Nine of ten? Not yet, but it looks like we're headed that way. But of course, under current policies there will be no welfare. Quite the opposite, in fact. While several other countries are seriously looking at universal basic income for their citizens, the U.S. is throwing more people to the, um, loins all the time. We have plenty more National Informer in the website and plenty more to come. Just click the keywords below.
---
New Yorkers get their kinks worked out.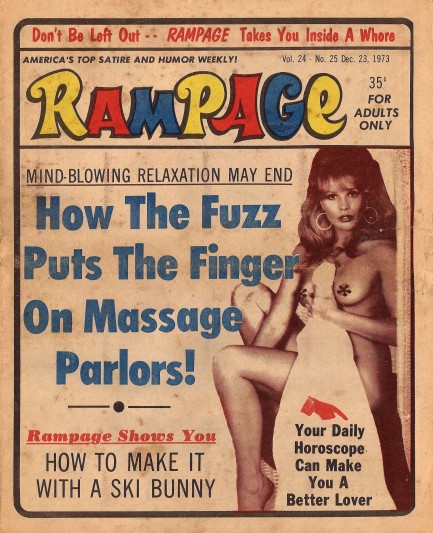 Rampage is shocked—shocked, they tell us—to find that sexual shenanigans are going on in New York City massage parlors. They bravely delve into the matter, telling readers, "Authorities evidently realized that the parlors were nothing more than cathouses operating under the guise of massage parlors. Now, where there once were about 200 parlors, only about five are left." You have to wonder' why were any left? Well, police need a little deep tissue action once in a while too. We're big fans of puns and we have to give Rampage credit for this one: "But according to the owners of the joint, business is throbbing."

Resident seer Mark Travis graces this issue with another installment of "I Predict." We love these—there's nothing like reading predictions when you already know whether they came true. Since these were all published today in 1973 it's safe to say we know the outcomes. Among Travis's gems: "I predict a series of savage sex slayings in an eastern city will be solved with the arrest and confession of the slayer—an 11 year-old boy!" Here's another good one: "I predict the birth of quintuplets to a famous—or infamous—porno star."
Of course, Travis isn't always wrong. Here's one he nailed: "I predict videotape cassettes will soon become as common as phonograph records and that these cassettes will be the most common form of entertainment in American homes." To put this in perspective, consider that the Betamax tape wasn't released in the U.S. until 1975, and the VHS tape didn't arrive until 1977. Spooooky.
Rampage also gives readers advice for making it with ski bunnies, offers an in depth examination of the lives of prostitutes, reports that a Nigerian farmer fed his child who had died of starvation to the rest of his family, and tells the story of a man who had an eye cut out over a one dollar debt. We have a dozen scans below and many more issues of Rampage in the website. All you have to do check our handy alphabetical tabloid index.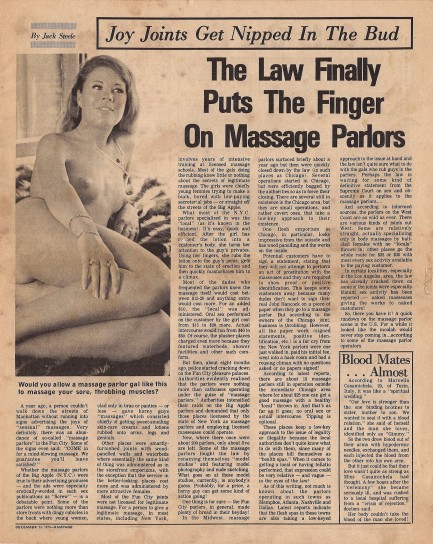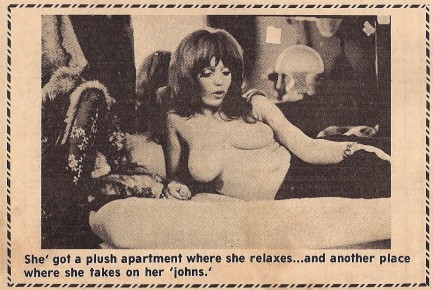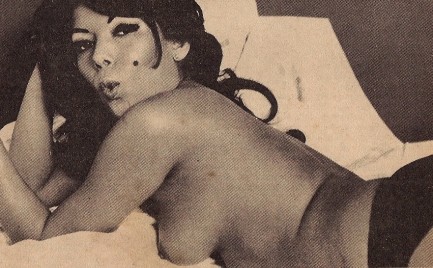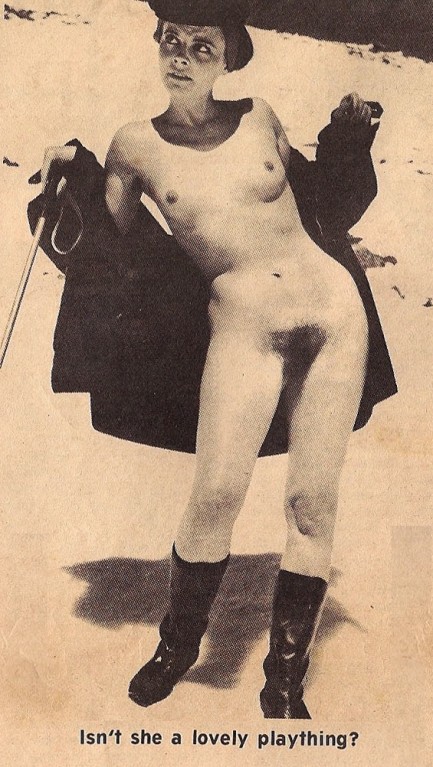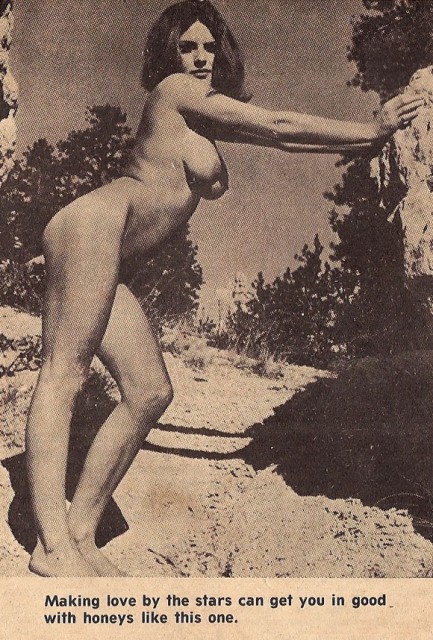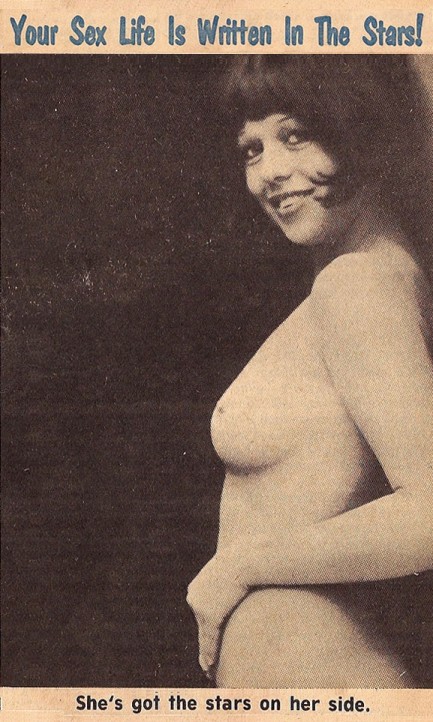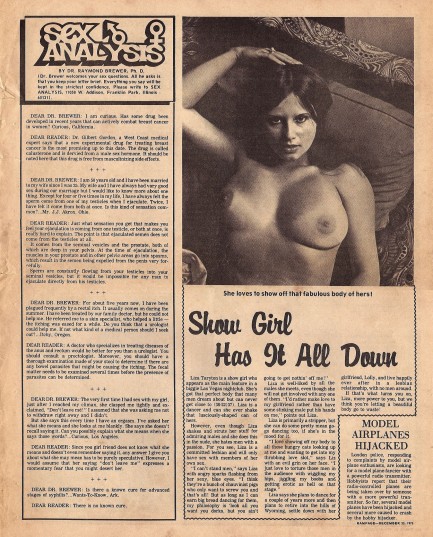 ---
Very little of what they wrote was factual, but at least they were bold about it.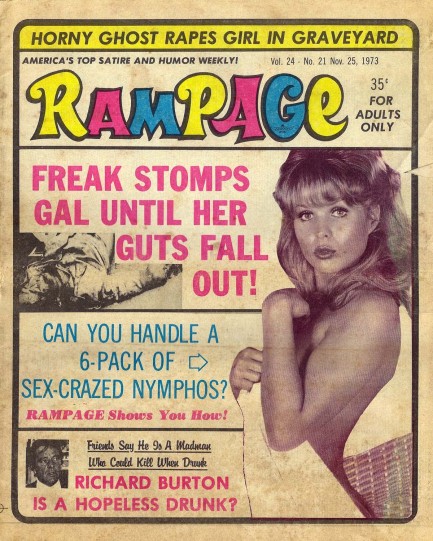 Rampage returns to Pulp Intl. after a six month absence with this issue published today in 1973. The cover star and interior models are unknowns, and the stories are mostly fiction (a fiend stomps a girl's guts out, a ghost rapes a girl in graveyard, a husband shoots out a rival's eyes, a wife shoots her husband because he wanted a beer) but the editors do expend a bit of column space on two real people. The first is Richard Burton, who they call a hopeless drunk with violent tendencies—not a newsflash, since other tabloids had already covered his drinking issues to death. Of marginally more interest is a story on Peter Duel, a little-known figure today, but one who was a major star during the 1970s, half of the famed duo from the hit television show Alias Smith and Jones. Rampage claims Duel did not commit suicide in December 1971, but rather was murdered. The evidence? The testimony of a medium who communicated with Duel's spirit and reported that the aggrieved entity said, "They… murdered….me! I… was… murdered..! Oh God..!" And of course, ghosts being famously elliptical, Duel transmitted all this across the ether without uttering the name of a single assailant.
The last item of note in Rampage is the group of predictions by Mark Travis. His predictions are usually so off as to be pure comedy, but eerily, he nails a few this time. For instance, he predicts the development of a cream that can allow a person to be whatever shade they wish. While many current day Americans have perhaps heard of these only in relation to porn stars whitening their anuses, skin whitening creams are in fact a multi-billion dollar industry in places like Japan, India, and China, where paleness is perceived as an indicator of wealth. The fact that people could so blatantly kowtow to racist paradigms is another issue entirely. We'll get into that another time maybe. Travis also predicts that American highways will all become toll roads, and that's of course a wet dream of today's privatization sect, and one that's coming closer to fruition every day. Okay, Travis missed a few too. Goat's milk has not become a major part of the American diet yet. And as far as we know, Mexico has not yet offered instant citizenship to Americans who purchase property over the border. But here's the thing about predictions—there's no time limit. If they haven't come true yet… just wait. We predict that we'll have more issues of Rampage soon. Scans below.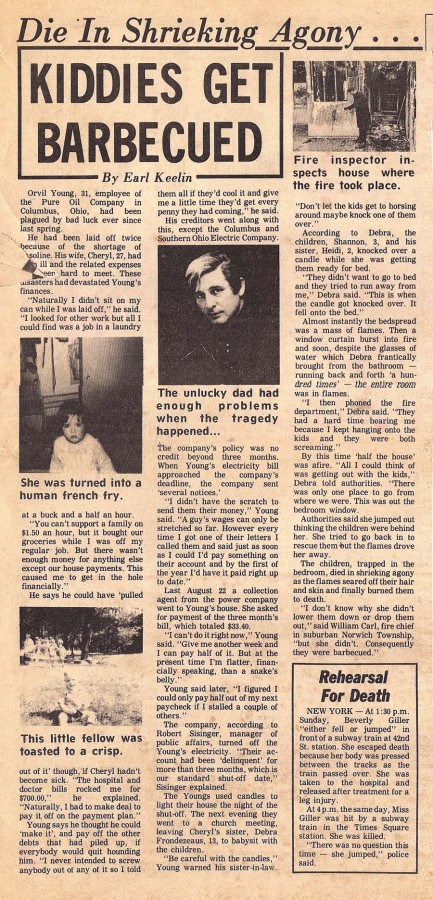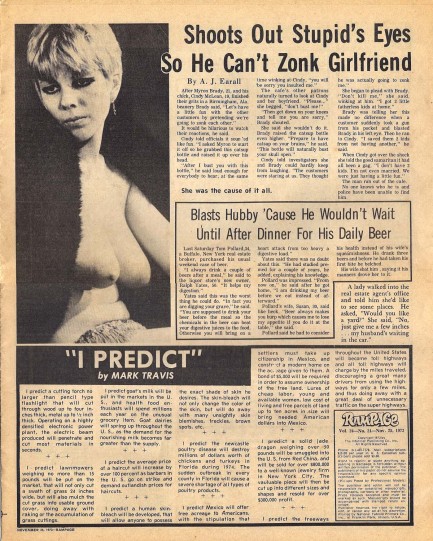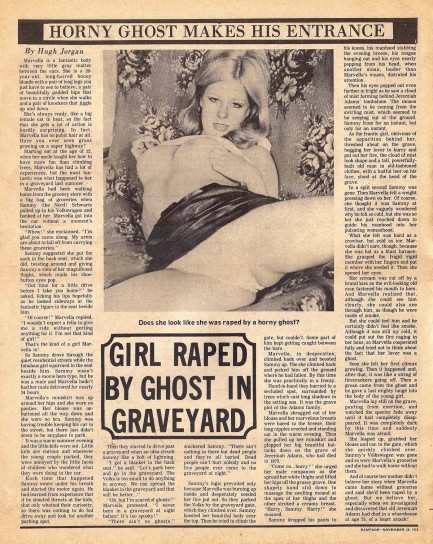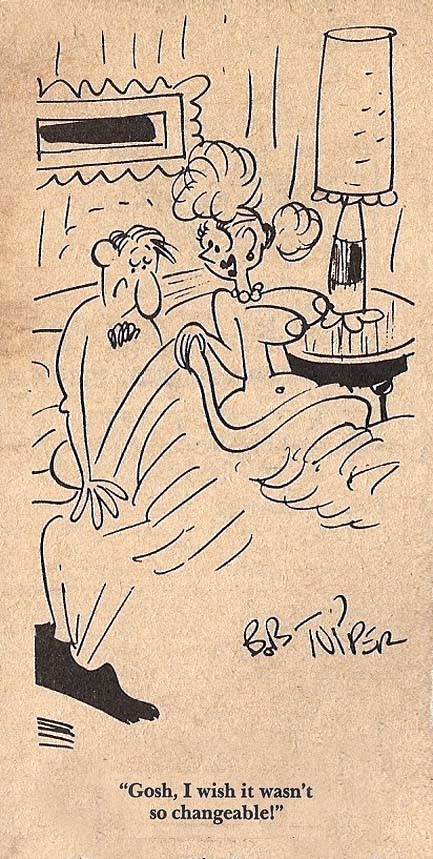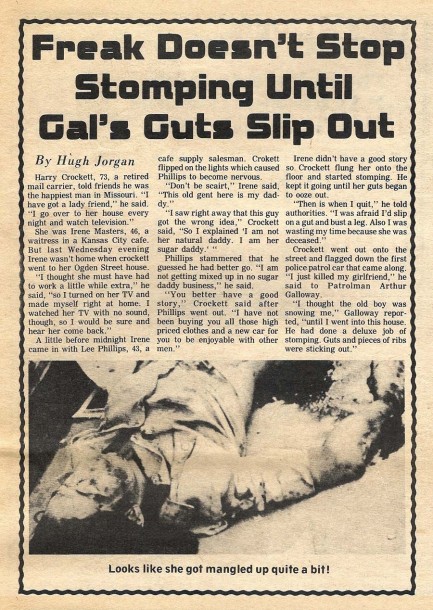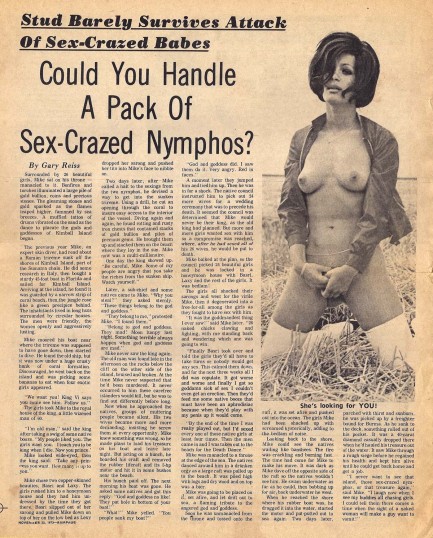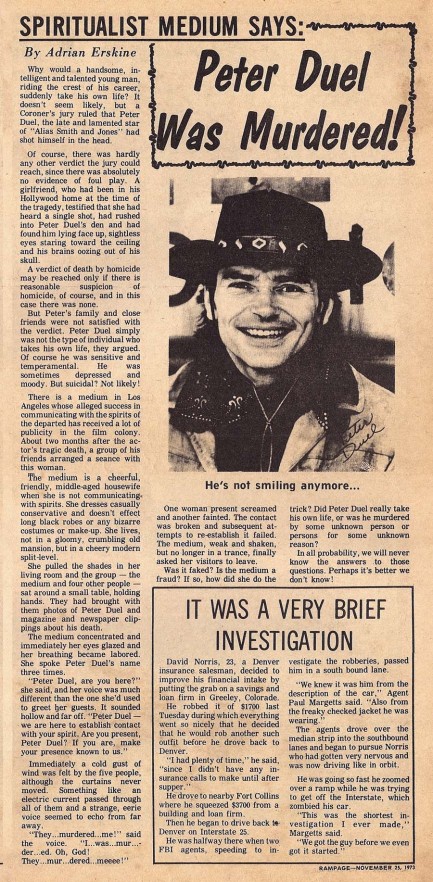 ---