Ringing in the New Year in style.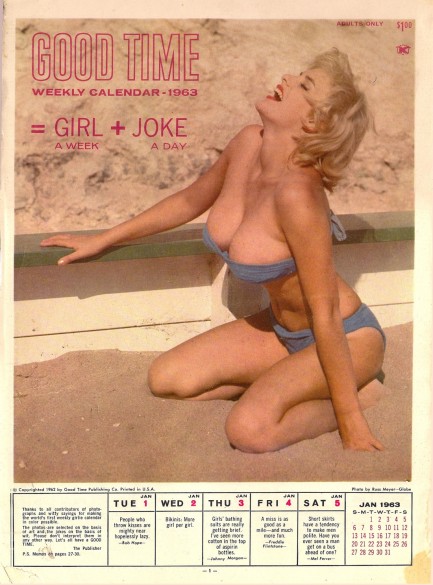 Survived another year. And so have you. So let's open 2013 by catching up with the Goodtime Weekly Calendar. We missed two weeks while we were in Morocco, and those pages are below. Above you see the January 1 page of this great publication, which also happens to be the cover, and it features model/actress/centerfold June Wilkinson shot by film director Russ Meyer. The photo is a variation of another Wilkinson image that appears inside the calendar later in the year. The images below are credited to Ron Vogel and L.W., whoever he is. Obviously, there's a three week backlog of jokes, but by now we've established that most of them are not in any way amusing, so rather than transcribe the entire collection, we've selected what we hope are the most interesting. Enjoy.
"A pedestrian: The man who didn't believe his wife when she said the family needed two cars."—Cannonball Adderley
"Many a man who would never think of gambling goes out and gets married."—Sig Sakowicz
At Christmas time, every girl likes her past forgotten and her presents remembered.
Women are like modern paintings: you'll never enjoy them if you try to understand them.
"Better a witty fool than a foolish wit."—William Shakespeare
"People Who throw kisses are mighty near hopelessly lazy."—Bob Hope
"Short skirts have a tendency to make men polite. Have you ever seen a man get on a bus ahead of one?"—Mel Ferrer
---
The magazine that whispered rape.
Inside Story of August 1957 offers up stories on Elsa Martinelli, Ann Sothern, Clark Gable and others, but the subhead reading "The Night Audrey Hepburn Can't Forget" is irresistible. So what happened on the night in question? Nothing fun, unfortunately. Fully expecting to read about some wild party or drunken escapade, journo Gwen Ferguson instead tells us that in 1942, when Hepburn was a Dutch teen named Audrey Kathleen Ruston, she was "brutally kidnapped and subjected to terrible indignities" by a Nazi soldier. As is typical for mid-century tabloids, this claim comes not from direct interviews, but rather from a fly-on-the-wall third person account. In this case, the magazine claims she confessed what happened to prospective husband Mel Ferrer, pictured next to her below, because she wanted him to have a chance to rescind his marriage proposal. The implication is clear—"indignities" is a euphemism for rape. Or else why would Ferguson suggest Ferrer might turn tail and run?
In light of all the discussion about rape lately, it's instructive to go back in time and read such an incendiary insinuation presented so casually in a national magazine, probably by some pseudonymous male editor, if tradition holds true. Looking for corroboration, we found only stories about Hepburn living in constant fear of being kidnapped, but that's all. In no place we looked did we find any reference to her actually being taken, let alone violated. So we don't know where Inside Story got its information. That being the case, we have to call bullshit. Inside Story goes on to wrap its dubious claim in the truth by telling readers how Hepburn's uncle was executed by Nazis—true; how she gave secret ballet performances to generate funds for the Dutch resistance—true; and how she used tulip bulbs to make the flour needed for cakes and biscuits, but went through the war malnourished and underweight—true and true. As for the other claim—if untrue, it's pretty low, and if true, it's both low and irresponsible. Even by the standards of mid-century scandal sheets.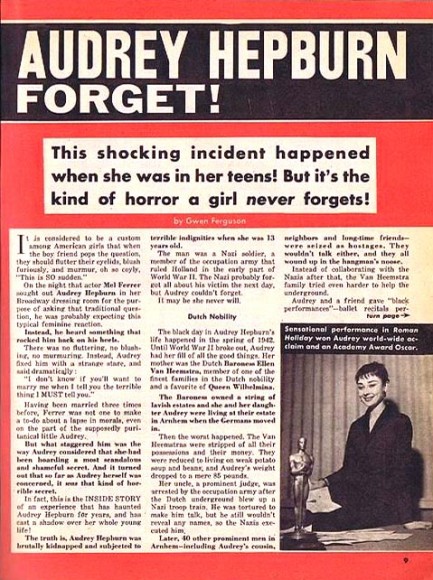 Netherlands
,
Holland
,
World War II
,
Inside Story
,
Audrey Hepburn
,
Mel Ferrer
,
Elsa Martinelli
,
Ann Sothern
,
Clark Gable
,
Dean Martin
,
Jerry Lewis
,
Drew Pearson
,
Harry Belafonte
,
nazis
,
tabloid
---