Doing it the French way.
Above, an eerie shot of the French nuclear test Betelgeuse, one of more than two-hundred tests conducted by France over the course of thirty-six years. This one is from 1966, and took place on September 11, but we posted it today rather than in September because it's incorrectly listed on many websites as occurring today. The location is French Polynesia and the event was strongly protested by the potentially downwind nations of New Zealand, Australia, and Japan, but those complaints were ignored. This exposure was made near the instant of detonation, and the brightly lit protrusions are stabilizing wires attached to the bomb platform vaporizing. You can see a better example of the same phenomenon here.
---
This world, then the fireworks.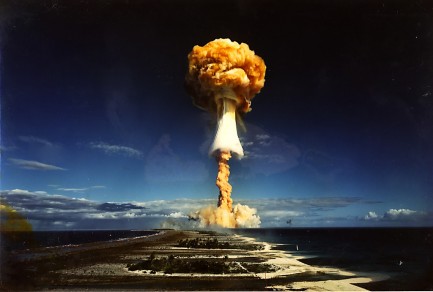 French nuclear test Licorne, Mururoa Atoll, French Polynesia, July 3, 1970. Note: this explosion in its many stages appears all over the internet misidentified as the Canopus blast from August 1968. However these photos are from Atolls de l'atome, a definitive book about French nuclear testing in the Pacific, and are there identified by author Bernard Dumortier as Licorne.
---