Your partners all voted and decided to demote you to this shallow grave.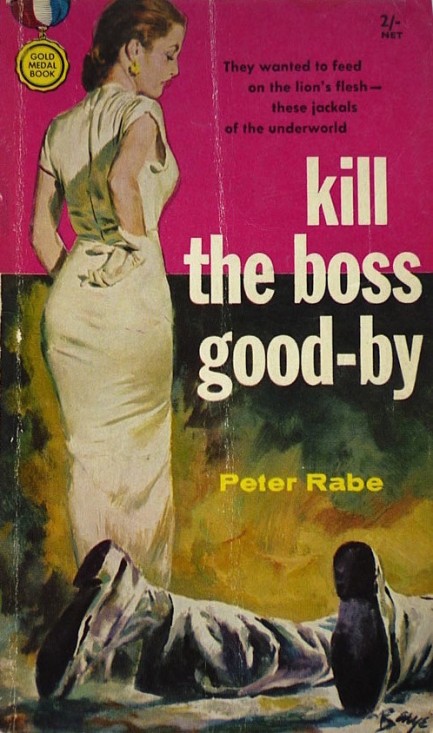 When the cat's away the mice will play, so the saying goes, and in Kill the Boss Good-By San Pietro crime kingpin Tom Fell goes missing for a month and a subordinate tries to take over his operation. When Fell reappears a power struggle ensues, while the top bosses in L.A. decide to wait and see who will come out on top. What makes the book a bit different is the reason Fell was missing—he was in a mental institution recovering from a breakdown with the aid of electroshock treatments. The new brain-scrambled Fell is calmer than the old Fell, but is he cured or is he worse? His enemies soon find out. Interesting hard boiled stuff from Peter Rabe, driven primarily by dialogue mixed with simple descriptive passages revealing a—dare we say it?—strong Hemingway influence. 1956 with cover art by Barye Phillips.
---
If you're really going to keep sitting there, use your heel and hit that high a-sharp for me at the end of the chorus.
Above, Murder Me for Nickels, 1960, by Peter Rabe, née Peter Rabinowitsch, for Fawcett Publications' subsidiary imprint Gold Medal Books. The novel tells the story of a low-level organized crime flunkie named Jack St. Louis who works for a jukebox magnate. Because they control the boxes in their unspecified town and its environs they also control who scores a hit record, which brings not just money but a lot of wannabe starlets their way, some of whom Jack funnels through his side business—a recording studio. Unfortunately, Jack gets caught in a takeover gambit when mobsters from nearby Chicago try to strongarm his boss's jukebox racket. Making matters worse is his boss's available wife, who wants to be a singer. Well reviewed everywhere. The cover art is by Robert McGinnis.
---
I brought you two. As your butler I know this always leads to you rutting with some anonymous loser, so let's just get you there as efficiently as possible.
New Man in the House is the work of Peter Rabe writing as Marco Malaponte for Universal Publishing and Distributing Corporation's Beacon Signal imprint, 1963. Ignore our sub-head, because actually it's the fiftyish butler that does the seducing here, setting his sights on sixteen-year-old Lorna Hornaday. Yeah, how nuts is that? Her name is Hornaday. Oh, and maybe she's a teeny bit too young, but the servant also hopes to butle his way into the more age-appropriate mother's knickers, which suits him fine because she's an ex-actress who still looks amazing. Classic sleaze, written under a pseudonym, because who'd really want to claim this? Uncredited cover art, too.
---