Whatever the language, the meaning is clear.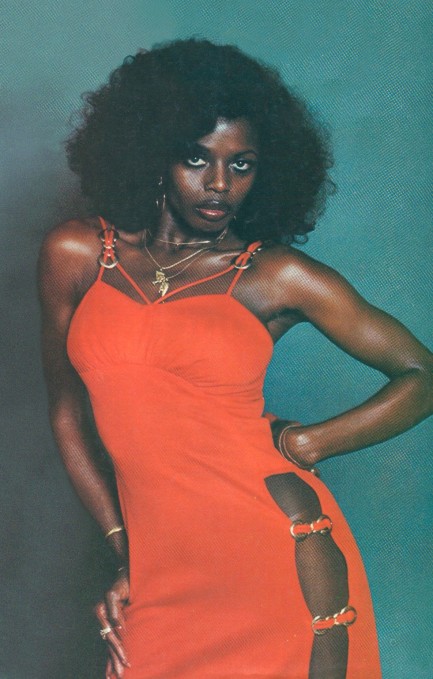 Despite her exotic name, Azizi Johari is American, born in New York City and raised in Seattle. Her movie career consisted of bit parts, with her most noted appearances coming in the 1976 John Cassavetes film The Killing of a Chinese Bookie, and the 1981 blaxploitation b-movie Body and Soul, which was a remake of the 1947 film noir classic. She originally gained recognition in 1975 as a Playboy model, appearing as the magazine's Playmate of the Month in June 1975, but the above photo was used on the front of Players magazine in 1978. Oh, and on the subject of her name, "Azizi" is Arabic and means "precious," while Johari is a Kiswahili word that means "jewel." She's well named.
---
Hey guys! You might want to get out of the water. I think I see a tsunami coming.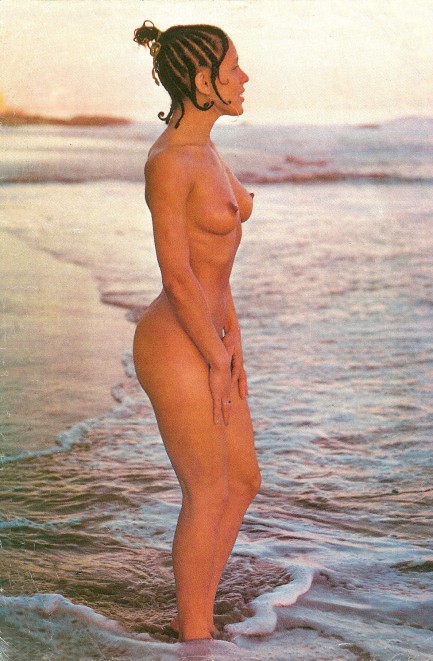 You may have noticed Pulp Intl. went offline for about sixteen hours. As has become tradition whenever our site goes down, we're going to win people back with some nudity. Above is glamour model Maggie Ball, who evokes in this shot that appeared in Players magazine in 1975 the coming summer, the beauty of nature, the re-establishment of connectivity, the return of worldly order, and all other good and wonderful things. Around the palatial Pulp Intl. offices we call these type of posts "naked apologies," and we've had to resort to them a few times. Now that we've done the naked, here's the apology part: Sorry about that outage last night. Check out what our internet provider wrote us about it:
We can tell you that your bandwidth usage has spiked. Your site has received over 1.2 million total hits since midnight UTC today.
So in short, the site broke due to a traffic surge. Because of a link someone posted on Reddit, legions of visitors suddenly arrived to look at our pieces on Vikki Dougan, which caused us to run through our bandwidth. This is a temporary phenomenon, like a tidal wave. It comes, it goes, and the internet forgets, save for a few people impressed enough to become regular visitors. Our visitorship has long been above 35,000 individual sessions a month, so we have no complaints about traffic subsiding to normal levels. Our normal levels are really good. In any case, Pulp Intl. is back up. You'll notice, below, how happy Maggie is about that. And if she's happy, we're happy.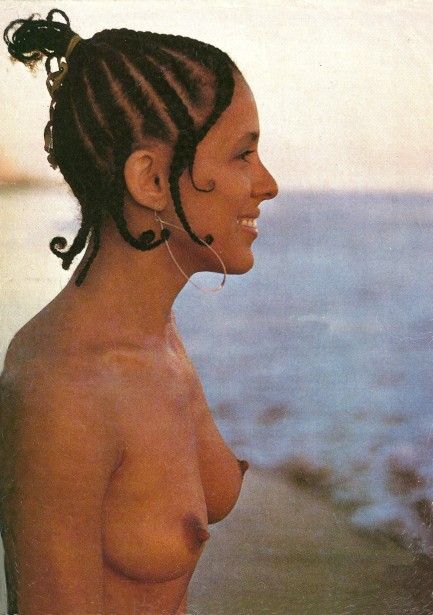 ---
You know that whole forbidden fruit concept? I've never agreed with it.
Above, a nice shot of blaxploitation star Marilyn Joi, aka Tracy King, who appeared in notable efforts such as Black Samurai and the unforgettable Ilsa, Harem Keeper of the Oil Sheiks, but is probably best known as Cleopatra Schwartz from the mainstream comedy Kentucky Fried Movie. This photo appeared on the cover of Players magazine in 1980.


---