Hi! I'll be filling in for your regular wife this evening. How many times do I have to ask you to take out the damn garbage?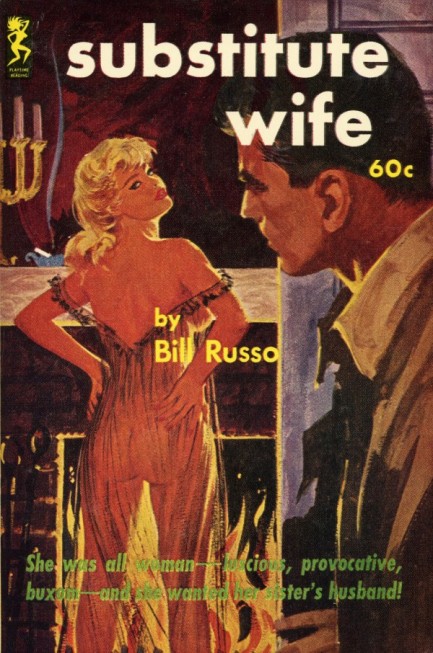 We saw this Robert Bonfils piece at pulpcovers.com and couldn't resist re-using it. Bill Russo's Substitute Wife, 1962, from Playtime Books. Remember—there's nothing like the real thing.
---
Whoever told me Tappa Tappa Ass is the nice guy frat was wrong!
We really should put together a group of frathouse sleaze covers sometime. The pervasive trope in mid-century fiction of educated women somehow still being mere male property is worthy of deeper examination. For instance in this book female characters are literally given away to horny fraternity boys. Of course, there's little we can add to what's already well known: these books were seriously sexist. We still may put together something on this. In the meantime consider Campus Chippies an entry in the collection (along with this example from last year). It comes from Playtime Books, 1964, was written by Monte Steele, author of numerous novels along the same lines, and the cover art is from Robert Bonfils.
---