Julius Schmid's handy little invention made sex without consequences a reality.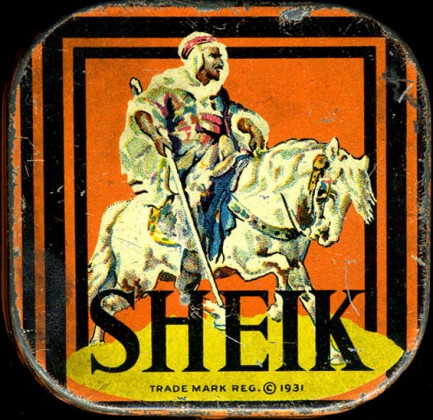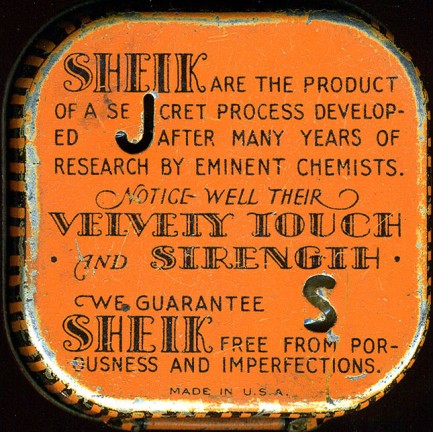 New Year's Eve is always a time of revelry, partying, and cringeworthy attempts to turn friendly midnight kisses into full blown sexual escapades, so what better day of the year to share this vintage 1931 condom box from Sheik? The Sheik company was founded by a half-paralyzed German immigrant named Julius Schmid, who arrived in New York City in 1884 at age seventeen and whose first job was as a—wait for it—sausage maker. Inspired by stuffing meat into animal intestines, he used the same principle to create his first condoms.

At first he sold exclusively from his apartment, and because all contraception was illegal in the U.S. at the time, he billed his skins as "French goods and medicines." They were incredibly popular, because childbirth was dangerous and forcing women to be baby factories had serious impacts on their longevity. By the time condoms were made legal in 1918 Schmid was uniquely positioned to dominate the market. He became the official condom supplier to the U.S. military, launched the Ramses condom brand, and by the 1930s was sitting on a multi-million dollar fortune.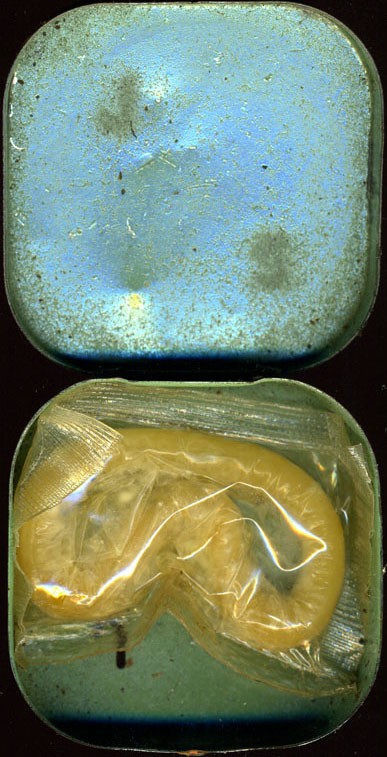 We were surprised to see similar Sheik condom tins online with fifty-dollar asking prices, but then a little spin around the interwebs informed us that these prices are driven by collectors. Yes, people actually collect these things. Presumably, they make great conversation pieces. With this one you really get your money's worth, because it contains one unused, still-in-its-wrapper Sheik condom, as reliable and efficacious as the day it was manufactured. Okay, maybe not.
Happy 2013, pulpsters. We have plenty of lovely surprises planned for the upcoming year, so please keep dropping by. Our traffic has just about recovered from the erasure of our database earlier this year by the domain-company-that-shall-not-be-named, and each and every one of your visits is truly appeciated. Tomorrow, assuming we aren't hung over, we'll get back to posting pages from the Goodtime Weekly Calendar, so look forward to that. Okay, guess that's it for now. Have fun tonight, be safe in every way, and remember, when it comes time for that midnight kiss, fortune favors the bold.

---