Landmark Cal-Neva Lodge shutters gaming operations.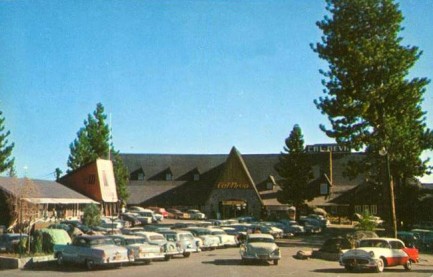 Frank Sinatra made a lot of nightspots famous. His mere presence—along with that of his Rat Pack—sprinkled gold dust on bars and eateries from end to end of the U.S., bestowing places such as 21, Toots Shor's, and Chasen's with fame that lasted long after the Rat Pack had died. That fame helped many of those old haunts survive into the new millennium, but now one of the most magical Rat Pack hangouts—the Cal Neva Lodge in Lake Tahoe, Nevada—is on the endangered list as it closes its gaming rooms today due to low profitability. Sinatra owned the Cal-Neva between 1960 and 1963, his star power drawing Hollywood's top celebrities, along with mob figures who he reportedly shuttled back and forth to various points around the property via old bootlegging tunnels. He made the Cal-Neva Lodge the jewel of Lake Tahoe, a piece of Tinseltown in what was little more than an alpine village.
But the Cal-Neva's fortunes have been in decline for decades due to the proliferation of nearby Indian casinos, and the general dominance of Las Vegas. When the recent recession hit, the current owners—who had laid off about a hundred employees since 2006—finally decided they could not keep their gaming rooms in operation. Officially, at least, today's closure is temporary, but industry insiders note that Rat Pack chic is not enough to draw modern gamblers to an older casino like the Cal-Neva Lodge. If so, it's quite possible that not only will the gaming rooms never reopen, but that the entire Lodge has begun its final decline.

---