Another obscure Italian artist produces a masterpiece.
Some random goodness today, a cover for Sangre de toro ("blood of the bull"), book 109 of I Capolavori della Serie KKK Classici dell'Orrore (KKK Masterpieces Series of Classic Horror), a popular collection published by Grandi Edizioni Internazionali beginning in 1962. This entry arrived in '68, and was written by R.C. Perez, or in reality the Italian author Renato Carocci, who inhabited an array of pseudonyms that included René du Car, Christian Busch, Harry Carren, Roland Graves, Lucien Le Bossu, James Darren, and Elizabeth Cronin. The incredible art is by Benedetto Caroselli, who, believe it or not, is a fairly obscure figure—at least if we're to judge by the extreme dearth of info about him online. This isn't the first time this has happened with Italian art. What the heck is going on over there in Italy, guys? Surely you must love these artists as much as we do. Build a webpage or two (actually, there is one, but you don't get a good look at the art). Well, in any case, we'll definitely have more on Caroselli soon. We won't stop looking until we do. Too bad we can't remember where we found this piece. We bet there's some info there. But now a search brings up nada. Stay tuned.
---
Sharon Tate was the unknowing model for at least two more pulp covers.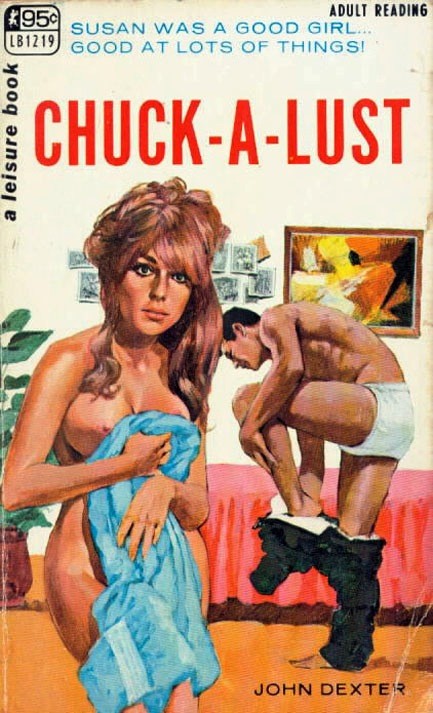 A long while ago we showed you a pulp cover that featured a painting of Sharon Tate. That book specifically used Tate both as cover art and interior subject matter. In contrast, the two figures above aren't explicitly supposed to be Tate, but it just so happens that both unknown artists modeled their work from an on set photograph from her 1966 Dracula spoof The Fearless Vampire Killers. The photo was shot by Roman Polanski, who also directed the film. As you can see, it was used on John Dexter's sleaze pulp Chuck-a-Lust, painted by Darrel Millsap, and on Paul Collins's, aka Renato Carocci's giallo Ordine di uccidere, painted by Bendetto Caroselli. The former was published in 1967, and the latter in 1968. One year later, Tate was gone.
Italy
,
Chuck-a-Lust
,
The Fearless Vampire Killers
,
Ordine di uccidere
,
Sharon Tate
,
Paul Collins
,
Renato Carocci
,
Darrel Millsap
,
Benedetto Caroselli
,
John Dexter
,
Roman Polanski
,
cover art
,
cinema
,
giallo
,
literature
---