Food and water may sustain a man, but it's revenge that really fills the belly.
In Inferno, a boorish millionaire played by Robert Ryan breaks his leg falling off a horse during a desert vacation and is left to die by his two-timing wife and her boy toy. While the lovers cover their tracks and try to confuse the police and search parties, Ryan has to figure out a way to escape the desert. We were surprised a movie like this was made back in 1953. There have been a lot of nature horror and survival thrillers in recent years and we had no idea the genre had roots so far back. The movie is solid, though we thought Robert Ryan's voiceover was often unneeded—maybe he should have had a volleyball to talk to like Tom Hanks in Castaway. But it's a minor issue. We gather that this had a 3-D release, which of course we didn't see, but it's obvious, especially during a truly tremendous fight scene where assorted and sundry items fly at the camera. But even watching in two dimensions you still get a nice piece of entertainment, shot in crisp Technicolor, well-paced and acted, as the desert provides assorted challenges and Ryan must come up with the needed answers or die. Inferno premiered in the U.S. today in 1953.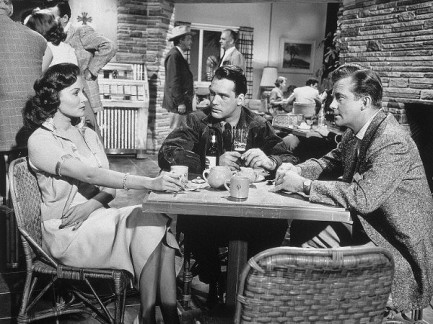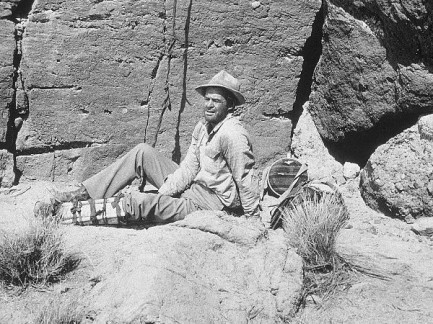 ---
Robert Young tries to solve a murder that seems to have no motive.
Above is a Swedish poster for Edward Dmytryk's Hämnden är rättvis, aka Crossfire, a really interesting film noir about an ex-soldier who is murdered, and his fellow ex-soldiers who are suspects. Police detective Robert Young tries to get to the bottom of the crime, but is increasingly baffled as he realizes the killing did not occur for any of the usual reasons—money, lust, revenge, etc. Different character recollections provide different information about the victim's last hours, but only serve to underscore the apparent senselesslness of the crime. We can't reveal the direction Young's investigation turns without giving away the ending*, but we'll mention that the movie won an award at Cannes—the Prix du meilleur film social, or Best Social Film.
Though technically and visually brilliant, as a whole we don't think
Crossfire
has weathered as well as other noirs (for casual movie watchers it may be too static and talky). But it does have a bravura performance from Robert Ryan, and solid work from both Gloria Grahame and the always excellent Robert Mitchum. As far as the art is concerned, note the strong contrast between the Swedish version and the riotously colorful American ones, which we have below. Swedish film noir posters often de-emphasized color and used long lines to apportion space into several distinct boxes (as seen here, here, here, and here), but the above is one of the most severe examples we've found.
Crossfire
premiered in the U.S. in July 1947, and first played in Stockholm as
Hämnden är rättvis
today the same year.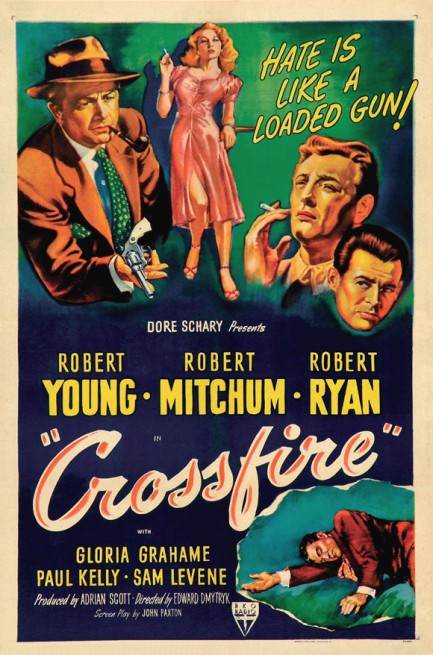 *We've never worried about giving away endings before. Our capsule reviews are really just excuses to show the poster art and joke around. However, a few recent emails have revealed that some readers actually visit Pulp Intl. for viewing ideas, which just goes to show that after five years online you receive credibility whether you were looking for it or not. So even though recent scientific research shows that people enjoy stories more if they know the endings in advance, we're going to be better about spoilers in the future. Promise.
---
Note to self: Next time I hire a handyman, ask for references.
We have a nice poster here for Beware, My Lovely, starring Ida Lupino and Robert Ryan. Lupino hires Ryan to do some work around her house but doesn't know he's a seriously deranged mental case subject to violent mood swings. Interesting as the film is, we can't fully recommend it because of its somewhat improbable confinement scenario. Or put another way, even though reasons are presented for why the heroine can't simply escape by running out of the house, they aren't very convincing. But on the plus side, the movie does have the ultra-talented Lupino, who was one of Hollywood's top quadruple threats (writer, director, actress, producer). In fact, her contributions to film noir are extensive and important. So it's an enthusiastic yes on Lupino, but a qualified maybe on Beware, My Lovely. It premiered in the U.S. today in 1952.
---