That was great. Send in the third mate when you go. And tell the fourth and fifth mates to get warmed up.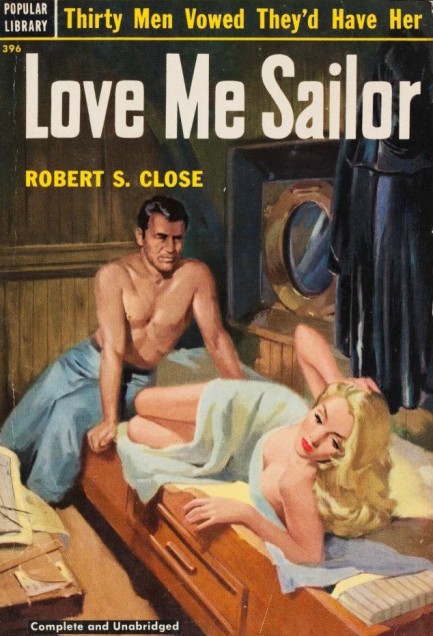 Love Me Sailor was originally published in 1945 by the Australian imprint Georgian House and what a bombshell it was. After much legal wrangling it was banned in 1948 and author Robert S. Close was tossed in prison. His sentence was three months but he served only ten days. He's the only Australian ever jailed for writing a book. After his release he left in disgust for France and didn't return for twenty-five years. Even then he stayed only briefly before leaving again and living the rest of his life on Mallorca.
So what was the fuss about? Love Me Sailor tells the story of a male crewed windjammer that takes on a single female passenger in the form of Emma Miller. The men soon want to slide their dinghies into her cove but because she likes both sex and variety they're soon at each others' throats. Men, right? As a hurricane spins up, the question that arises is whether the crew can function well enough to survive. T
he book is a serious effort at literature and is highly regarded by many. The edition above from Popular Library appeared in 1952, and the cover art is by unknown.
---
How I got here is a long story. It starts with me not knowing how "penile" is spelled.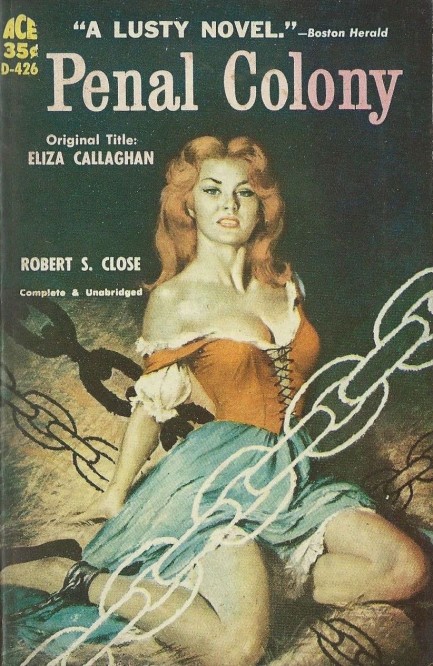 Above, the cover of Penal Colony, written for Ace Books by Robert S. Close, 1957. The story was inspired by real life Irish convict Elizabeth Callaghan, who in the 1820s was sentenced to the incredibly harsh sentence of death for forgery, then had the sentence commuted and was shipped off to colonize Australia along with one hundred other criminals. She stayed in trouble most of her life and was finally stomped to death in a barroom brawl in 1852 in Geelong. This "lusty" novel is, of course, only loosely based on fact, which is good, because what a downer that'd be. Cover art by uncredited.
---