Blame it on the Gardner.
Above, a poster for Robert Siodmak's Oscar nominated film noir The Killers. Adapted from a short story by Ernest Hemingway about an ex-boxer who meekly accepts his own murder for reasons that only become clear after a detailed investigation by an insurance adjuster, this was the film that gave us the great Burt Lancaster. Why did he let himself be murdered? Well, Ava Gardner had something to do with it. You can see the unusual French poster here, and the Swedish poster here. The Killers opened in the U.S. today in 1946.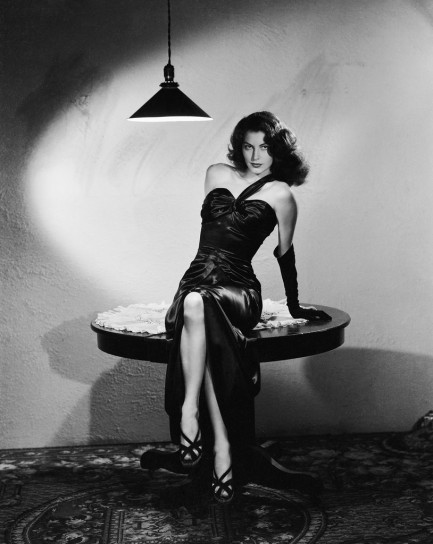 ---
If Ava I see your face again.
Above is an unusual one-sheet for Robert Siodmak's 1946 film noir Les Tueurs, aka The Killers, with Burt Lancaster and Ava Gardner. You may remember we showed you the colorful Swedish poster last year. This rather hazy French effort is unusual because it features a photo of one of the stars, which is a promotional technique that wouldn't become popular until decades later, when retouched (later digitally tweaked) photography replaced handpainted images, forever to the detriment of the art world. We've talked about this before, and we still have the same question. Namely, what is it inside of us that made us divorce art from commerce? We've embraced the soulless in every form of promotional art from movie posters to book covers to billboards. Is it simply about money? Does capitalism drive us inexorably toward an artless pursuit of profit? We have our theories, but what do you think? Or is this a little too much to be dumping on you on a spring Saturday? Right, we can take a hint. Les Tueurs premiered in Paris today in 1947.
France
,
Paris
,
Les Tueurs
,
The Killers
,
Ernest Hemingway
,
Robert Siodmak
,
Burt Lancaster
,
Ava Gardner
,
poster art
,
film noir
,
cinema
---
In noir you can run but you can't hide.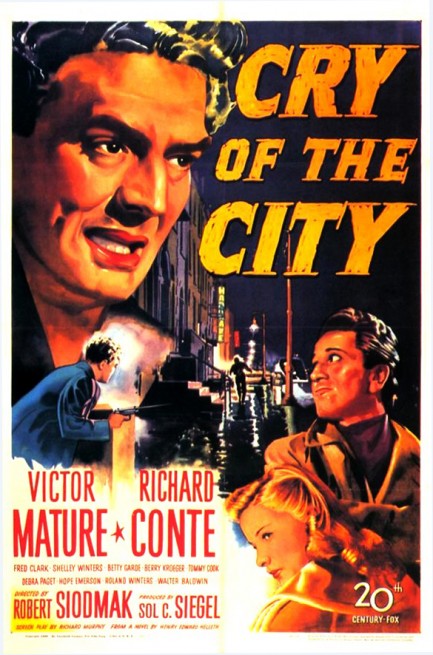 You can't explore film noir without getting acquainted with director Robert Siodmak. We mentioned him before when we showed you the Swedish promo art for his great film The Killers, and today we have the U.S. poster for his also brilliant Cry of the City. The story involves two friends who both grew up in good families, but ended up on opposite sides of the law—one as a cop, the other as a criminal. Victor Mature plays the cop, and we have to say, we wish he hadn't gone on to do all those sword and sandal epics, because we kept picturing him covered with bronzer, splitting Philistines' heads with the jawbone of an ass. But his performance here is good, a perfect counterbalance to the intense Richard Conte's ailing crook, who opens the film wounded in a hospital bed. Conte eventually escapes to track down the real perpetrator of a jewel heist the police have pinned on him. After a few twists and turns, he finds the real thief, but in noir, you can't buy off fate even with a last act of selflessness. Conte is still a bad man, and he's still gotta pay the piper. Cry of the City premiered in the U.S today in 1948.
---